Household and industrial tools are Milwaukee's specialty. Every home probably has their power tools, and several job sites use Milwaukee enhancement equipment. It is proven and tested that Milwaukee has some of the best products in the market that boasts power and potential. That is one of the reasons why the brand is well-known.
However, did you know that they also have the best Milwaukee radio? The company has a collection of radios that provide entertainment and improve productivity. Before we go to our Milwaukee radio review, here are some crucial factors to keep in mind when looking for an outstanding unit.
Sound Quality: A bad-sounding radio is not pleasant to listen to at all. Besides, it beats the purpose of bringing it to a worksite when it cannot override the noise and distraction. The unit should be able to produce a high-quality and loud sound. Make it a priority to always check the performance of the device before buying.
Durability: Built to last radio units are preferable because you don't have to replace them quickly. Besides, it is a necessary feature due to the unpredictability of job sites. If you accidentally drop the device on the ground or if there is too much dust in the area with occasional heavy rain, the radio should be equipped with a tough exterior and layer of protection.
Portability: If you plan to bring the device to different locations, opt for a small and lightweight unit. It should be convenient to carry and stackable with heavy tools and equipment. Milwaukee has a stackable system for most of their equipment; take this opportunity to make your commute more accessible, even with a radio in tow.
Now, on to our Milwaukee job site radio reviews. It will assist you in finding a suitable unit and narrow down your options. In the next section, you will find a buying guide and some FAQs. Make sure to read until the end before you visit a home depot.
Best Milwaukee Radio Reviews
1. Milwaukee 2890-20 Dual Chemistry M18 Jobsite Radio
Are you using power tools from Milwaukee? Then, you might like their job site radios manufactured with the same dedication and care.
They have this radio with a rectangular shape. The stackable design makes it compatible with other Milwaukee tool sets. You can conveniently pile it together with other equipment for easy transportation. The radio alone sits flush in cars and boxes.
The digital AM/FM tuner lets you store up to ten presets. Keep your favorite stations, so you can easily access them anytime you want. Your crews can also add their favorite channels, and there are enough slots for everyone. Besides, the smooth tuning is effortless and takes a short time to figure out.
Since it is meant to be used in job sites, this unit is built to last. It features shock-absorbing end caps. The rubberized parts can withstand the harsh weather and common accidents that usually occur on the job.
When working in a dangerous place, you'd want to keep your valuables, especially your phone, safe. This radio has a special onboard compartment where you can tuck your device. The pocket is also loaded with a 2.1A charging port so that you can charge the unit without trouble.
Heads-up:
The only problem with this model is it doesn't charge the batteries when you plug it into an outlet. You would need to change it with fresh batteries when the juice runs out.
What We Liked:
Stackable design
Digital AM/FM tuner
Shock-absorbing end caps
Keep phones safe
What We Didn't Like:
Doesn't charge batteries when plugged into an outlet
Bottom Line:
There are a lot of things to be happy about this unit. The end caps that keep the radio safe and the phone compartment are excellent and helpful features.
2. Milwaukee 2792-20 Electric Jobsite Radio
Nothing can bring life to a job site more than entertaining music from a radio. Milwaukee's electric radio does an excellent job of making any work fun and exciting.
This electric radio features weather-sealed compartments. Secure your essential belongings like keys, watch, and phone. The pockets in this unit will keep them safe from getting lost in the job site. Since it is weather-proofed, you can expect the device to hold out against the harsh environment and elements.
The built-in charger of this radio can charge all Milwaukee M18 radio AAA batteries. Besides, it is a quick and conventional way to power up lithium-ion batteries even on the go. When you are in a rush and only have an hour or so before you leave, you can expect the unit to load up enough power to operate.
Furthermore, the customizable equalizer is a fantastic feature. You can personalize and enhance the sound according to your preference. The 40-watt premium speakers can deliver a rich and full sound. There are also ten station presets that allow you to save and store your favorite channels.
The unit features a digital Bluetooth receiver. You can stream music wirelessly as far as a hundred feet away from the radio. Experience clear audio and loud tunes that everyone will enjoy.
Heads-up:
However, there is a minor issue that I want to point out. The sound can sometimes be too loud since the volume knob is a click type. It means with one click up, the volume can be louder than what you want.
What We Liked:
Weather-sealed compartments
Built-in charger
Customizable equalizer
Digital Bluetooth receiver
What We Didn't Like:
The sound can be too loud
Bottom Line:
This is a decent and powerful radio unit with lovely and durable exteriors. All the built-in features work exceptionally well.
3. Milwaukee 2590-20 M12 Cordless Job-Site Radio
Job sites are either too quiet or too loud; there are times when you want to drown the silence or noise with some music or radio entertainment. Fortunately, Milwaukee has some of the best radios in the market.
Take a look at this highly durable cordless radio. It features a strong exterior that can endure any reasonable accidents that often happen in a job site. The components of the unit include an AC adapter, auxiliary input cord, and two AAA batteries. It is a complete package that is ready to use right out of the box.
The aluminum speakers of this radio are weatherproof, and the compartments are weather sealed. Rest assured that the MP3 pocket is safe from any dangerous elements. A little rain and dust will do little to no harm to this device, all thanks to its secure design.
Moreover, its shock-absorbing housing is made of ABS polymer. It is effective in protecting the inner parts from any damage from falling. In addition, the controls are user-friendly. It will only take a few minutes, seconds even, to figure out which buttons to press for operation of the device.
Heads-up:
The exclusive digital tuner offers a high reception accuracy and clear signal. It works for both AM and FM bands, plus it's compatible with MP3 and iPod. The only issue here is the display screen which is left unprotected. It can be easily broken when hit by any debris from the worksite. Another thing, it does not have Bluetooth capability.
What We Liked:
Highly durable
Weather sealed compartments
Shock absorbing housing
User-friendly
Exclusive digital tuner
What We Didn't Like:
The display screen is unprotected
No Bluetooth capability
Bottom Line:
Check out this excellent job site radio that can provide you with entertaining tunes at work. It comes with easy-to-use controls and a practical digital tuner.
4. Milwaukee 2891-20 Wireless Jobsite Speaker
Working at a job site can be tedious, but it can also be more fun and entertaining with some music blasting in the background. That is why Milwaukee has created some fantastic radio units you can consider purchasing.
This heavy-duty wireless speaker is perfectly designed to operate in a worksite. It features water and dust protection. Besides, the impact-resistant roll cage and reinforced side caps and grills are effective in absorbing shock. All these are in place to keep the unit safe and secured.
There are two high-definition mid-woofers you can maximize to produce a loud sound. Unlike other radios that create a distortion when the sound is too loud, this device has low distortion and delivers clarity. In addition, the high range tweeters drive the high range treble, and two passive radiators offer clear audio with a high volume of bass.
You can opt to connect your device with the auxiliary connection or wirelessly up to a hundred feet away from the unit. It is powered by M12/M18 batteries and can also utilize the AC outlet. The USB outlet can charge electronic devices either through the AC or DC mode.
Heads-up:
But there is a minor problem that I have observed while trying this model. The radio has trouble pairing with some devices. It depends on what phone model or device you have. It would be best to double-check and see which ones can connect with the unit. Other than that, everything seems to work well with this radio.
What We Liked:
Heavy-duty
Loud sound and low distortion
Auxiliary connection
Stream wirelessly
What We Didn't Like:
Bluetooth has trouble pairing with some devices
Bottom Line:
The Bluetooth range of this radio is impressive. The speaker is also good sounding, and the design is built tough. I highly recommend this one if you are looking for the loudest job site radio.
5. Milwaukee 2592-20 M12 Wireless Jobsite Speaker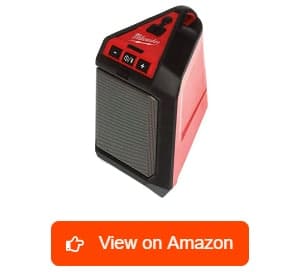 With many radio units available for sale, finding one that'll work best on a job site is challenging. If a Milwaukee tool can adapt well in such a place, so can their radios.
Consider this highly durable wireless speaker that is perfect for any job site. It is designed to hold out against the dangers of a worksite. The heavy-duty unit can survive the most common accidents that happen at such places. You can expect it to last for a long time.
The controls and settings of this radio are user-friendly. It only takes a while to make sense of what buttons to push and how to set the unit for the best experience. Even if an individual is not familiar with the latest technology, this one is easy to use.
Furthermore, the Bluetooth connectivity feature of this radio enables users to connect their portable electronic devices like phones and MP3 players. The connection will remain linked for up to 30 feet away from the unit. It is a convenient and wireless way to listen to some tunes.
The premium speakers come with an integrated bass port that delivers loud sounds. If you want a radio that can drown the noise and make the job site more entertaining with music, then this unit is a perfect choice.
Heads-up:
However, there is an issue that I want to point out. The Bluetooth connection gets cut off easily when the distance comes close to 30 feet and when someone walks between the electronic device and the speaker.
What We Liked:
Highly durable
Easy to use
Bluetooth connectivity
Premium speakers
What We Didn't Like:
Bluetooth connection easily cuts off
Bottom Line:
For a small speaker, this unit can deliver pretty loud and high-quality sound. The build is also tough and looks like it can withstand any harsh environment you put it into.
6. Milwaukee 2951-20 M12 Cordless Jobsite Radio
A dull and monotonous workday can be fun with music and radio entertainment. Browse through Milwaukee's collection of radios and take your pick.
They have this lightweight and portable cordless radio. You can effortlessly bring it with you to different locations. It doesn't take up much space because of its size, and it is not too heavy that it'll put a strain on your back or shoulders.
Moreover, this radio leaves small footprints. The features and delicate parts are concealed with rigid material for durability. Its design is specific and made to withstand the harsh environment of a worksite. Rest assured that it can accompany you for a long time.
The unit comes with a built-in charger. The 12v DC port makes it easy to quickly and conveniently charge M12 batteries. In addition, the radio delivers a maximum of 10 hours run time with an M12 system and on a CP2.0. You don't have to worry about running out of power amidst a workday after a full charge.
EQ customization and radio personalization are possible with this device. There are ten presets available, and you can save your favorite stations. Besides, it features a full-range speaker and tweeter that provides clear mids and highs.
Heads-up:
The only problem with this model is the equalizer settings. It can be challenging to figure out how to make it work, and it takes time. But once you master the controls, it's an accessible and valuable feature to have on the radio.
What We Liked:
Portable and lightweight
Tough and durable
Built-in charger
Personalization and preset available
What We Didn't Like:
Equalizer feature is challenging to figure out
Bottom Line:
The sound coming from this device is lovely and of high quality. The reception is good, and the preset stations are fantastic. In short, it is a top-notch radio, and I highly recommend it.
7. Milwaukee 2950-20 M18 PACKOUT Radio
Regular radios cannot survive the tough environment of a job site. What you'll need is a rugged unit that can withstand external elements. Milwaukee manufactured their products with all these in mind.
How about this refurbished pack-out radio? It underwent tests and is certified to have a look and performance that is as good as new. The process includes inspection, basic cleaning, functionality tests, and repackaging. Each set comes with all relevant accessories and a unit that is ready to use.
This heavy-duty unit can work well under the harsh surroundings of a job site. It is equipped with a tough exterior protecting the inner parts from falls, rain drizzles or splashes, and dust. You can rest assured that this device will last for a long time and accompany you to different locations.
The ten speaker sound system gives users 360 degrees of surround sound. It can effectively drown out the noise and disturbances so that everyone can enjoy entertaining tunes. Besides, the loud and high-quality sound provides an enjoyable experience without any disruptions in the signal or connection.
Furthermore, it has full-range connectivity brought by Bluetooth 4.2. There is an AM/FM reception and an auxiliary input. In addition, you can charge mobile devices and M18 batteries with the 2.1 USB output. No need to worry about running out of juice while working; this radio will save the day.
Aside from the built-in charger, this sound system device is compatible with other pack-out storage system solutions. It means you can stack this radio together with other equipment and heavy tools from Milwaukee.
Heads-up:
The only issue with this radio is that it doesn't seem to be as loud as other models despite its ten speaker sound system. The low-end bass can be improved for a better and louder output.
What We Liked:
Heavy-duty
Surround sound
Full range connectivity
Built-in charger
What We Didn't Like:
Not louder despite the ten speaker design
Bottom Line:
Full range connectivity is a fantastic feature for a job site radio to have. This specific model has that and a lot more fantastic functionality.
8. Milwaukee 2790-20 12-Volt to 28-Volt Jobsite Radio
Add some entertaining music to a boring and monotonous job site. With the right radio selection from Milwaukee, you can look forward to going to work every day.
This highly durable jobsite radio is manufactured with ABS polymer and steel construction. It is designed with tough exteriors as protection against the weather and abusive workplace conditions. Besides, it is built to last, so you can expect it to keep you company for a long time.
The unit features an exclusive digital tuner. It provides a high, accurate, and precise signal reception for both AM and FM bands. In addition, it is compatible with MP3 and iPod devices. The premium speakers in this model come with a 40W amplifier for high sound quality, which makes it ideal for noisy environments.
There are ten station presets and a customizable equalizer. You can set the controls according to your preference and desired output. You can store the durable cord wrap for the DC output effortlessly for a no-mess setup. Users can charge electronic devices like phones with the USB port in the radio.
Heads-up:
Moreover, the package comes with two AA batteries and an auxiliary cord. The built-in bottle opener is another great addition. But I have an issue with the batteries since they are not rechargeable. You have to purchase the batteries separately. For replacement batteries, refer to the product description to get the right types.
What We Liked:
Highly durable
Digital tuner
Ten station presets
Built-in bottle opener
What We Didn't Like:
Batteries are not rechargeable
Bottom Line:
The excellent reception and sound are a dead giveaway that this is a fantastic radio that everyone should consider getting. It is well-built and can withstand the harsh worksite. Plus, the sound output is really loud but not static, so you can fully enjoy the experience of listening to tunes.
Factors to Consider When Choosing Milwaukee Radio
After going through the reviews, you might have some favorites and are now working on eliminating choices until you get the best Milwaukee radio. We think the following factors can aid you in that. These are relatively specific and take you to view each product closely, so it is easier to figure out which ones are better than the rest. Go through this list, and don't forget to take notes.
Durability
Milwaukee is famous for their durable tools, and their radios are no exception. What you need to look out for is finding a suitable unit depending on the job site. Generally, choose one that is weatherproof. Water and dust resistant features are favorable, so is impact protection.
Check the safety features available for the unit. Protective elements and parts like shock absorbers can come in handy when you accidentally knock over the device. It also adds another layer of buffer to keep the easily damaged part safe and sound.
Size and Weight
Portability is a must for job site radios, especially if you carry the unit to different locations now and then. The radio should be small to not take up too much space. It does not only apply to your bag but also to the site. If you have a tiny workplace, a radio that can easily fit anywhere is handy.
You don't want to break your back transporting the device; thus, opt for a lightweight one. If you have Milwaukee tool sets, it features a stackable system where you can put a radio on top, making it easier to transport. Rectangular radios are suitable since you can stack the objects neatly.
Performance and Sound Quality
The more high-end the unit is, the more outstanding its performance and sound quality are. But the price tag is also on the higher side. Keep an eye on how many speakers there are and if the bass sounds excellent. A user-friendly sound setting that you can customize is better.
Moreover, a good and loud sound is a must. There is too much noise and distraction in a job site. Opt for a radio unit with premium speakers and an efficient equalizer if you want to drown the noise and listen to entertaining music. That way, you can adjust the settings to get your desired output. Milwaukee radio speaker upgrade is another option that you can consider.
Power Source
There are two ways to power a job site radio: through an AC power source or batteries. If you plan to bring the unit outdoors without access to an electrical outlet, then a cordless unit is for you. Otherwise, the corded one is ideal. For those who want to have both, some high-end models have AC power and batteries.
Runtime
The battery voltage or battery power determines the battery life and, eventually, the runtime of a radio. If the voltage is high, the battery life is longer. This is a crucial factor that one should not leave out when looking for a cordless unit.
On a fully charged battery, the device should have a continuous runtime of around 10 hours or more before it needs to be charged. You can charge the unit during playback, but it often influences the sound quality; thus, it is not recommended.
Auxiliary Hooks
Some worksites have no ideal spot where you can charge a radio out of everyone's way. For situations like this, auxiliary hooks are practical. It provides users with a wide number of connection points that meet charging requirements. If your job site doesn't have any plug points, it would be best to consider a unit with this specific feature.
Connectivity
Multiple connectivity options are now available in most units. It is convenient to have a radio to connect with external devices either by Bluetooth or auxiliary ports. If you want to listen to your playlist, a radio speaker that supports connectivity is a must.
If you are comfortable and satisfied with the entertainment offered by the radio, then connectivity is not a necessity for you. Your choice will depend on your needs. If you are not sure, you can always opt for those with multiple connectivity features.
Signal Reception
Remote worksites have poor reception, and there is nothing you can do about that except for choosing a radio with good signal reception. A good unit can quickly get reception even in such places. It will also help if the device comes with an antenna to enhance the signal it receives.
To avoid any static that disrupts sound, the radio should switch between mono and stereo. That way, you can fully enjoy the experience with little to no disturbances.
Price Tag
Lastly, how much you are willing to spend on a job site radio will affect your purchase. High-end and pricey units come with more features and better sound quality. There are also mid-range ones that are decent, even if they lack some features.
Target these two and never opt for a cheaper device because it will be like wasting your money on something you are bound to throw away in a month. Some people forget to check the price tag at the last minute, but you shouldn't.
The elements in finding a Milwaukee radio you just read are essential information you should always bear in mind. Some individuals often dismiss a few of them until it is too late. Don't make the same mistakes; take your time scrutinizing each potential radio option on your list.
Different Types of Milwaukee Radio
Not all Milwaukee radios are manufactured the same. Some people might generalize and say, 'Just pick any; they are all similar anyway'. But it would be best if you were not one of these people. Several units have different functions than others. Knowing this can aid you in landing a suitable device that you will treasure for a long time. Here we have two types of units that the brand sells.
This type of radio has access to AM and FM signals to listen to the news, sports, and music stations. It also features an auxiliary port where you can connect your device. A Bluetooth device is included in some models.
This unit is only a speaker and lacks the internal capabilities to play music. External music playing device is necessary, either a phone or MP3 player.
Benefits and Drawbacks of Milwaukee Radio
Do you really need a Milwaukee radio? Let's find out by weighing the pros and the cons of owning a unit from this brand.
Advantages
Produces loud music
Room filling sound
Comes with standard AM/FM stations and antenna
Portable and durable
Water-resistant and waterproof
Bluetooth connectivity
Disadvantages
Most units will not charge batteries
It can be challenging to figure out some controls
Sure, there are some drawbacks, but there are obviously more benefits to having a Milwaukee radio. Besides, Milwaukee radios are not only for a job site. You can take it outdoors for camping or to a beach. If you are still hesitant, think again and refer to this list.
Will Milwaukee Radio Charge Batteries While Plugged in
Specifically, the Milwaukee 2890-20 M18 job site radio with the standard AC power or M18 18-volt battery can charge batteries while being plugged in. It has a 2.1A USB charging port for versatility without sacrificing the quality of sound or reception. Other units can be recharge depending on the battery model and while not in use.
Can You Connect Bluetooth Headphones to Milwaukee Radio
If the device comes with a separate Bluetooth transmitter, streaming music through Bluetooth headphones is possible. Besides, it is possible to pair your electronic device to the radio and play music as long as it has Bluetooth. Some units come with a 3.5mm jack, which makes a headphone or earphone connection possible even without Bluetooth connectivity.
Does the Radio Connect to the Packout System
Yes, there are Milwaukee radio models that can be connected to a pack-out system. These pack-out systems make it possible to interlock and interchange a wide variety of heavy tools. It is a Milwaukee modular storage system that is durable and versatile. The units can be connected quickly and are excellent if you want a radio that you can easily transport together with your equipment and tools.
Do All the Milwaukee Radios Come with a Weatherproof Feature
Many but not all. One of the indicators of a weatherproof unit is concealed parts and compartments. No internal parts are exposed, and there is a heavy layer of rigid material and sometimes shock-absorbing grills surrounding the radio.
The majority of radios, even not Milwaukee ones, are created to be resistant to water. These units can withstand drizzles and splashes of water, but anything worse than that is not ideal for the device. On the other hand, waterproof radios can be exposed and submerged into water for a specific depth and time.
Conclusion
Looking for the best Milwaukee radio is no easy task. We hope that our Milwaukee job site radio review can help you gather enough data to find the most Milwaukee radio for sale. For those just starting their search, the product reviews give you a general glimpse into what's available in the market. Remember to consider your needs and preference alongside the crucial factors we've listed above.
If you know someone who is confused and still undecided about which Milwaukee radio sydney tools to buy, share this article with them. For those who have found their radio, comment on your experiences in the section below. We love hearing from you!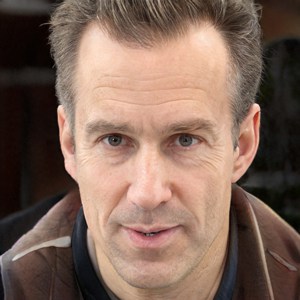 After four years working as a radio mechanic, I know that everything about radio communication is not breezy, even though it greatly benefits us. That is why I set up a website sharing my skills and guides to help non-professional users use their radio headsets, set up their antennas or choose the right products, etc.