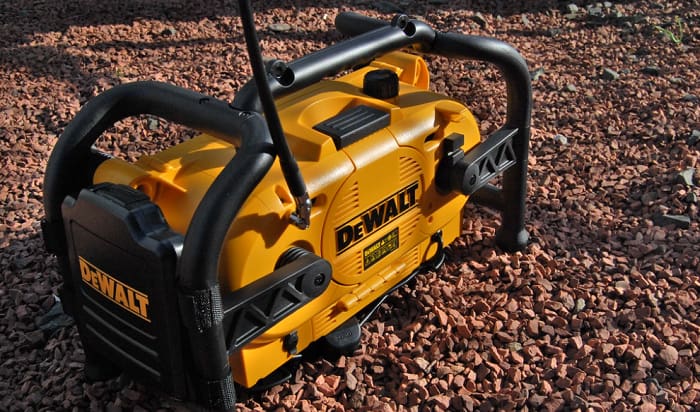 Working hard in your garage? Looking for a great way to be entertained as you fix your car or complete your next DIY project? You will love having the best garage radio. Aside from listening to music, you can also hear the latest news or even connect it to your phone.
Compared to traditional radios, a garage radio is built to withstand harsh environments. Most of their functions are similar, but not all products have the same incredible performance. To help you decide, below are some of the most important considerations:
Audio Quality: From the speaker to the equalizer, look at the different features that impact the sound output of the radio. It should be clear, crisp, and loud without distortions. A built-in antenna will also help to prevent static and have a stronger reception.
Connectivity: With a Bluetooth garage stereo, you can enjoy wireless connectivity to stream music from your mobile phone or similar devices. It is also a must to have wired connectivity, such as an aux jack for private listening and a USB port for charging your tools.
Versatility: To enjoy the best bang for the buck, pick one with multiple functions. For instance, some models can also work as a CD player for the garage. Others can function as Bluetooth speakers and portable power banks.
Clueless about the radio for the garage workshop? Read on and stop wondering. We'll have a rundown of some of the top products that should be on your radar, as well as some of their most incredible features.
Top 11 Garage Radio Reviews
1. Sangean LB-100 AM/FM Radio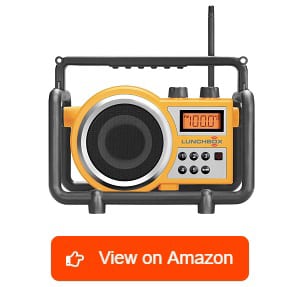 From its rugged body to incredible reception, this garage radio from Sangean is my favorite. It will withstand many years of use while also guaranteeing top-notch performance.
Looking at its features, one thing that makes it stand out is its phase-locked loop synthesized tuning. The latter increases accuracy and stability, resulting in a stronger reception. This way, the audio is fade-free, making sure that it is crystal-clear.
I also love ten-station presets, and I can choose five AM and five FM stations for easy access every time I am tuning the radio. It eliminates the need to manually set the frequency at which I would like to listen to. All I have to do is press the speed-touch button and it automatically directs to a specific channel.
The roll cage design is also worth noting. It has a stiff handle on the top, making it easy to carry around even beyond the garage. The cage also protects it from bumps, and it improves the shock resistance of the unit for a longer lifespan. Plus, it has an IPX4 waterproof rating, contributing to its longevity. Even outdoors, the radio is exceptional!
It is also impressive because of its 5-inch high-output and water-resistant speaker. It generates a rich stereo sound that fills the garage and makes the experience more immersive. Even when my tools are noisy, the audio is loud enough.
Ease of use is another good reason to choose this worksite radio. It has large buttons that I can quickly press to input a specific function. Plus, it has a large rotary dial for adjusting the volume and setting a frequency. Meanwhile, the 2.24 x .98-inch screen is large enough, so I can see the display even if I am on the other side of the garage.
Heads-up:
However, one of the drawbacks of this radio is that it does not have NOAA support. This means that it does not have a weather alert function, which could have been useful for staying informed on the latest disturbances.
What We Liked:
Has phase-locked loop synthesized tuning to enhance radio reception
Save up to ten stations to eliminate manual tuning
The roll cage design makes it shock-resistant
User-friendly buttons and layout
Comes with high-output speakers for a powerful audi
What We Didn't Like:
No support for NOAA channels
Bottom Line:
Wrapping up, this outdoor garage radio has a durable shock-resistant construction, powerful speakers, room-filling sound, user-friendly controls, and exceptional reception.
2. DEWALT DCR010 Bluetooth Speaker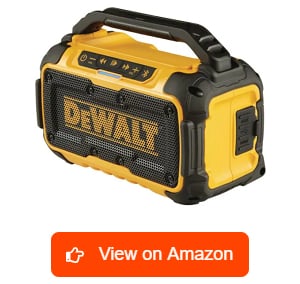 The brand name alone is already a compelling reason to choose this product. From its tough construction to impressive audio quality, it is a winner.
While it is notable for many reasons, one of its top benefits is its excellent sound quality. Even if I have a large garage, I can hear the music from the other side of the room since it is powerful. It has three-inch speakers with extended bass, delivering an immersive listening experience.
More so, I am also a big fan of its wireless connectivity. It is high time that I get rid of messy wires in my garage. It supports Bluetooth streaming at a maximum distance of 100 feet. Nonetheless, there are also auxiliary inputs, which means I can also use it for wired connections, such as earphones for private listening.
Another good thing about this product is its versatility. It also has a USB charging port, so I can keep my gadgets and Dewalt tools juiced. Plus, it works both corded and cordless. If I am outside of the garage when there is no electricity, I can opt to use the battery instead.
Design-wise, this Bluetooth garage stereo system is remarkable. It has a carrying handle, so I can bring it anywhere easily. There is also a phone holder. Plus, I like how tough it feels, which makes it obvious that it is long-lasting. Best of all, the manufacturer is offering a limited three-year warranty. The latter demonstrates how confident they are of their quality over the years.
Heads-up:
If there is one downside, however, it would be that it does not work as a radio tuner. You will have to use your phone or any connected device with digital radio tuning capabilities and use it only as a speaker.
What We Liked:
Powerful speakers for extended bass deliver rich audio
Supports Bluetooth wireless streaming at up to 100 feet
Allows both corded and cordless operation
Includes a USB charging port
Comes with a three-year limited warranty
Bottom Line:
Made by a reputable company, this Bluetooth garage speaker has a tough construction, flexible power source, and high-quality audio.
3. Sangean U-3 AM/FM Radio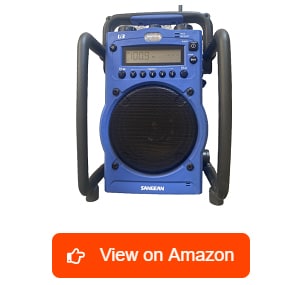 If you need something larger than a conventional garage stereo, this is an exceptional option. It is ultra-rugged and hard-hitting with a performance that is second to none.
One of the best features is its built-in memory. This way, I can store ten of my favorite radio stations and access them quickly for every use. I do not need to scan all available channels manually, and all it takes is a single press and I can tune in to the desired frequency.
To improve the AM and FM reception, the radio comes with a detachable and extendable antenna. It has a soft-bend spring, which makes it easy to adjust to optimize the signal, which is especially handy inside the garage.
I am impressed with the high-quality sound output, which is hard to find in many of its competitors. It has dynamic bass compensation and high sensitivity, which contribute to having a more immersive experience when listening to my favorite music. Thanks to its 6.5-inch six-watt speaker with tone control adjustment!
The ultra-rugged construction is another benefit of this radio. It has a JIS 4 rating, which means it is water-resistant and has a tough body. Even when working outdoors, the radio is a great companion and can withstand harsh surroundings.
More so, this stereo for the garage has a large digital display with a backlight, so it is easily visible even from afar and in a dark place. It also comes with a built-in flashlight. Plus, the radio doubles as an alarm wherein you can choose from a human wake system or radio.
Heads-up:
Take note that this isn't for small garages or a countertop. It is large and heavy, which can also compromise its portability. Even if it has a built-in handle, the weight can be a limiting factor to some people.
What We Liked:
Easily access ten radio stations with its memory function
Optimize the reception with the adjustable antenna
Rugged and water-resistant body that withstands tough environments
Has a dual alarm with radio or human wake system buzzer
Bottom Line:
Wrapping up, this good garage radio has an incredible speaker, tough construction, a dual alarm system, and a backlit LCD.
4. PORTER-CABLE PCC771B Bluetooth Radio
A compact, rugged, and portable job site radio, this is another option that should be on your list. It is made by a company known for its exceptional power tools.
While many things make it impressive, one of my favorites is Bluetooth connectivity. I can pair it with a compatible device and enjoy wireless streaming in my garage. It also has an auxiliary input, so I can have a wired connection. Meanwhile, when I use it as a radio, I can save up to 12 AM and FM radio stations.
The two speakers make the radio-loud despite being compact. The unit has an equalizer feature to adjust bass and treble through the volume buttons. There is also an antenna at the back for clearer reception and better audio output.
It is also worth noting that it is built to withstand the harsh elements in your worksite. It has a heavy-duty plastic frame that surrounds the main unit. This means that even if I accidentally drop the radio, the main body won't touch the floor.
With a dual power supply, I do not have to worry even when there is an outage. Under normal use, I can plug it in using the included power adapter. Otherwise, the radio runs on a 20-volt MAX lithium-ion battery.
Heads-up:
Nonetheless, if there is one thing that the manufacturer can improve, it is the fragile power cord. It feels flimsy, so I am not confident that it will last long.
What We Liked:
Play music wirelessly with Bluetooth connectivity
Has two powerful speakers with an equalizer
Dual power source for portability
Saves up to 12 stations for easy tuning
What We Didn't Like:
Power cord is easily prone to damage
Bottom Line:
Overall, this option for the top-rated garage radio Bluetooth is excellent because of its robust construction, memory function, loud speakers, and a dual power source.
5. Dewalt DCR018 Jobsite Radio
Aside from the manufacturer's reputation, this pick for the best radio for the garage stands out because of its versatility, durability, and fantastic sound quality.
At first, you might think that it is your traditional compact radio. It has a small body, which makes it space-efficient. Nonetheless, there's more than what meets the eye. There is a storage box at the back, which will protect your devices against dust and debris.
This Dewalt garage radio is also impressive because of its corded and cordless operation. In the garage, I can use the included AC power cord. Outside or when there is no electricity, I can use compatible battery packs, which are the same that are used in Dewalt power tools.
With the 3.5mm auxiliary jack, I can connect a music player, satellite receiver, and other compatible devices. Plus, it has a USB port, which will allow me to charge the device, so the battery always has juice when I need to use it without AC power.
The heavy-duty roll cage is another feature that makes it a winner. A bumper surrounds the main body, protecting the radio from bumps. Even in the harshest environments, I am sure that this radio is durable.
Heads-up:
One thing that is notably missing is Bluetooth connectivity. I prefer job site radios that allow wireless streaming to play music straight out of my phone.
What We Liked:
The compact body makes it ideal for small garages
Has a heavy-duty roll cage for damage protection
Allows both corded and cordless operation
Includes a storage space to protect devices from debris
What We Didn't Like:
Lacks a Bluetooth feature
Bottom Line:
This is another great choice for a garage radio system from its versatile operation using an AC power or battery to the tough roll cage design.
6. HeroFiber 4330351491 Radio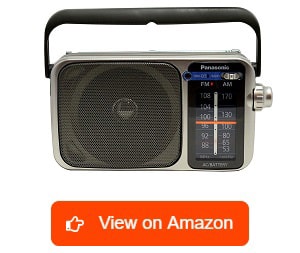 For something affordable and simple, it is hard to go wrong with this HeroFiber radio. It is economical but does the job.
The space-efficiency and portability of this radio are two of my favorite things. The small body can fit even in tiny garages and won't be a distraction along with my tools. Plus, it is lightweight and comes with a handle, so I can bring it anywhere, even beyond the worksite.
Another benefit of this workshop radio is its intuitive design. It is one of the simplest on this list, so operating it will be straightforward. It comes with a large dial that has a fluorescent pointer for visibility. Additionally, it has a digital tuner with auto frequency control that improves its stability.
For the best listening experience, it has a 10cm speaker. Meanwhile, if you prefer private listening, you will love how it has a 3.5mm earphone jack. Plus, the radio comes with a ferrite antenna for stronger reception, even when used indoors.
From the workshop to the campsite, this is a great radio. By default, I am using the AC power cord. Meanwhile, if there is no plug, I can use four batteries, but they are not included upon purchase.
Heads-up:
Despite all the good things, it also has a few drawbacks. For instance, the AM radio programming is inferior. It is difficult to pick signals inside the garage, making it prone to static.
What We Liked:
Lightweight and compact for space efficiency and portability
User-friendly design with intuitive controls
Has auto frequency control for stable tuning
Work with both AC power and batteries
What We Didn't Like:
Hard to pick up AM signal
Bottom Line:
With its compact body, intuitive controls, and stable tuning, there are lots of reasons to choose this FM receiver for the garage.
7. BOSCH PB360C Jobsite AM/FM Radio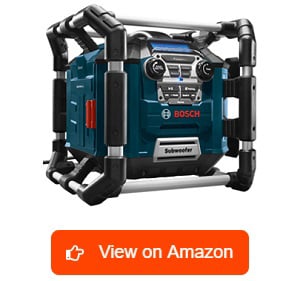 The brand name alone is already a compelling reason to pick this Bosch Bluetooth Power Box. It is tough, versatile, and powerful, making it a great addition to any garage.
One of the stand-out features is Bluetooth pairing with smart devices. This means that you can listen to your favorite songs not just from FM stations but even from external music players. It ranges up to 150 feet, providing you with the freedom to move.
With four-way speakers, the radio produces rich and immersive audio that will fill the garage. It also has a subwoofer for 360-degree sound projection. Aside from the equalizer, you will have treble and bass controls for customizing the output as you desire.
Tired of radios that easily ask for a replacement? The weather-resistant design of this product makes sure that the latter isn't the case. It has a protective bumper with an aluminum cage and rubber surround to protect the main unit against bumps.
Even if there is no electricity, you can use this radio. It has a standard power from a 120-volt outlet using direct AC power. Meanwhile, it also works with 18-volt rechargeable batteries to play even outdoors.
One thing that differentiates this model from most garage radios is its built-in 120-volt power outlets at the back. The latter means that you can connect your power tools, making it a multifunctional appliance to have in the worksite.
Heads-up:
If you have a small garage, however, you might want to think twice. It is bulky, so it needs a large space, unlike a traditional countertop unit.
What We Liked:
Wireless playback at up to 150 feet
Generates immersive audio with four-way speakers
Durable construction with a roll cage and protective aluminum
Has outlets for connecting power tools
Bottom Line:
To conclude, this stereo system for the garage has Bluetooth functionality, rugged roll cage, dual power source, and outlets for plugging your tools.
8. Milwaukee 2890-20 Jobsite Radio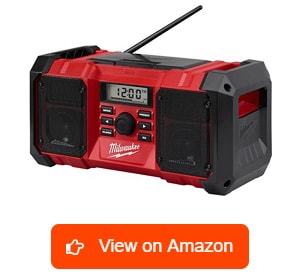 For a high-performance stereo system in the garage, it is hard to go wrong with this product. This Milwaukee radio is a stand-out from the solid build to its good sound quality.
Among others, one of the most notable in this product is the dual front-facing speakers. They are equipped with passive radiators, which effectively make the audio loud and clear while having deep, accurate bass. This is unlike others, wherein the sound is easily prone to distortion.
The robust design is another asset of this stereo for the workshop. It has shock-absorbing end caps and a tough body, which indicate longevity. The auxiliary compartment is weather-sealed, which prevents the penetration of dirt and dust.
Additionally, it has many features that make it user-friendly. For instance, there are ten station presets, so I can easily tune to the channel I desire. Plus, there is a handle, so bringing it around is effortless. I am also a fan of the 2.1 USB charging port, which works with all electronic devices.
Like many of the top cordless garage radios, it remains juiced for a long time. It has M18 5.0Ah battery, which can run at a maximum of 12 hours when it is full. Otherwise, there is also an option to power it through an AC adapter.
I also like how the radio comes with a stackable design. It sits neatly on the top of a table, floor, or other even spaces. Meanwhile, I can put tools on the top, making them easily accessible when I am working in the garage.
Heads-up:
While the overall experience is great, I do not like how the clock is prone to having problems. Many times, the screen did not show the time properly.
What We Liked:
Powerful dual speakers for great sound quality
Has ten-station presets for effortless tuning
Comes with a USB charging port
Long-lasting battery with a lifespan of up to 12 hours
What We Didn't Like:
Clock display can be problematic
Bottom Line:
Another top candidate for the best worksite radio, this product has exceptional speakers, a rugged body, ten-station memory, USB charging, and a long-lasting battery.
9. RYOBI P746 One+ AM/FM Radio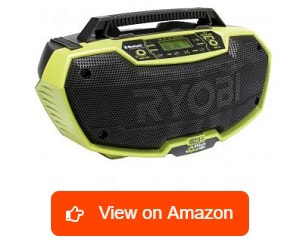 If you are still clueless about garage stereo ideas, this is another option that deserves a spot on your list.
One of the best things about this radio is its hybrid technology, which has a dual power supply. While I can plug it in when there is electricity, there is an option to run on an 18-volt lithium-ion or nickel-cadmium battery.
The versatility of this product is also a plus, which makes it suitable for multiple platforms. Aside from listening to AM and FM stations, it also has an auxiliary jack for connecting a phone or music player. Alternatively, it also has Bluetooth connectivity for wireless playback. Plus, it has a 2.1 USB port so I can charge my phone. It even has a built-in phone holder.
It comes with an equalizer function, which allows customization of the audio output. I can personalize my listening experience by adjusting bass and treble settings to suit my preference, depending on the genre.
With two seven-watt speakers, the radio is loud and clear. If those are not enough, then you can plug in an additional speaker. This is one feature that you will love if you have a large garage or use the radio in noisy environments.
Heads-up:
Nonetheless, one of the downsides is the fragile power button. There were many complaints about how it is easily prone to wear.
What We Liked:
Use either an AC cord or battery as the power source
Supports both wired and wireless playback
Has a built-in audio equalizer for customizing the output
Allows plugging in of extra speaker for a louder sound
Bottom Line:
With its hybrid power source, wireless playback, built-in equalizer, and support for external speakers, this is a top-notch choice for garage radio with Bluetooth.
10. 1A2BVV PR-137 AM/FM Radio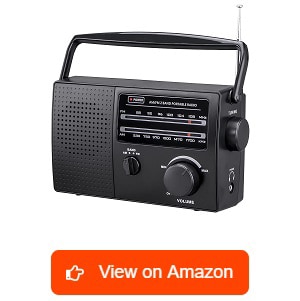 On a budget? Looking for something simple and user-friendly? Then make sure to include this on your list.
More than being economical, I like this product because of its built-in speaker that delivers good sound quality. At only three inches, it is smaller than most of its competitors. Nonetheless, with two watts and eight ohms, it is loud enough for its size. If you do not want to disturb others, meanwhile, it has a 3.5mm jack.
Whether you are in the workshop or outside your home, you can bring this radio with you. It offers both AC and DC power supply. It can run on four batteries, making it great even in places without a socket or electricity.
The simplicity of the radio is one more thing that I like. It is devoid of complicated controls and it does not even have a digital screen. Instead, it has a needle-style indicator that shows the station you are listening to. It also comes with a convenient selector for choosing either AM or FM function.
Heads-up:
The biggest drawback, however, is that it is from an unpopular brand. I never heard of the company before, so I understand if many buyers will be skeptical.
What We Liked:
A great choice for people on a budget
Has a small but loud speaker
Allows both AC and DC operation for versatility
User-friendly control panel for straightforward operation
What We Didn't Like:
Not from a brand that most people will recognize
Bottom Line:
An affordable and user-friendly choice for the best worksite radio, it has a small speaker that delivers clear audio and comes with a dual power supply.
11. ION Audio Tailgater Express AM/FM Radio
Wrapping up our list of garage radios is another option with tough construction and exceptional audio.
Among others, one of the best radio features in this model is the 20-watt dynamic amplifier. It also has a wide-dispersion tweeter and four-inch woofer, so you can use it beyond a garage. You can take it to your next karaoke party and it is sure to rock! There is even a microphone input.
The radio is great for both indoor and outdoor use since it has a dual power supply. You can take the radio and expect it to withstand harsh elements outside of the garage. With its IPX4 water resistance, it will not be damaged by light splashes.
This is also a great choice for those who want to stream internet radio. You can pair it with any NFC or Bluetooth-compatible device at a maximum distance of 100 feet. Move around and your phone is still connected to the radio.
More than being an AM/FM radio and Bluetooth speaker, it also works as a USB power bank. There is no need to worry that your phone will die while you are in the garage or having a party with the radio.
Heads-up:
However, one part of the radio that can improve is the battery. Most of the time, it has problems charging and will not last a long time.
What We Liked:
The powerful amplifier ensures a loud sound
Supports Bluetooth streaming at up to 100 feet
Weather-resistant body for longevity
Has a built-in USB charging port
What We Didn't Like:
The battery is prone to problems
Bottom Line:
Wrapping up, this Bluetooth garage stereo excels because of its rugged body, dual power supply, built-in power bank, and powerful speaker.
What to Look for When Buying Garage Radios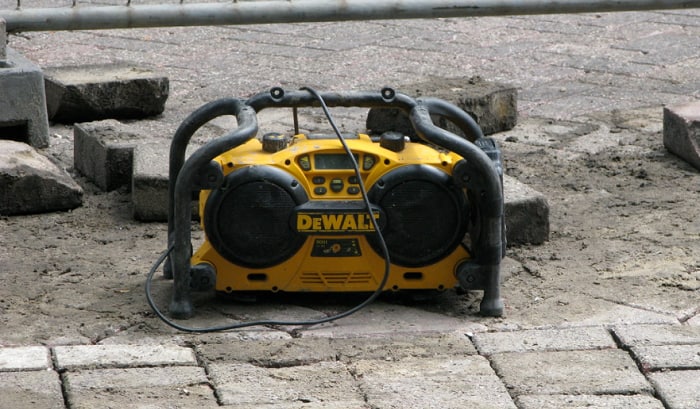 Not all radios for the garage are the same. To help you differentiate one from the other, below are some of the most important considerations.
Audio Quality
If the radio has subpar sound quality, it will be nothing but a waste of money. One of the things to look at is the speaker. More than its size, look at the technical specifications, which will determine its ability to produce clear and crisp audio. It is also good to have an equalizer and options for the customization of treble and bass.
Durability
A good garage radio has a rugged body, which can withstand long-term use and external elements that can speed up wear. It is good if it is weather-resistant or waterproof. Many may also have a roll cage, which will protect against bumps.
Connectivity
When choosing a workshop stereo system, consider the connectivity options. The best ones have Bluetooth, which will let you enjoy wireless streaming from your smartphone and other compatible devices. It is also good to have an input jack for earphones or a USB port. Some will also have an aux port so you can use it as a garage radio CD player.
Power Supply
Pick a radio that works, whether it is corded or cordless. The standard models will have an AC cord, which is great for having electricity in the garage. Buy one that comes with battery power, so you can use it anywhere, even outside the workshop when there is no power. If this is the case, consider how long the batteries will last.
Versatility
To be versatile, a product should offer multiple functions. For instance, you can pick a garage radio with a CD player if you want one that you can use beyond AM and FM stations. Some will also have a USB charging port for your phone or power tools.
What Is the Loudest Garage Radio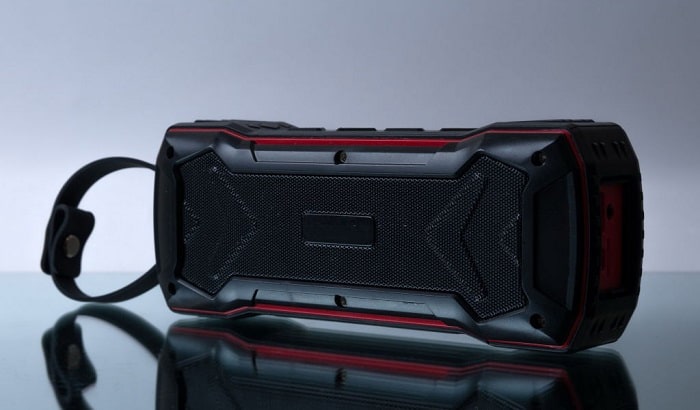 It is almost impossible to answer this question since I have not tried every model available. However, from the options on this list and even in other garage radio reviews, one that stands out in terms of volume is Sangean LB-100. Even with loud power tools, it delivers clear sound.
Are Dewalt Garage Radios Any Good
Yes, Dewalt radios are good. In fact, they are some of my favorites. They might be more expensive, but they pack a plethora of innovations that make them stand out. They have excellent sound quality, rugged construction, and great reception, among other benefits.
Are All Garage Radios Waterproof
No, not all garage radios are waterproof. Some are only water-resistant. More so, many will not even withstand water, so be careful about getting them wet. We recommend choosing a weather-resistant model to protect against damages from splashes.
How Often Should I Maintain My Garage Radio
Maintain garage radios depending on the frequency that the manufacturer recommends. We suggest cleaning it after every use or at least once a month. If you do a lot of DIY work in the garage, such as woodworking, clean it more often as it will accumulate dust and debris that can get stuck on the buttons or speakers.
Conclusion
Change the way you work in your workshop! Whether you are servicing your car or completing your pet project, it is nice to have the best garage radio. It levels up your entertainment while also letting you stay updated on the news. Consider my recommendations above for the best bang for the buck!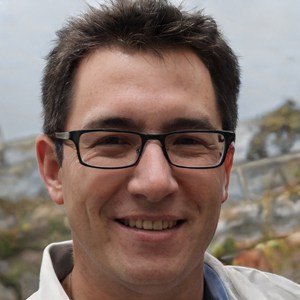 Hi, I am Amaro Frank – the Wind Up Radio's content editor and writer. Working with Adam is so much fun, as his stories and experiences enrich my knowledge about radio communications and radio accessories. My main tasks in Wind Up Radio are building content and generating great articles on different topics around radio accessories.