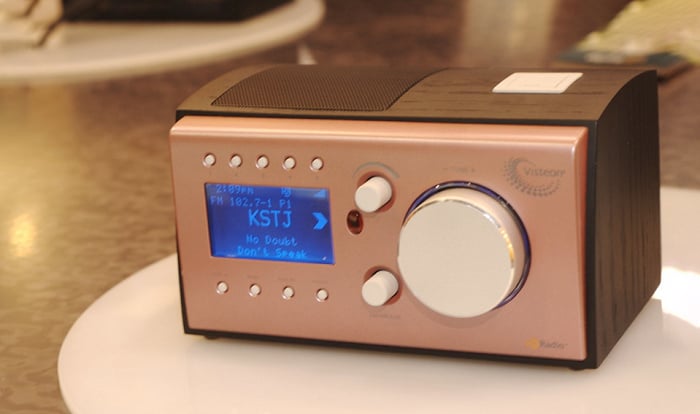 The best HD radio elevates your listening experience. It allows traditional AM and FM stations to broadcast content in digital signals. By delivering better frequencies, the audio clarity is better while also having a more extensive coverage.
Say goodbye to static, crackles, and fades. Access a wide array of channels without the need for a subscription or a smartphone. Best of all, you can enjoy music with near-CD quality. All of this is possible when you have an HD radio.
Choosing an HD radio can be overwhelming. The brands and models are plenty, but it does not mean that they will deliver the same great performance. As you narrow down your list, below are some of the most important factors to consider:
Type: This will depend on the intended use of the radio. You can opt for a tabletop or home radio. At the same time, some are portable and battery-powered, which are useful for camping. You will also find models that are designed specifically for cars.
Sound Quality: The speakers will have a huge impact on the overall audio output of the radio. More so, it will also depend on the options for customization, such as an equalizer that will let you adjust the treble and the bass.
Display: It is a must to have a backlit digital display for visibility. The screen will show important details you need to know, such as the station ID, song title, and artist's name. It can even double as a clock. It should also show the battery level.
Are you looking for high-quality HD radios? Read on and this Buying Guide will walk you through some of the top products that should be on your list.
Top 1
Sangean HDR-16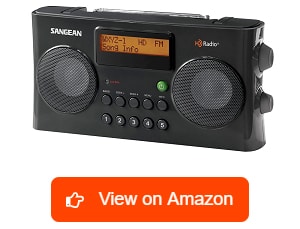 | | |
| --- | --- |
| Dimensions | 10.24 x 2.48 x 5.35 inches |
| Weight | 1.15 pounds |
| Power Source | AC & Battery |
Top 2
Sangean HDR-14

| | |
| --- | --- |
| Dimensions | 5 x 1.3 x 3.03 inches |
| Weight | 0.42 pounds |
| Power Source | Battery |
Top 3
Sangean HDT-20

| | |
| --- | --- |
| Dimensions | 6.93 x 12.2 x 2.97 inches |
| Weight | 6.1 pounds |
| Power Source | AC |
Top-rated HD Radio Reviews
1. Sangean HDR-16 HD Portable Radio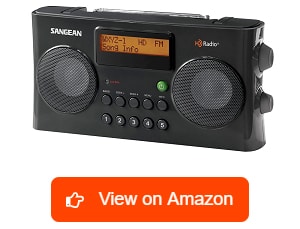 Sangean has over four decades of experience in the radio market, so I am confident that the quality of this product is second to none.
One of its best attributes is its sound quality. It is easy to tell the difference between a standard and HD radio. The speakers have separate controls for bass and treble, making it a snap to adjust the audio output. As a result, it has a realistic response that is reminiscent of a bookshelf stereo.
The multifunction display is another incredible feature of this radio. It is easy to monitor its functions by just looking at its screen. It has two lines and will display up to 16 characters. I can easily see the clock, current channel, and call sign. The backlight is also great, which increases its visibility.
Another notable feature is the intuitive interface. The radio has controls in strategic positions for easy accessibility with tuning and volume knobs on the side. They also feel solid, which is indicative of longevity.
Additionally, it has several inputs and outputs. I can connect it to a home stereo system if I prefer a louder speaker. Alternatively, I can also use plug-in earphones for private listening. Plus, it has an aux-in jack so I can use it as a speaker system for other devices, such as my phone.
Heads-up:
However, if there is one drawback to this radio, it would be the few available station's presets. I can program only five AM and five FM stations.
What We Liked:
Adjustable bass and treble to enhance sound quality
Has a highly visible and backlit two-line display
Multifunctional screen makes it easy to monitor
The intuitive interface makes it easy to operate
Provides various inputs and outputs
Bottom Line:
Overall, the Sangean HD radio stands out because of its notable sound quality, intuitive interface, backlit display, and multiple inputs/outputs.
2. Sangean HDR-14 HD Portable Radio
Great audio in a compact design – that is what you can expect in this HD radio receiver. With dimensions of only 5 x 3.02 x 1.28 inches, this is one of the most compact models on this list, so you can listen anytime and anywhere.
The portability of this radio is not just because of its size. You can use three AA batteries, which are not included upon your purchase. The radio has a low battery indicator. Alternatively, you can also plug it in using a 5V power adapter.
It has plenty of features that promote intuitive operation. One of the best is the 40 memory presets. This way, I can save 20 AM and 20 FM stations, eliminating the need for manual tuning. The radio automatically remembers my favorites.
Even if it is small, it has a decent backlit display. The latter shows up to 16 characters in two lines, making it easier to check the channel, time, and other settings shown on the screen.
Another great feature is the built-in collapsible antenna. It ensures better signal reception even in challenging environments. Increasing the height and turning the antenna will help in accessing more frequencies.
It is also exceptional because of the emergency alert functions. It provides immediate warning during inclement weather and other situations wherein I need to prepare or evacuate.
Heads-up:
If there is one thing that the manufacturer can improve, it would be tuning. Doing so is quite tricky, which can make the overall experience annoying.
What We Liked:
Compact body without compromising audio quality
Dual power supply using batteries or plug-in adapter
Allows up to 40 memory presets
Comes with a collapsible antenna
Supports snooze and emergency alert functions
What We Didn't Like:
Tuning is quite difficult
Bottom Line:
With its sleek design, backlit display, dual power supply, and built-in antenna, this is another great option for the top-rated HD home radios.
3. Sangean HDT-20 HD Component Tuner Radio
Upgrade your standard stereo system with this HD radio and enjoy the best listening experience. Even discerning audiophiles will agree that it is a beast!
One of the best reasons to choose this HD radio for home is the Program Associated Data service. The latter shows details that you might want to know, such as the specific station where you are tuning in or the title of the song.
I also like how I can save my favorite channels through the memory function of the radio. It supports 10 AM and 10 FM presets, so I do not need to tune in manually. Meanwhile, if I want to do the latter, the control panel has ten keys for direct input. More so, it also has automatic tuning, so it finds the nearby available frequencies.
Your purchase includes a sleek infrared remote. I can control the receiver even when I am far away from the unit. I do not need to stand up and manually change channels, adjust volume, or turn the radio off, among other functions.
Another good thing about this radio is that it has various options for customization. I can personalize its settings for a better listening experience. It has a mono control for enhancing the audio quality. It also comes with a real-time clock, as well as a timer.
Heads-up:
While the design is generally impressive, one thing that I did not like is that there are too many unnecessary buttons. They clutter the interface, which can also make the operation quite confusing.
What We Liked:
Has Program Associated Data to display relevant information
Allows users to save up to 20 stations
Has automatic tuning for searching available services
Comes with an infrared remote for easy control
Offers functions to personalize the listening experience
What We Didn't Like:
Has too many unnecessary buttons
Bottom Line:
One of the top options for tabletop HD radios, this model has 20 station presets, a data display, and an infrared remote control.
4. Sangean HDR-18 HD Wood Cabinet Table Top Radio
One of the most beautiful HD radios for home, it has an elegant wooden cabinet and a retro-inspired design. More than its appearance, it also packs a long list of top-notch features.
It accesses both analog AM and FM stations, as well as HD radio. Even better, you can store up to 20 memory presets. Save 10 FM and 10 AM stations for easy accessibility instead of manual tuning every time you are using the radio.
The dual alarm capability is another amazing function that you will find in this radio. Plus, it has a Humane Waking System, which will let you wake up to a soft buzzer that gradually increases in volume. Alternatively, you can also wake up to music from your favorite radio station. The alarm also has nap and snooze functions.
On the left side of the radio, you will find a small round grill for the speaker. I love how the radio has treble and bass control, so I can adjust the output as I wish. Plus, it has input jacks so I can connect an external speaker.
Another great feature is the full-function remote. It simplifies the operation of the radio without the need to physically touch the buttons in the panel. Even at a distance, you can change stations or adjust the volume, among other things.
Heads-up:
One of the problems with this HD radio is that the clock resets when there is a power interruption, even for just a few seconds. You will need to set it manually.
What We Liked:
One of the most beautiful HD radios for home
Aesthetically-pleasing design with a wooden cabinet
Memory function saves 20 stations
Has a dual alarm with a gentle buzzer
Personalize audio with the treble and bass control
What We Didn't Like:
The clock loses resets when there is a power interruption
Bottom Line:
With its beautiful wooden cabinet, 20 presets, and remote control, this is another high-performing HD radio that is worth considering.
5. AudioVox IHDP01A HD FM Radio Player
If you want to enjoy the benefits of an HD radio in miniature packaging, then it is hard to go wrong with this product.
The best thing about this model is its size. It is sleek and portable, so I can tune in on my favorite stations wherever I am. Despite being compact, it has crystal clear and CD-like audio quality for the ultimate listening experience.
One of the most notable features is its battery. It is rechargeable, eliminating the need for frequent replacement. When it is full, the radio has a runtime of eight to ten hours. It is also a good thing that you can charge the unit and listen to the radio at the same time.
Even if the display is tiny, it is backlit for visibility. More importantly, it has Program Service Data. It provides the information you might want to know about the song that the radio plays. You can see the tile and name of the artist, as well as the station ID.
It offers several radio modes, making it an excellent pick if you are after versatility. You can use it in analog FM mode, which is the most basic. To level up the audio quality, you can switch to HD mode. On the other hand, the RBDS mode is for instances when you want textual information about the station to which you are listening.
When you purchase this HD radio, it is inclusive of a belt clip and armband, so you can enjoy flexibility as to how it is used. Plus, you will receive earphones and a USB charging cable. A quick start guide is also provided.
Heads-up:
Compared to most of the HD FM radios on this list, its biggest disadvantage is that it does not have built-in speakers. It is because of being small, so you can listen only through earphones.
What We Liked:
Compact body with crystal-clear audio
Rechargeable battery lasts up to ten hours
Backlit screen shows relevant information
Offers multiple radio modes
What We Didn't Like:
Does not come with speakers
Bottom Line:
A lightweight and compact HD radio, this model has a backlit display that can show textual information, including the title of a song and artist.
6. SPARC RADIO H159SHD-T86000150 HD Radio
Access wider broadcast channels and content with this high-quality HD radio. It has a sleek and elegant design, which is sure to make any space look better.
To deliver an unmatched listening experience, it has two 4.5-inch speakers on both sides. They might be small, but they are high-powered. Alternatively, you can listen in private as it comes with a headphone jack.
In the middle of the radio, you will find the main control. Underneath are the buttons, each with a specific function. Use it for navigating the menu, changing channels, and changing the clock. Additionally, it is also where you can add or delete up to 20 stations.
On the upper part of the buttons, you will see a small backlit screen. You can choose from three modes – Artist Experience, Program Guide, and Radio Text. It even shows the song title and the artist. The display also doubles as a digital clock.
To make the radio easier to use, especially for people who have a visual impairment, the manufacturer has equipped it with an accessible mode. The latter allows voice feedback, making it a snap to change the settings and functions even if you cannot see the display.
Another good reason to pick this radio is the multiple sound sources. Aside from AM and FM, it also has aux input. Plus, you can play songs from other devices, including tablets, computers, music players, and smartphones.
Heads-up:
It is not for people who are looking for a budget-friendly HD radio. Nonetheless, do not let the high price discourage you as it is worth every dollar.
What We Liked:
A sleek and elegant radio for display
Has small but powerful speakers
Allows voice feedback for those with visual impairment
The display offers three modes
Plays songs straight from your phone or tablet
What We Didn't Like:
Not for people on a budget
Bottom Line:
Wrapping up, this AM and FM HD radio stands out because of its powerful speakers, multifunctional display, memory presets, and multiple audio sources.
7. VQ 11110 Retro Mini HD radio
HD radios should not be boring! If you are looking for something beautiful, this model fits the bill. It has a retro-inspired design that is sure to turn heads!
More than its aesthetics, this portable HD radio is excellent because of its Bluetooth connectivity. This way, I can stream content from my phone or tablet through a wireless connection. Alternatively, it also has an aux input if you prefer a wired connection.
It also stands out because of its 90 radio presets, which is one of the highest I have seen. It has a convenient auto-scan functionality, so I do not have to press the buttons to search for a specific frequency. These features make it intuitive to use.
The five-watt speaker is a stand-out on this radio. Despite the unit being compact, it delivers powerful audio. It has a room-filling sound for the best sensory experience. Even better, the radio has its unique MyEQ function, which will let you choose from six equalizer settings to customize the output.
Another nice feature is its USB charging capability. You don't have to run out of battery on your devices when you are out of home. It can power up your gadget!
Heads-up:
While it is generally a good product, one of the shortcomings is the design of the control panel. The buttons are too close and awkward to operate, especially if you have large fingers.
What We Liked:
Beautiful retro-inspired design
Reliable Bluetooth connectivity
Delivers a room-filling, rich and fantastic audio experience
Store up to 90 radio presets
Has a USB charging port
What We Didn't Like:
Awkward design of the control panel
Bottom Line:
Combining both form and function, some of its most notable features include Bluetooth connectivity, 90 memory presets, and USB charging.
8. Insignia NS-HDRAD2 Tabletop HD Radio
Whether it is on a table or shelf, this radio fits perfectly. While it has a compact body, it has a powerful performance that is comparable to its larger counterparts.
One of the most notable features is the LCD. It has a continuous backlight, making it easily visible even in dark environments. The display shows the specific mode of the radio, as well as the station at which you are listening to. It also shows the song title and artist name.
The auxiliary input is another good feature of this radio. This will expand its functionality as you can connect different devices as the audio source. You can connect it to a smartphone, tablet, or music player.
It has a telescoping antenna, which makes it easy to enhance the reception. It promotes optimal performance by absorbing more frequencies. Not to mention, you can access a long list of stations without the need to pay a subscription.
More so, it comes with a built-in rectangular speaker, which you will find in the lower portion of the unit. The latter delivers clear and exceptional audio. It is surprisingly loud considering the size of its body.
Another reason to choose this Insignia HD radio is the dual power source. At home, you can plug it in using the included AC adapter. On the go, meanwhile, you can use four AA batteries.
Heads-up:
Nonetheless, one of the issues with this radio is that the antenna is quite loose. It wobbles a lot, which might affect the reception.
What We Liked:
Digital display has a continuous backlight
Auxiliary input allows external device connection
Telescoping antenna improves signal reception
Excellent speaker delivers clear audio
What We Didn't Like:
The antenna easily wobbles
Bottom Line:
With its continuous backlight, auxiliary input, and telescoping antenna, this is another exceptional option when searching for an HD radio.
9. SPARC SHD-BT1 Bluetooth Tabletop Radio
A compact and affordable HD radio, this is another product that should be on your radar. It has incredible digital sound to enhance your listening experience.
One of the best things about this radio is its compact size. It looks like a small box, which has a height of eight inches. It is a great choice for small spaces. Despite being tiny, it has exceptional performance.
The top portion of the radio has a small digital display. It shows program info, including the station ID, song title, and artist name. The screen is backlit, so it stays visible even when you are in a low-lit environment.
It is different from most of the products on this list because of its Bluetooth connectivity. The latter eliminated the need for a wired connection. It lets users wirelessly link their smartphones, tablets, or other devices to play songs straight from the latter.
The radio is also commendable because of its 20 presets. This way, I can add my favorite FM and AM stations for automatic tuning. I do not need to manually scan channels to find a frequency to tune in.
More than just a radio, it also has a built-in digital clock and alarm. I can set two alarms at a time. Plus, it has sleep and snooze functions. Users can choose their alarm tone, which can either be a normal buzzer or the radio.
Heads-up:
However, there are some usability issues with this radio. For instance, a common complaint is that you need to push and hold a button if you are turning it on and off. Setting the functions, such as time, can also be tricky.
What We Liked:
A great choice for limited spaces
Has a backlit display that shows program information
Bluetooth technology eliminates the need for wired connectivity
Stores up to 20 AM and FM stations
What We Didn't Like:
Difficult to turn on and off
Bottom Line:
To conclude, this Bluetooth HD radio draws praise for its compact body, program info display, and 20 memory presets.
10. Pioneer AVH-501EX HD Radio
Build a connected car and elevate your driving experience with this innovative radio. It is from one of the most trusted brands in the market, so I am confident that the quality is second to none.
With its 6.2-inch screen, you can go beyond listening to your favorite stations. It has WVGA resolution and a touchscreen interface which simplifies its operation. Plus, it is highly responsive, so it isn't annoying to use.
While it has tons of high-end techs, one of my favorites is the voice command, which redefines the way car radios are controlled. Alternatively, I can also use the included remote for changing its functions.
Another good feature of this HD radio car stereo is the great sound quality. I am in full control of the audio output. It has a 13-band graphic equalizer with adjustable slopes and points so that I can customize it as I wish.
Its digital media playback is also worth emphasizing, which makes it multifunctional. Aside from being an HD radio, I can also use it on CD and DVD. Plus, I can connect a USB, especially for viewing photos in a slideshow. The radio also supports high-resolution FLAC playback.
The built-in Bluetooth is another feature worth highlighting. This will let you quickly pair a device, such as a smartphone without the need for a complicated set-up. With automatic pairing, you can enjoy wireless streaming and hands-free calls for a safer driving experience.
Heads-up:
However, take note that it is one of the most expensive on this list. If you have the budget, it is worth every dollar since it packs high-end technologies.
What We Liked:
Comes with a large and bright touchscreen display
Has Bluetooth connectivity for hands-free calls
Can be controlled using voice commands
Excellent audio quality with and an adjustable equalizer
What We Didn't Like:
Not for people on a budget
Bottom Line:
One of the most high-end HD radios for cars, it has advanced features such as touchscreen WVGA display, voice commands, and adjustable equalizer.
11. VQ Monty 11090 HD Radio
Wrapping up this high-definition radio review is one of the most beautiful radios I found. It can be a great decorative piece that broadens the retro vibe in any room.
The highlight of this product is its aesthetic. It is one of those that you will be compelled to display in your home because of its appearance. It has a real walnut case. The wooden body gives it an unmatched charm.
More than its aesthetic, it is an exceptional radio because of its comprehensive connectivity. Aside from analog FM reception, it also has DAB and DAB+. More so, it has Bluetooth functionality, so you can enjoy wireless streaming. This is a great way to listen to music straight from your phone.
With 60 presets, I am a big fan of its programmability. This way, I can store multiple channels for effortless tuning. I do not need to press several buttons, eliminating the need to manually scan for available nearby frequencies.
Another compelling reason to buy this HD radio receiver for home is its 10-watt speaker, which offers premium audio despite the compact body. Plus, it has an independent equalizer, so I can adjust the output accordingly. Not to mention, it has Analog Signal Processing, a technology with a pending patent that is also responsible for enhancing sound.
Heads-up:
Before buying his radio, take note that you will need an additional battery pack, which the manufacturer fails to mention. This is for storing channels in its memory function.
What We Liked:
Brings retro vibe to your room with real wood case
Beautiful body made of real wood
Has Bluetooth connectivity for wireless audio streaming
Stores up to 60 presets
10-watt speaker for superior sound quality
What We Didn't Like:
Needs an additional battery pack
Bottom Line:
To sum it up, this beautiful and compact HD radio has wireless connectivity, 60 memory presets, and a high-quality 10-watt speaker.
What to Look for When Buying HD Radio
Too many options? Clueless about what to buy? Below is a quick rundown of some of the most important considerations.
The most common is a tabletop radio, which is often for home use. You can have it in the office, kitchen, or bedroom , among other places. Additionally, it can also be an HD radio tuner for cars. More so, some are portable, which means that you can take them to different places, such as when you are camping.
While an HD radio delivers a better listening experience compared to analog radios, the overall sound quality depends on several factors. For instance, one of the most important is the speaker. Look at its size and its power, which will be indicative of overall performance.
It is also good to have options for customizing the audio output. For instance, many will have controls for treble and bass, so you can personalize the response depending on what suits your preference.
One of the most important parts of the radio is the digital display. The screen is often small, so make sure that you can easily see whatever it shows. It is crucial to have a backlight for visibility even in dark environments. More so, it is also good to show program information, including the station ID and the song title or artist.
If you want a versatile HD radio, then it is best to find one that comes with a dual power supply. When you are at home, you can plug the radio into a socket using the provided AC adapter. Alternatively, you can rely on the batteries, which means that you can use the radio anywhere, such as when camping.
The size and weight are some of the most important considerations if you want a portable radio. It must be lightweight and compact enough, so you can use it anywhere you are. More so, there should be a well-designed handle for carrying the radio.
If you need help narrowing down your choices, I recommend reading online reviews. Learn from the opinions of other people and let their real-life experiences guide your decision. Take note of what they are saying about the radio's overall performance.
How Can I Get HD Radio at Home
The best way to get an HD radio at home is to buy the right product, including my recommendations above. With a top-notch brand and model, you can get clearer signals and high-quality content without the need for a streaming membership. It will have crisp audio, which is better than what you can expect from traditional channels.
Is HD Radio Dead?
HD radio is dwindling in terms of popularity, but it is far from dead, whether it is in cars or homes, it is a useful tool as it offers a hybrid digital design. Meaning, it has an improved reception, resulting in clearer audio. Even with the advanced smartphones today, nothing beats the nostalgia of listening to a radio.
Is HD Radio Better?
Compared to a traditional analog radio, an HD radio is better. The biggest advantage of the latter is its better sound quality. From higher treble to deeper bass, it has a better audio output. Not to mention, it also has a greater signal range, which will minimize the static. Additionally, you can get more programming information beyond the station ID. You can also know the title of the song and the name of the artist among other things.
Is There an App for HD Radio?
Yes, there is an application that you can download on your smartphone or tablet, even on your computer. With an HD radio app, you can turn your gadget into a radio. This way, you can access AM and FM channels and listen to them straight from your device's speakers or earphones. You can also receive program service data from the specific radio station.
Can I Add an HD Radio to my Car?
Yes, you can add an HD radio to your car. You can choose from multiple types. A double din HD radio is one of the most popular, which has an oversized display that makes it advanced and multifunctional compared to traditional radio.
Conclusion
With the best HD radio, you can hear the difference. Gone were the days when you had to listen to annoying static and crackle. An HD radio offers a better experience while also allowing you to access more stations. Whether it is for your car or home, such a radio is a great investment.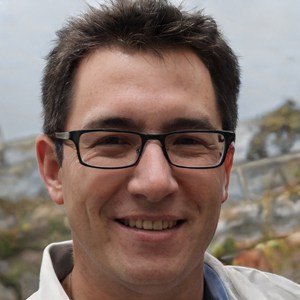 Hi, I am Amaro Frank – the Wind Up Radio's content editor and writer. Working with Adam is so much fun, as his stories and experiences enrich my knowledge about radio communications and radio accessories. My main tasks in Wind Up Radio are building content and generating great articles on different topics around radio accessories.