Dewalt is one of the well-known providers of power tools. Many households own a Dewalt, and construction sites use some of them. Dewalt product's excellent build, construction, and durability make it favorable to job sites and the general population. Their equipment gets the job done, and it is convenient to take anywhere.
Are you aware that they also offer the best Dewalt radio? There are several Dewalt work radios available for everyone to purchase. If you can trust them for their tools and equipment, you can rest assured that they have top-notch radio units. Choosing one from a collection of Dewalt construction radio is challenging, but here are three things that you should always look for.
Portability: For a job site radio to be easily accessible, it has to be portable. It should be lightweight and easy to carry if you plan on bringing the unit to different locations.
Build Quality: Does the radio look like it can stand the test of time while maintaining its aesthetic appearance? That's a positive attribute that you'd want in your Dewalt mini radio.
Volume Control: The noise in a worksite varies, and you want to be able to adjust the sound. Also, check how high the volume can go and if there are any distortions.
These are only a few vital elements that you should consider when looking for a Dewalt jobsite radio. Before we discuss it further, take a look at the product reviews we have below. It will give you an idea of what to expect from Dewalt so that you can get started on a list.
Best Dewalt Radio Reviews
1. Dewalt DWSR08810 Radio Music Player
Some music and entertainment are what workers need to make the job site atmosphere lighter and more fun. For this, consider a radio from Dewalt. They have several choices that you can choose from.
How about this ToughSystem radio that is built to hold out against a job site? It is equipped with IP54 rated water and dust resistance. That means the unit can endure well in an environment with dust everywhere and casual splashes here and there. With that, you can expect the device to last for a long time.
The premium sound of this radio comes from the four full-range tweeters, an assisted bass resonator, and a subwoofer—experience listening to high-quality sounds that can drown the noise in the background.
This unit has multiple connectivity, including Bluetooth connectivity, a 5V/1A USB charger, and a 3.5 mm AUX input. You can use any of them depending on the situation or your preferences. For the charging capability, the device has a built-in Dewalt charger. It can charge 12V Max and 20V max power tools for your convenience.
Heads-up:
This model is carrier cart compatible. It means you can stack it together with a Dewalt radio tool station for easy transportation from one location to another. But the only issue is it does not come with an organizer insert that is supposed to go with the XL version. Fortunately, there are brackets molded into the case.
What We Liked:
Water and dust resistant
Premium sound
Multiple connections
Carrier cart compatible
What We Didn't Like:
Does not come with an organizer insert
Bottom Line:
The appearance and functionality of this radio are first-rate. It is built tough, and the sound is excellent. Cart compatibility is also a great feature, especially if you have tools to carry alongside the radio.
2. Dewalt DCR010 Bluetooth Speaker for Jobsite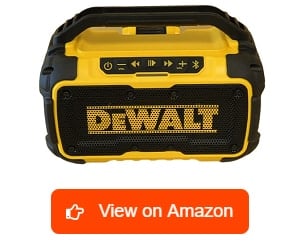 Each job site has a different setup; thus, it is crucial to take this into consideration when looking for a radio. Dewalt offers radio in all sizes to cater to the unique needs of each individual.
This speaker radio comes with a convenient carrying handle and a phone holder. With these, you can securely store your phone away from dangerous debris and bring the unit with you anywhere. Besides, it is lightweight and comfortable to drag around from one location to another.
The dual Bluetooth feature allows users to use the radio cordlessly. You can play or pause, skip tracks, and control the volume from the speaker. Its connectivity has a range of up to 100 feet.
Moreover, the bass reflex port provides enhanced low-frequency performance. It also delivers rich stereo sound, suitable for any worksite with too much noise in the background.
There is an integrated USB charging port for you to charge your phone. You can feel at ease knowing that you can always power up your mobile using the radio. In addition to the safely tucked phone storage, you can stand your mobile phone in the slot of the handle.
Heads-up:
The only issue I have with this model is there's no AC outlet. But it is not much of a problem since a fully charged battery can last a long time of continuous playing before it needs to be plugged again.
What We Liked:
Convenient carrying handle
Dual Bluetooth speaker
Bass reflex port
Charge your phone
Bottom Line:
This Dewalt Bluetooth speaker has impressively strong and clear speakers. The button controls are excellent and user-friendly. You will also like that you can charge your phone with this radio unit. I highly recommend you consider getting this device.
3. Dewalt DCR028B Portable Jobsite Radio
Having a good worksite radio is one way to make the job more fun and enjoyable. Dewalt knows this and produced units that can take on the harsh environment of a job site.
This portable battery-operated radio comes with a heavy-duty roll cage. It adds a layer of protection and durability for the unit to withstand the harsh environment of a worksite. The rugged design also catered to its lightweight and portability; thus, you can still comfortably carry it with you.
There are six presets available for the AM/FM radio. It allows users to customize and save their favorite stations. The next time you want to listen to some entertainment or music, you will be glad it is easy to pull it out. In addition, the signal is enhanced thanks to the antenna.
Furthermore, the bass reflex port delivers magnified low-frequency performance. Besides, there are added controls with EQ settings for bass and tremble. That way, you can enjoy music to the fullest even with the noise in the background.
Connect external devices with the 3.5 mm auxiliary port. You also get a USB power port for your devices. Bluetooth connectivity is available where you can stream music wirelessly for up to a hundred feet.
Heads-up:
However, you should know that this unit does not work well under sweltering weather in Bluetooth mode. It is best to keep it under a shaded area.
What We Liked:
Heavy-duty roll cage
Six presets available
Bass reflex port
Connect external devices
What We Didn't Like:
Doesn't work well under hot weather
Bottom Line:
Bring this portable radio with you everywhere you go. It is a handy unit to have when listening to entertainment or music while working on a job site. The sound quality is excellent, and the functionality is top-notch.
4. Dewalt DCR025 Portable Radio
The best place to start your search for a top-notch radio is nothing else but Dewalt. Check their collection of portable units that you can bring with you to different locations.
Take this one, Dewalt 20v Bluetooth radio, for example. It has a range of up to 100 feet. When plugged into AC power, it has three AMP charging of 20V and 60V Dewalt batteries. With two additional power outlets on the side, you will never run out of charging options, and the unit will not run out of juice easily.
The Audio Video Remote Control or AVRCP feature lets users control their devices from the radio interface. It is convenient and easy to use, something you will surely appreciate.
Furthermore, together with the tweeters and 20 watts per channel woofers, the ports deliver a rich, full, and clear sound. Even with the maxed volume, you can enjoy quality music and entertainment from this radio.
Heads-up:
You will find an oversized device storage box to place your phone and other digital devices. It will safely keep them out of the debris and possible dangers of a job site. The only problem with this model is when you're using it to charge a battery, you will hear static from the speaker. It only appears when you are listening to FM and not when on Bluetooth connection.
What We Liked:
100 feet range
Two additional power outlet
AVRCP feature
Full and clear sound
What We Didn't Like:
There's static when charging
Bottom Line:
This is one of the must-have Dewalt radios in the market. The sound's overall quality and the features make a perfect combination for an appropriate worksite radio. I highly recommend this to anyone who wants a high-quality unit.
5. Dewalt DXFRS800 Heavy Duty Two-Way Radio
Dewalt's equipment and tools got high ratings and positive reviews, so it is no surprise that many of their radio units are also favored by people working on a work site. Go get yourself one.
How about this heavy-duty walkie-talkie? It features shock-resistant protection around its body. The design is also anti-slip and can endure a two-meter drop. With its rugged appearance, it is sure to last for a long time of use.
The unit has two watts of power that is capable of long-range communication. In detail, its signal can reach up to 25 floors or 300,000 square feet, which can vary depending on the condition and terrain. You also get over 2,500 channel combinations and ultra-clear reception. In addition, there are 22 preset channels with privacy codes.
This product received an IP47 waterproof and dustproof rating. It has complete protection against dust and can withstand a meter deep of water immersion for 30 minutes. Furthermore, it features an extended run-time of up to 18 hours. It can change depending on the usage. Users also get valuable features like the roger beep tone, key lock, auto squelch, viber alert, etc.
Heads-up:
But there is a minor problem that I want to point out. The belt clip is under designed and breaks easily. It is best to opt for a more secure way to hang the unit to keep it from falling.
What We Liked:
Shock resistant
Long-range communication
22 preset channels
Weather and dust proofed
Long run-time
Bottom Line:
The quality and functions of this two-way radio are impressive. Getting this will give you good value for your money. You can experience an extended run-time of exchanging messages over the radio.
6. Dewalt DXFRS220 Wearable Two-Way Radio
If versatile and durable radios are what you're looking for, Dewalt has them. Take a look at their collection of units and see which ones suit you best.
They have this wearable walkie-talkie radio. It comes with an IPX4 water-resistant rating which means it is protected from splashes of water from any direction. The durable and rugged appearance of this unit will assure users that it'll endure years of use.
The built-in rechargeable battery is chargeable with the micro-USB cable included in the package. At full charge, the unit can operate continuously for up to ten hours. It can change depending on the usage and environmental factors.
With one watt of power, these walkie-talkies can offer a long range of communication up to 100,000 square feet. That may vary based on the terrain and different conditions. Besides, it comes with many features and functionalities.
It includes the roger beep tone, which users will hear when the transmission is completed. There's also the keystroke tone signal that confirms key activation. For hands-free operation, a speaker or microphone jack is included in the unit. It also allows users to use a wall charger while you can purchase earphones or microphones separately.
Heads-up:
However, the only problem with this is the clip. It breaks easily and cannot be trusted to secure the unit. The radio is better off without it; this doesn't really affect the device's overall performance.
What We Liked:
Water-resistant
10 hours of battery
Long-range communication
Roger beep tone
Bottom Line:
These two-way radios might be small, but they are packed with many outstanding features. The reception is clear, and the range is extended. What more can you ask for? It is one of the best out there.
7. Dewalt DCR018 Compact Jobsite Radio
Are you still looking for a hardwearing worksite radio? Dewalt has some of the best radio models where you can take your pick.
They have this Dewalt 20v radio with a heavy-duty design. It comes with roll cages for an added protection against the harsh environment of a job site. With the increased durability, you can expect it to accompany you for a long time.
There are multiple connection options for this unit. In detail, it has a 3.5 mm AUX input and cable. These will allow users to use digital audio devices, CDs, MP3, and portable satellite receivers. The USB port enables you to charge the unit into a wall outlet when the battery is not in use.
The flexibility of this radio is convenient. You can operate it with AC power or power tool batteries. It is compatible with other 12V Max or 20V Max Dewalt batteries. Besides, this unit features a storage box for you to keep your phone or audio devices. It will keep them away from debris and damage.
Heads-up:
This radio comes with many useful features, but there is a minor issue that I want to point out. When you use a 20V battery, it does not lock securely onto the radio. It will require a few adjustments; otherwise, you will knock the battery off when carrying it around.
What We Liked:
Heavy-duty design
Multiple connections
Compatible with other Dewalt batteries
Device storage box
What We Didn't Like:
The battery does not lock onto the radio
Bottom Line:
The size of this Bluetooth radio is very appropriate for worksites. It is not too heavy and is easy to transport with you anywhere you go. The functionalities and the features are a great plus too.
8. Dewalt DWST17540 TSTAK Bluetooth Radio
When it comes to power tools and equipment, Dewalt is definitely on the top. It is a great relief that the brand is also offering portable radios.
They have this portable radio with a high rating for water and dust resistance. It means this unit is protected against the splashing of water from any angle and dust particles. With that, you can expect it to accompany you for a long time.
The four full-range speakers alongside the assisted bass resonator and active subwoofer deliver a high-quality sound. Users can have an exceptional experience listening to their favorite tunes and entertainment even in a noisy environment.
Moreover, it features touch-sensitive buttons and a color flip screen. These user-friendly controls are effortless to figure out. In a matter of minutes, you can operate the radio according to your preference. In addition, full remote control is possible when you use the TSTAK radio mobile app, which is accessible to everyone.
The unit comes with an AUX port and a quick USB charging outlet. There is a phone storage compartment where you can safely store your device. If you have other products or tools from this collection, you can stack this radio with them. It is compatible, making it easier to transfer from one place to another.
Heads-up:
However, the only issue I have with this unit is that it doesn't come with batteries. You need to purchase them separately. Before you do, know the type that is compatible with the radio.
What We Liked:
Weather and dust resistant
Four full-range speakers
Touch-sensitive buttons
Full remote control
What We Didn't Like:
Doesn't come with batteries
Bottom Line:
This is one of the best Dewalt radio. With Bluetooth feature, this radio allows you to stream music wirelessly on your phone. It delivers superior sound and functionality features making it user-friendly.
9. Dewalt DCR015 Jobsite Radio
It is nice to have several options when looking for a jobsite radio. You probably have a list ready of what you want in a unit, so go and head to Dewalt and start browsing.
Take a look at this Dewalt radio charger 20V. It is a battery-operated and cordless unit that runs off with 12V Max and 20V Max Dewalt batteries. The reusable battery is rechargeable, making it convenient to have around in a worksite.
It comes with multiple connections, including USB ports and auxiliary. These enable users to connect their digital audio devices, CD, MP3, and the likes. Besides, the two AC power outlets provide a versatile charging option. You can also charge your device via USB when the unit is plugged into an outlet.
Furthermore, a device storage box can keep your electronics safe from debris and dust present in a worksite. It fits comfortably even when plugged into the ports or AUX and playing music.
The optimum sound quality offered by this radio is thanks to the tweeters, woofers, and class D amplifier. They provide a full range of low and high sound, which you can adjust depending on the situation.
Heads-up:
While the construction of this product is rugged and seemingly tough, it is not fit for an extreme environment. Placing it under intense heat then exposing it to wet moisture can cause some parts to malfunction.
What We Liked:
Cordless radio
Multiple connections
Device storage box
Optimum sound quality
What We Didn't Like:
Not fit for extreme environment
Bottom Line:
Bring this product with you anywhere you go; it is cordless. Multiple connections are available, and the sound quality is excellent. I highly recommend this to anyone who is looking for a Dewalt radio.
10. Dewalt DC012 Radio and Battery Charger
When finding the best worksite radio, one should not forget about Dewalt radio chargers. They are one of the most raved in the market, and there are good reasons why.
This portable radio is battery-operated. It uses 12V to 18V Dewalt batteries and a 1-hour charger compatible with 7.2V to 18V battery packs. You can operate it cordlessly, which is convenient, especially at job sites.
The three-stage charging system yields maximum run-time. It extends the overall lifespan of the unit so that it can accompany users for years. Besides, the weather-resistant speakers are highly efficient and can withstand the occasional splashes here and there.
Furthermore, the dual bass ports of the speakers deliver maximum bass and range. You can have an exceptional experience playing entertainment and tunes even in a noisy environment.
Multiple connections are available for this unit. You can attach it to MP3, CD players, and portable satellite receivers with the auxiliary port. There's also an AM/FM digital tuner with an LCD, a built-in clock, and 15-station memory presets.
Heads-up:
The only issue I have is that the AUX cover does not stay plugged. Thus, it helps if you were careful bringing the unit under the rain or near the water. The rubber tab or cover can fit the hole but is not secure enough. Since it is located on the top front, the water can quickly get in without a plug to cover the AUX port.
What We Liked:
Stage charging system
Weather-resistant speakers
Multiple connections
Digital tuner
What We Didn't Like:
AUX cover does not stay plugged
Bottom Line:
The simple design of this Dewalt 18v radio comes with excellent sound output. You also get three outlets which are convenient, especially when you have several devices you need to connect at once.
Factors to Consider When Choosing Dewalt Radio
The majority of Dewalt's radios are a great buy. However, with many choices out there, finding a Dewalt portable radio that works for your needs can be confusing. To ensure that you are making the right decision, we have the following factors to consider when buying the best Dewalt job radio.
Durability
A job site is a place with harsh conditions. It is crucial to have a radio that can withstand being exposed to these environments. Good water and dust proofing rating is one indication alongside a rugged external design. That way, you can keep out the moisture and debris. Shock absorbers are also a must so the radio can resist impact.
Size
Dewalt's radio comes in various sizes, with some models more compact than others. For individuals who often travel from one place to another, it is wise to opt for smaller portable units. They are easier to lug around and don't take up much space. However, you also need to consider the size of the worksite since too small radios don't usually work in big areas.
Volume
Depending on where you plan to use the radio, the volume should be high enough to hear over the noise. The majority of Dewalt radios have good volume without distorting the sound quality.
Sound Quality
A well-made sound function is what you should look out for in a good Dewalt radio b&q. Most of the units have good sound quality but if you are to make a choice, opt for one with multip[le speakers, bass quality, and a subwoofer. Check the quality of the sound when the volume is turned up. There shouldn't be any distortion.
Reception
For the AM and FM function, the device should pick up local radio stations and deliver a good reception. A user-friendly tuner and an antenna are also good additions for a more enhanced signal.
Extra Features
Other Dewalt radio Canadian tire additional features are not mandatory, but you can get the most value for the money you spent. It includes the ability to charge other devices and Bluetooth connectivity. If you have a few dollars to spend, you can choose a device with these functionalities. But make sure that they are working well as they should be.
The Different Types of Dewalt Radio
Dewalt's collection of radios might look all the same from the surface, but each one is equipped with features and functionalities that can meet specific needs. Here we have some of the most common types of Dewalt radio and what makes them different from one another.
Construction radio with Bluetooth is one of the most recent features included in worksite radios. It allows users to play their favorite tunes on their devices without attaching any cord to the radio unit. This is a convenient and effortless way to enjoy your favorite tunes.
A Dewalt AM FM radio can play music or entertainment from your favorite stations. It comes with an antenna and tuner making it easier to get a good reception and browse through different stations. Some models don't have an antenna installed but are pretty good at getting clear and uninterrupted channel signals.
There is a Dewalt worksite charger radio which is fitting for those who prefer charging batteries or other devices. This type of unit can power up your phone. It is helpful for emergencies where your phone battery dies, and you have to contact someone urgently.
Benefits and Drawbacks of Dewalt Radio
Dewalt's range of radios is overall impressive. Each differs to cater to the unique needs and situations of individuals. If you are undecided and hesitant about whether you need a Dewalt cordless radio, we have made a list of the pros and cons of owning one.
Advantages
Compact and portable
Built to last for a long time
Long battery life
Multiple connection options
Disadvantages
Some models can be quite heavy
High-end units are complicated to use
Organizer inserts are not always included
There are undoubtedly more benefits to having a Dewalt radio in your home or job site. Finding a suitable unit among the available models might take time, but it is a worthy investment that you should consider.
Is Dewalt Making a New Radio
Nothing is sure yet. The latest Dewalt releases are the job site Bluetooth radio (DCR028) and compact task light (DCL077). The devices are compatible with all Dewalt Flexvolt, 12V Max, and 20V Max batteries sold separately.
The Dewalt Bluetooth radio delivers excellent sound performance and uses 45% less benchtop footprint compared to The charger radio (DCR025). The task light is the most versatile light the brand has offered yet.
Which Radio is Better, Milwaukee or Dewalt
The answer depends on each person's needs and preferences. In addition, both brands have their own strong points. Milwaukee has good power, top sound, and excellent features, while Dewalt has a versatile battery and is a good value. Choosing between the two is tough, but it all comes down to what factors you value the most in a worksite radio.
Is the Dewalt Tough System Radio Waterproof
Yes, it is waterproof. The system radio has a rating proving its waterproof ability. But users should know that this is no excuse to submerge the unit or leave it in contact with water for too long. The Dewalt waterproof radio will stay operational with accidental contact with water but leaving it in water can cause severe and irreversible damage.
Conclusion
Buying the best Dewalt radio can be time-consuming, especially when you don't know where to start looking. Dewalt's range of radios is pretty impressive, so whichever of the units you pick is sure to be top-notch. But it is still necessary to find a suitable one depending on your needs. That is where our product reviews and a buying guide can help.
We hope that narrowing down your options is made easier with the information we have imparted. Suppose you know someone who can benefit from this article, share it with them. Do you own a Dewalt stereo? What's your experience with it? Comment below; we love hearing from you.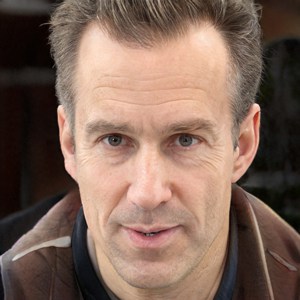 After four years working as a radio mechanic, I know that everything about radio communication is not breezy, even though it greatly benefits us. That is why I set up a website sharing my skills and guides to help non-professional users use their radio headsets, set up their antennas or choose the right products, etc.