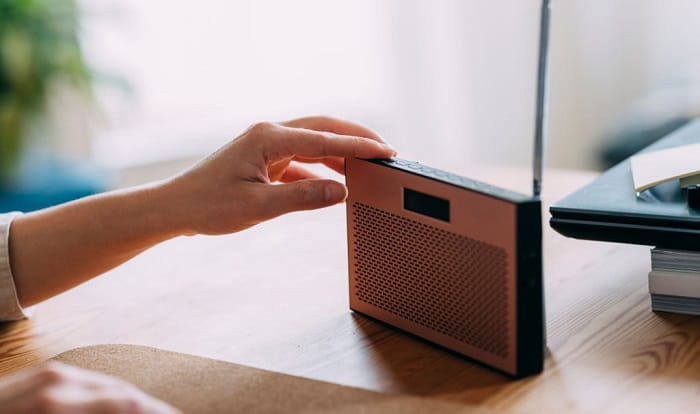 The best office radio is a great practical accessory that will elevate the aesthetics of any room. More than making any space look better, it is also a functional appliance. You can stay updated on the latest news or weather alerts. Some will have a built-in CD player and smartphone connectivity or double as a digital clock.
However, buying an office radio is no walk in the park. The options abound, so you will probably end up overwhelmed. To narrow down your choices, below are the most important considerations:
Design: Find one that combines both form and function. A good option will elevate the aesthetic of your office. Many of the options in this guide have a retro-inspired design. If you want a more modern appearance, however, look for a radio with a minimalist-inspired design.
Sound Quality: More than being beautiful, it should deliver superb audio. Consider the antenna of the AM/FM radio for reception to minimize static and create a better overall listening experience. It is also a must to have powerful speakers with adjustments for treble and bass. This way, you can customize the audio as you wish.
Connectivity: To be multifunctional, choose an office radio that offers different connectivity options for. Bluetooth, for instance, will let you stream music wirelessly while also making hands-free calls.
Read on and find out the top choices for radio for office. Learn more about their features, as well as pros and cons, so you can make a well-informed decision. I will also share some of the most important factors to consider when buying.
Top 1
Panasonic RF-2400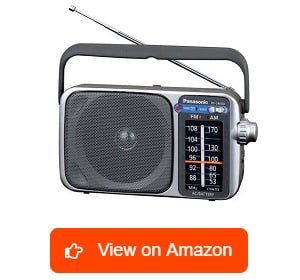 | | |
| --- | --- |
| Power Source | AC & Battery |
| Connectivity Technology | USB, AUX |
| Weight | S Pounds |
Top 2
Studebaker STUD-SB2000TE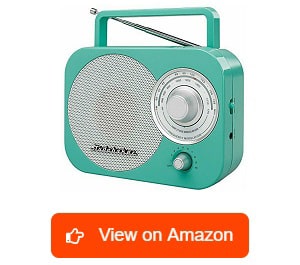 | | |
| --- | --- |
| Power Source | Corded Electric |
| Connectivity Technology | AUX |
| Weight | 1.5 Pounds |
Top 3
Greadio GR-R919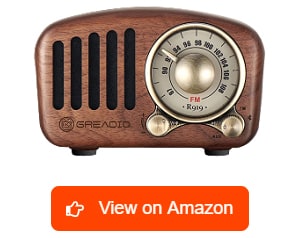 | | |
| --- | --- |
| Power Source | Battery |
| Connectivity Technology | Bluetooth |
| Weight | 0.44 Grams |
Top 7 Office Radio Reviews
1. Panasonic RF-2400 AM/FM Radio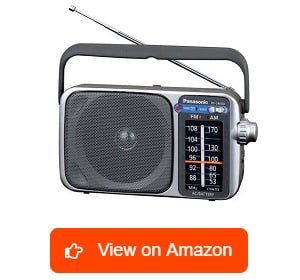 Made by one of the most popular manufacturers in the global market, this simple and affordable office radio is an option that deserves your attention.
Looking at its features, one of the most notable is simplicity. It has a conventional design that makes it straightforward to operate. The fluorescent tuner lets you know the station you are listening to. It is highly visible, even in a dark room. It also has a large knob on the side, so you can quickly set the desired frequency.
The large speaker is another asset of this radio. At ten centimeters, it occupies most of the unit, guaranteeing clear and crisp audio, even when you are indoors. If you prefer to listen in private, there is a 3.5mm jack for earphones.
More so, the top-notch sound of the radio can be attributed to the extendable ferrite antenna. I can adjust its height to pick up more AM and FM signals. But even if the antenna is down, the radio has great sensitivity.
Like many office radios, it has a dual power supply. Most of the time, I plug it in a socket when there is electrical access available. Nonetheless, if I have to take it out or when there is no power, I am happy that it can run on four batteries.
Heads-up:
However, if there is one drawback, it would be its obsolete design. It is an analog radio without a digital display. The unit does not blend well in modern spaces. I also do not like how the sound level control isn't sensitive, making it difficult to adjust.
What We Liked:
A great choice for people on a budget
User-friendly interface with a large tuning knob
The large speaker delivers clear audio
Comes with an extendable ferrite antenna for better reception
Has a dual power supply
What We Didn't Like:
Obsolete design
Sound level control lacks sensitivity
Bottom Line:
From its large speaker to adjustable ferrite antenna, this office radio has top-notch features that promise clear audio and strong reception, even when indoors.
2. Studebaker STUD-SB2000TE AM/FM Radio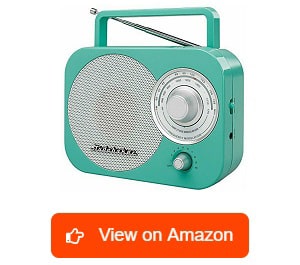 With the beautiful design of this radio, it will make a great decorative piece in any office. More than just being functional, it will elevate the aesthetics of any space.
Beyond its retro-inspired design, I like the portability of this radio. Easily bring it out of the office with its sleek and lightweight body. Plus, it has a folding handle, so carrying it around is easy. You can take it to different places, from the mountain to the beach.
While it is small, the speaker output is incredible. At 2.25 inches, I can still enjoy clear audio. The speaker has an output of 2350 Mw, which is pretty decent given the size of the radio.
As with the other models on this list, this radio for office desk has a dual power supply. It comes with an AC cord. Meanwhile, if there is no electricity, I can use two UM-2 batteries, which also make it portable.
To improve its performance, the radio has a built-in adjustable antenna. I can extend its height and rotate the antenna to have a stronger signal. This is effective in minimizing static since I can have a clearer reception.
The radio is also versatile since it comes with an auxiliary input that I can connect to external music players. I can use the radio as a speaker to play my favorite music.
Heads-up:
If there is one thing that the manufacturer can improve, however, it would be the size of the volume/power knob. It is too small, which makes it difficult to operate.
What We Liked:
Beautiful retro-inspired design
Lightweight body with folding handle for portability
Has a powerful speaker that delivers clear audio
The built-in antenna improves reception
Bottom Line:
A small and vintage-inspired desk radio for the office, it has a powerful speaker and an adjustable antenna to deliver clear audio.
3. Greadio GR-R919 Radio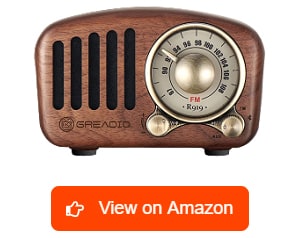 One look is all it takes to fall in love with this small office desk radio. It will add more character to any space and can also be a great conversation starter.
The best thing about this radio is its design. It has a vintage aesthetic, so I can create an interior that allows me to go back in time. It is encased in walnut wood and has classic-looking buttons that complement the overall look.
However, there are more reasons to choose this product. It is small, which makes it space-efficient. Despite the mini size, however, power and performance are never compromised. This 4.4 x 2.7 x 2 inches radio has a loud sound that is enough to fill a room.
While it has a traditional design, the radio packs plenty of modern features. One of my favorites is its Bluetooth connectivity. This way, I am not limited to hearing music from FM stations. I can also connect my smartphone or any other compatible device and stream music wirelessly.
I also like how I do not need to worry about replacing batteries. They are disposable, which makes the radio economical and eco-friendly. When it is fully charged, the battery can deliver a continuous runtime of up to nine hours.
Best of all, the company is offering a one-year money-back guarantee. If you are unhappy in any way, let them know and they will issue an unconditional refund. Such is a huge advantage since many companies only offer a satisfaction guarantee good for 30 days.
Heads-up:
Nonetheless, the surface of the radio easily shows scratches. It might end up being unsightly, so make sure to take care of it.
What We Liked:
Has a compact body but powerful sound
Streams music wirelessly through Bluetooth
Enjoy up to 9 hours of playtime with the built-in battery
Get your money back within one year if you are unhappy
What We Didn't Like:
The surface is prone to scratches
Bottom Line:
To conclude, this desk radio with Bluetooth is exceptional because of its vintage aesthetic, powerful speaker, long-lasting battery, and satisfaction guarantee.
4. Soundance SDY019 FM Radio
If you are looking for a modern addition to your office, this radio is a great option. Even if it has a contemporary design and advanced features, it is affordable.
Among others, this radio stands out because of its Bluetooth connectivity. At its price, I am surprised that it has such a function. I can quickly pair it to my smartphone or any other compatible device for wireless music playback.
More so, the radio has various auxiliary inputs, which allows me to connect to different devices. It supports SD or micro SD cards, as well as an audio line and USB. I can also play different files, such as WMA, WAV, and MP3. To make it even more versatile, there is a built-in microphone for hands-free calling.
The sound quality is incredible. It has bass enhancing technology to create more resonating and immersive audio. With two 40mm speakers, the sound is clear and crisp regardless of the source.
Another good feature of this radio is the built-in rechargeable battery. At full capacity, the radio will play continuously for eight hours. This also means that I can take it beyond the office when I need an outdoor radio, such as when I'm camping.
For your peace of mind, it is also good to know that it is backed by extensive warranty coverage. It is covered against defects and problems in craftsmanship for one year. There is also a 30-day money-back guarantee. Best of all, the company offers lifetime customer service.
Heads-up:
While it seems simple, the interface is quite confusing. Many of the main functions hide behind multifunctional buttons. Even the instructions are difficult to understand.
What We Liked:
Modern and minimalist design
Bluetooth connectivity for wireless playback
Has an auxiliary input that supports various devices
Comes with a built-in rechargeable battery
The manufacturer offers an extensive warranty
What We Didn't Like:
The user interface can be confusing
Bottom Line:
Wrapping up, this office radio with Bluetooth supports wireless playback, accepts various inputs, comes with a rechargeable battery, and has a 30-day satisfaction guarantee.
5. Antimi Radio Player
A sleek and minimalist radio, this will make a great functional accessory in your office. It is tiny but powerful, promising an immersive listening experience.
This tabletop radio offers more than an aesthetically-pleasing design. It also boasts high-quality and distortion-free sounds for a great listening experience. With less than 1% total harmonic distortion, it has top fidelity and clarity. For something as small as this unit, it is unbelievably powerful.
More so, this office radio stands out because of the two three-watt full-range speakers. They enhance bass for a more immersive sound that is sure to fill any space. Even when you are playing the radio at the highest volume, the sound is clear.
The powerful 2,200 mAh battery is another notable feature of this radio. It runs continuously for up to 12 hours, which comes in handy when there is no electricity. When the battery drains, you can charge it through a USB.
It also excels in terms of connectivity since it has Bluetooth. This means that you can play music beyond the available FM stations. It can connect to a smartphone or a compatible music player and stream wirelessly. It also has a micro SD slot and an auxiliary input. Meanwhile, if you are busy working, you will appreciate the built-in microphone for hands-free calls.
Heads-up:
If there is one drawback, however, it is the lack of options for programming stations. It could have been useful for quick tuning if users can set their favorite stations for easy access every use.
What We Liked:
Minimal harmonic distortion for superb audio
Has two internal powerful speakers with a rich bass
The powerful battery runs up to 12 hours
Built-in mic allows hands-free calls
Plays music from multiple sources, including SD card
What We Didn't Like:
No option to program stations
Bottom Line:
With its Bluetooth connectivity, powerful battery, top-notch speakers, and built-in mic, this is another top-notch office radio that should be on your list.
6. Victrola VRS-2800-ESP AM/FM Radio
Office radios should never be boring. This product is an excellent choice because it converges form and function.
This model also offers Bluetooth connectivity, so you can stream and play music from different devices that can connect wirelessly to the radio.
For full-range sound reproduction, the radio has powerful stereo speakers. It delivers an incredible tonal quality without distortions. Even when you are indoors, the audio is clear, unlike others that are prone to static. I also like how there are treble and bass controls, allowing me to customize the audio.
The simplicity of the radio is another feature worth highlighting. It has minimal buttons, which makes the operation straightforward. It has a power button that also works as a volume knob. There is also a vintage-style rotary dial for adjusting the frequency. It has a clear layout that makes everything easily accessible.
It is also good that it comes with a wire antenna, which sits neatly at the back of the radio. It isn't metal or extendable. Rather, it is a piece of cord that you can stick up the wall to improve the signal. Despite the unconventional design, it is effective in helping the radio gather a stronger signal for a better experience.
Heads-up:
However, one of the potential downsides is the use of MDF as the main material. It makes the body flimsy.
What We Liked:
Bluetooth connectivity for wireless streaming
Excellent sound quality with the full-range speakers
Treble and bass controls offer audio customization
The wire antenna improves reception
What We Didn't Like:
Made of a flimsy material
Bottom Line:
Give your office a touch of the 50s with this vintage radio that comes with treble and bass adjustments, Bluetooth connectivity, and full-range speakers.
7. GPX Inc. R602B AM/FM Radio
Wrapping up this guide for the top-rated small desk radio is an affordable and compact option with a decent performance.
The versatility of this radio is one of its best assets. Most of the time, I can use the AC cord and plug it into a socket. Meanwhile, if I have to bring or use it out of the office, I love that it can also be powered by batteries.
On the top of the radio, you will find a curved handle, which makes it easy to carry around. Below the handle and on the top of the body, you will find the controls. These are the buttons for adjusting volume and changing frequencies, among other functions.
The speaker occupies most of the body. It has metal grills, giving the radio a classic look. It also has an auxiliary input, so you can connect it to other devices, such as a music player. Plus, there is a headphone jack if you prefer private listening.
More so, this radio for desk at work comes with a telescopic antenna. This makes it functional indoors as it allows the unit to have better reception. It effectively manages interference to deliver audio clarity.
Heads-up:
One of the issues with this radio is its inability to hold a frequency after tuning. Many times, it skips to the next channel or there is static.
What We Liked:
Dual power supply for versatility
A telescopic antenna improves radio reception
Has auxiliary input for wired connectivity
Comes with a headphone jack for private listening
What We Didn't Like:
Can have a problem holding the tuned frequency
Bottom Line:
With the dual power supply, telescopic antenna, headphone jack, and auxiliary input, this is another notable pick for small radios for office.
What to Look for When Buying Office Radios
The options for office radios are plenty, but this does not mean that they can all deliver a top-notch performance. Here are the most important considerations as you narrow down your choices.
Design
The first thing that most buyers will look at is the design of the radio. Look for one that will add aesthetic appeal to your office. Many of the best options are those with a retro-inspired look, which will give any space a hint of vintage. Nonetheless, do not focus on the style alone. Find one that offers a combination of both form and function.
Sound Quality
If the sound quality is inferior, it is useless. One of the first things to look at is the speaker. Consider its output, which will determine the ability to deliver clear and crisp audio. It is also good to have adjustments beyond the volume, such as for treble and bass. This will let you customize the sound for a more immersive and personalized experience.
Aside from the speaker, another feature that can improve audio is the antenna. Radio reception in office buildings can be weak, so it is best to choose one with an extendable antenna to enhance the coverage.
Connectivity
It is good for an office radio to have different connectivity options, such as Bluetooth. With Bluetooth, I can use my smartphone or tablet to stream music wirelessly. If there is a built-in mic, I can also use the radio as a speaker for hands-free calls. Many radios also offer wired connections. For instance, it is common to have auxiliary inputs and a headphone jack.
Ease of Use
Simplicity is a luxury in a small office radio. It must have a user-friendly interface, such as minimal buttons in strategic positions for easy accessibility. There should also be a comprehensive manual that details the steps for programming the radio or navigating the various functions.
Power Source
If you want a versatile office radio, I suggest going for one that comes with a dual power source. Most of the time, it is plugged in a socket, which means that it requires electricity to run. This should not be a problem since most offices have power.
Nonetheless, in case of an outage or when you want to use a radio outdoors, it is good if it can also be powered by batteries. The batteries can be disposable or rechargeable. Consider the type of battery and the average runtime as you narrow down the possibilities.
Reviews
Take the time to read radio with best reception reviews. This is your opportunity to learn from what other people are saying. Pay attention to what they are sharing about ease of use, sound quality, durability, and maintenance, among other things. Nonetheless, learn to decipher which reviews are genuine since many of them can be fake for the sake of promoting specific products.
Cost
Find one that suits your budget. Nonetheless, this does not instantly mean that you should settle with the cheapest available option. Even if you want to buy something economical, do not compromise power and performance.
Is Sangean a Good Brand
Yes, Sangean is a good brand. It is a Taiwanese company that has built a solid reputation in the global radio market for almost five decades. Its products may not be as popular as those from popular brands like Sony or Bose tabletop radio, but it still has incredible quality.
How Do I Care for an Office Radio
Follow the recommendations from the manufacturer for care and maintenance. Often, it involves regular dusting and wiping with a dry cloth. Do not use a wet cloth as the water can get in and damage the internal components, Also, make sure to position it away from direct heat or moisture.
Where Can I Buy an Office Radio
The best place to buy an office radio is online. You can buy from popular online stores like Amazon and Walmart. They have a diverse selection from some of the top brands. It is easy to compare prices. At the same time, you can read reviews from other users and learn from their real-life experiences. It will make it easier for you to narrow down your choices.
Conclusion
Stay informed and be entertained even when you are in the office by investing in the best office radio. They are compact, portable, and functional, making them a great addition to any space. Consider different factors beyond price. At the end of the day, do not hesitate to spend more if it means better quality and performance.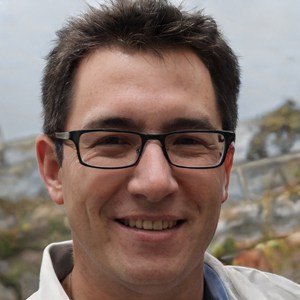 Hi, I am Amaro Frank – the Wind Up Radio's content editor and writer. Working with Adam is so much fun, as his stories and experiences enrich my knowledge about radio communications and radio accessories. My main tasks in Wind Up Radio are building content and generating great articles on different topics around radio accessories.