When your Chevy car battery dies and your radio automatically disconnects, paying good money to unlock your radio can be a hassle. It's a good thing there are other ways to get your radio running without spending money.
In this article, we're going to discuss the ways how to unlock chevy radio 2013 with methods on how to bypass theft lock on GM Radios such as accessing retrieval code and chip removal.
Radio Retrieval Code for non-RDS Radio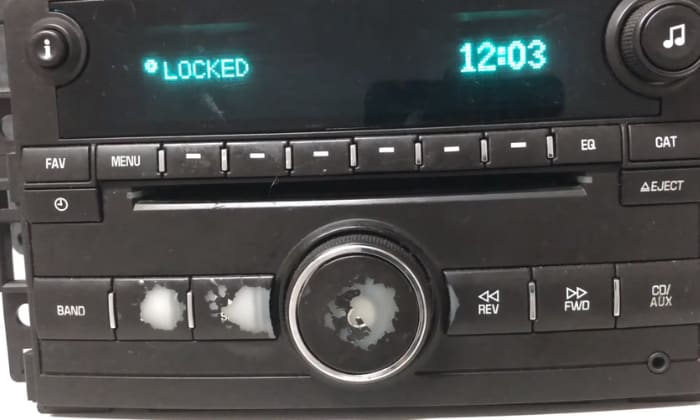 If your Chevy radio has been disconnected or if you bought a factory Chevy Radio without RDS, your radio will be locked because of the anti theft feature that modern Chevy or GM radio has. Follow these easy steps to get your Chevy or GM Radio Unlocked.
Step 1: Find your radio's serial number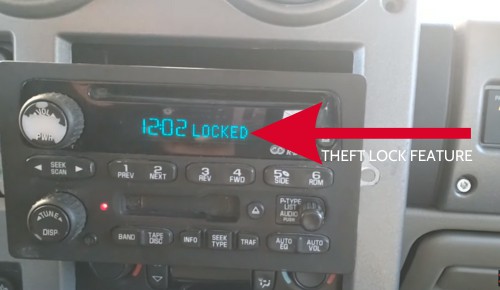 1. The first step to retrieve your code is to find the serial number of your radio. To do this, make sure that your radio is turned on with a display saying "LOC". This would indicate that the theft lock feature is working.
*For the next few steps, you will have to take note of the numbers so it's best to have your phone handy
2. Press buttons 2 and 3 together for 10 seconds. This will display a three-digit number which is the first part of your radio's serial number. For other GM Radios, press buttons 1 and 4 together.
3. Press the AM/FM button on your radio and that will display the last three digits of your serial number.
Step 2: Calling the GM radio hotline
Call 1 (800) 537-5140 which is an automated hotline that you can call for free. Provide the access dealer access code: 106010# as this is the most common code used by GM dealers. Here is a code list in case the first one didn't work 139010, 202108, 206053, or 620529
You will then be provided with a four-digit code by the dealer.
You only have 8 attempts to enter your code, If exceeded, you have to wait for an hour with the ignition on and do the steps all over again.
Step 3: Enter the four-digit code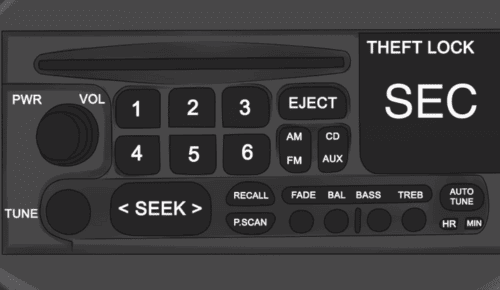 Click on the hour button on your radio until it displays the first two digits of your code. For example, if your code is 0419, you will have to push the hour button four times.
Next, you have to press the minute button to match the last two digits of your code, which in this example is 19 times.
The radio will now display "SEC" which means that you have successfully bypassed the theft lock on GM radios
How to Unlock a GM RDS Radio through Chip Removal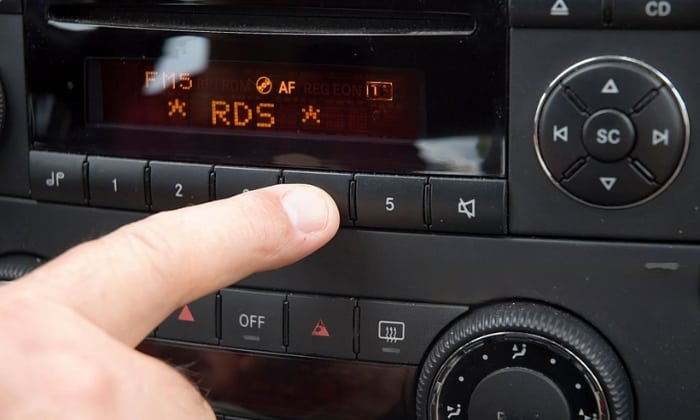 If you have an RDS radio, which is common for Chevy and GM radios from 2003 onwards, you will not be able to get the code using the steps above. However, there is another method worth trying. Keep in mind that using this second option may have its risks.
Chevy Radios with RDS become locked if the VIN information does not match the match. By removing the E-Prom chip, you may be able to unlock it.
Step 1: Opening up your radio
Depending on the type of Chevy or GM radio you have, you can open it up with a few screws. Once opened, you will see the motherboard. The goal of this method is to remove the E-prom chip number 8.
Step 2: Locating the EPROM chip
An EPROM chip stands for Erasable Programmable Read Only Memory. This allows the radio to retain its memory even without the power. Without this chip, the radio will lose its capacity to hold memory every time you turn off your engine.
Research where the EPROM chip is located on your radio's motherboard to make sure that you are taking out the right chip.
Step 3: Removing the EPROM chip
Finally, once located, easily remove the EPROM chip with a chip extractor and close the radio back. Plug the wires back in and turn on your engine. This will get your radio unlocked and reset GM theft lock radio.
However, any setting you have will be lost when you turn the engine off except for the time which will not reset. This is the downside to the chip removal method. If you don't want your radio to reset every time you turn it off, get in touch with your manufacturer and get the codes.
Conclusion
Knowing how to unlock Chevy Radio 2013 or A GM Radio with theft lock features can be achieved in methods that don't require you to spend money. For non-RDS radios, getting the retrieval code is a simple and effective way to unlock your radio.
An alternative and more risky method is chip removal. This involves opening up the radio and removing the EPROM chip which can reset the theft lock and unlock the radio. If you're certain about your options, you can follow these guidelines and avoid the expense of radio unlocking.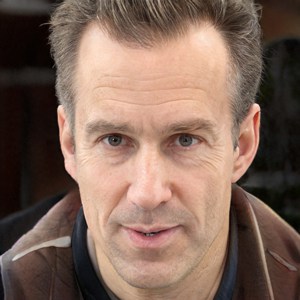 After four years working as a radio mechanic, I know that everything about radio communication is not breezy, even though it greatly benefits us. That is why I set up a website sharing my skills and guides to help non-professional users use their radio headsets, set up their antennas or choose the right products, etc.