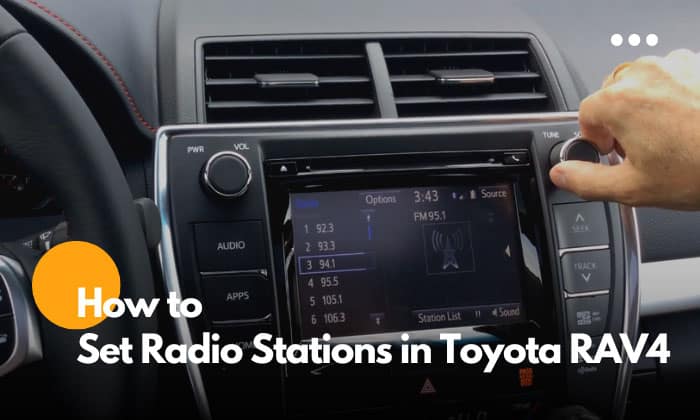 Learning how to set radio stations in Toyota RAV4 can be handy knowledge. This way, you won't have to cycle through endless stations. Instead, you can instantly select your favorites.
To configure a radio station in Toyota RAV4 into your favorites, choose the station and click Add New. Alternatively, you can long press on the left part of the screen, depending on the specific position you want.
A Step-by-Step Guide to Set Radio Stations in Toyota RAV4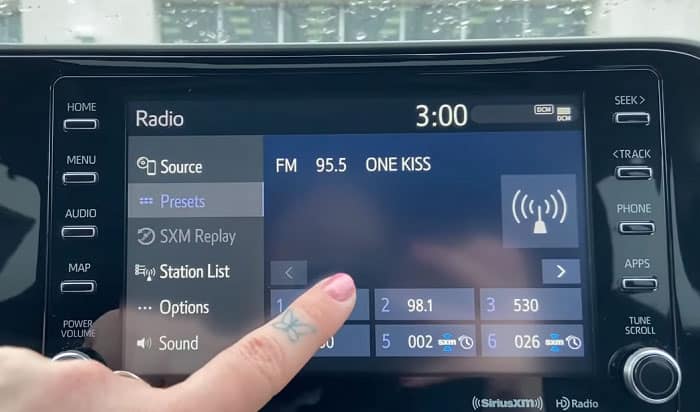 Luckily, saving radio presets on RAV4 is a straightforward task. It's the same in Toyota Highlander, Toyota Yaris, and even in Toyota Camry 2007.
From AM to FM, saving presets will take only a few seconds. The same thing is true when it comes to Toyota DAB radio instructions.
When you set stations on car radio, the crucial thing is not the car itself. Instead, it depends on the radio. And if you have a Toyota RAV4, it is probably the same as most radios.
Below is a quick guide on how you can preset radio stations to easily access your favorites when you're on the road:
Start by choosing a station. You can do this by pressing the seek or track button, depending on the radio. Alternatively, you can use the manual tuning knob.
Choose the radio station that you would like to add to your favorites.
Click Add New. If such a button does not exist, press the one with a thick horizontal line.
If you want to change the preset to a different station, hold the current preset. Click Yes and OK. You can now add a different station.
If the above instructions did not work, which may vary depending on the radio in your RAV4, here's one more thing you can try:
Click the Audio button, which you can find on the left part of the radio. It's a physical button on the side of the touchscreen.
Choose the radio source you would like to add – AM, FM, or XM. The latter is if you are using a Toyota RAV4 Sirius radio.
Rotate the tuning dial until you find the radio station that you would like to add.
On the left portion of the screen, choose the exact number or position you would like to save the radio station. Hold for a few seconds, and when you hear a beep, it's saved.
Meanwhile, if it still does not work, you can try the steps below, especially on Pioneer radio.
Press Listen and choose the radio station you want to add to your favorite.
Press Memory and Preset + or -.
Click Memory again. This time, the radio station is saved. Repeat the same process to save more stations.
Helpful Tips/FAQs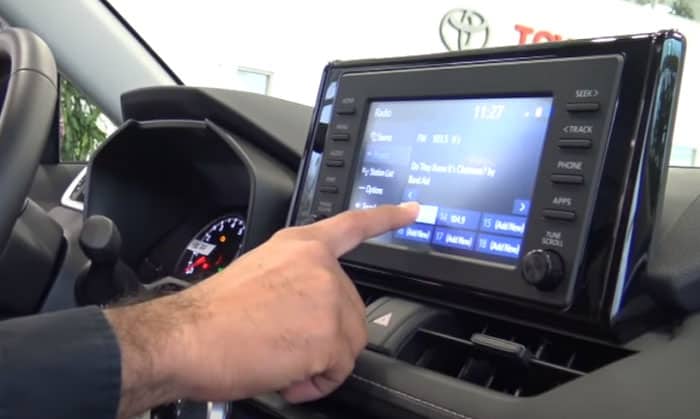 Removing Presets in Your Toyota RAV4
You cannot delete radio stations you have previously saved as a preset. Nonetheless, this does not mean that it has to be stuck on your favorites if you no longer want it.
Instead of manually deleting a station, what you can do is save one over it instead.
Tuning In to Your Presets
Whether you would like to listen to your favorite Belleville radio station or other radio stations in car, below are the things you must do.
Click the Scan button.
The radio will now cycle through all of the favorites you saved. Each station will play for five seconds before moving on to the next.
Press the button after reaching the station you want to listen to. To cancel, press the same button again.
Resetting the Radio in Your Toyota RAV4
Are the presets not working? Such is one of the situations when learning Toyota RAV4 radio reset is handy knowledge. Here's how to do it:
For newer models, start by turning the radio on. Then press the power and volume knobs simultaneously for at least 12 seconds.
For older models, hold the power and seek buttons simultaneously for 60 seconds.
You can also enter the reset code for reactivating the system. To prevent losing the code, you might want to use a code saver.
In some models, you can also disconnect the battery. Connect it again after a few minutes and see if the radio resets.
Conclusion
By now, I hope that you learned a thing or two about how to set radio stations in Toyota RAV4. It only takes a few seconds to save them to your favorites, so you don't need to manually search every time you're using your vehicle's radio.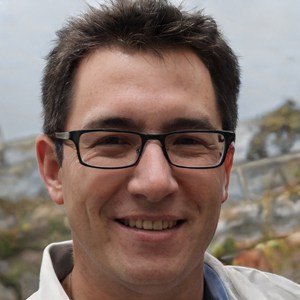 Hi, I am Amaro Frank – the Wind Up Radio's content editor and writer. Working with Adam is so much fun, as his stories and experiences enrich my knowledge about radio communications and radio accessories. My main tasks in Wind Up Radio are building content and generating great articles on different topics around radio accessories.