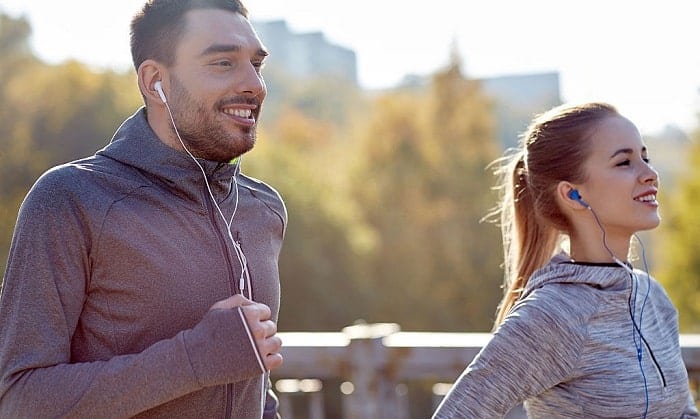 Before smartphones, radios were the preferred mode of entertainment amongst runners. With the best radio for running, it is easy to eliminate boredom and get pumped while you are on the trail.
With mounting scientific evidence supporting the assertion that listening to music boosts your energy, it is easy to understand why radio is a must-have when running. Even better, it is also a great way to stay updated on the latest news updates while getting active.
Choosing radios for joggers is a difficult task. Some might decide based on what is cheapest while others will consider what the users are saying. If you are having a hard time weighing your options, below are some crucial considerations:
Size: The most important is to pick a radio that is lightweight and compact. This way, it is easy to carry when jogging. As you move, make sure that the radio stays in place and that it will not cause discomfort.
Sound Quality: It is frustrating to have a radio that does a poor job at picking up frequencies. When such is the case, you will hear static and unclear audio. From the antenna to the earphones, consider the different parts of the radio that will impact the overall audio output.
Functions: A good running radio should have AM and FM functionalities. Some will have a USB port, digital screen, and rechargeable battery. Take note that the more functions are present in radio, the more expensive it can be.
Are you looking for a high-quality jogging radio? This "Buying Guide" lists down some of the top brands and models currently available. I will also walk you through their features, pros, and cons, making it easier to decide which one is the best option for you.
Top 1
Retekess FY4117J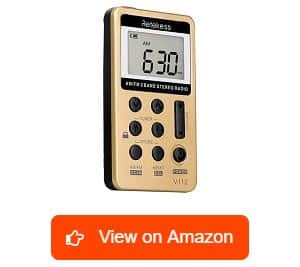 | | |
| --- | --- |
| Dimensions | 13.35 x 1.89 x 0.51 inches |
| Weight | 1.59 ounces |
| Hardware Interface | 3.5mm Audio |
Top 2
BTECH MPR-AF1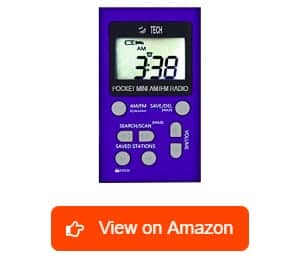 | | |
| --- | --- |
| Dimensions | 3.25 x 0.4 x 1.75 inches |
| Weight | 1.6 ounces |
| Hardware Interface | 3.5mm Audio |
Top 3
Sony SRFS84S

| | |
| --- | --- |
| Dimensions | 3 x 1.37 x 0.79 inches |
| Weight | 3.2 ounces |
| Hardware Interface | 3.5mm Audio |
Top 12 Radio for Running Reviews
1. Retekess FY4117J AM/FM Radio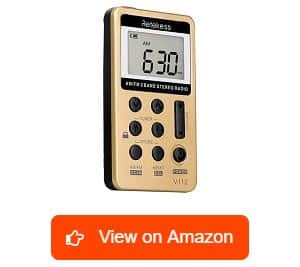 From its price to its functionality, this is hard to beat when searching for a jogging FM radio. It is handy, affordable, and practical, making it a great companion.
While it is an economical radio, it packs plenty of features that you will find even in its higher-end counterparts. One thing that I like is the large LCD. The bright display shows the important information I need to know, especially the AM and FM frequencies. It also displays the battery status and volume.
How many times have you accidentally switched FM stations without meaning to do so? It can happen a lot when running since you can press buttons without knowing. This model offers an effective solution by having a lock switch. When the latter is active, the unit will stay on my chosen function.
Like many of the options in this list, this pocket radio is compact and lightweight. It weighs approximately 45 grams. More so, it has dimensions of 3.3 x 1.8 x.5 inches, making it small enough, so I can run without it being a distraction.
As it is a standard in many radios for runners, it has a 3.5mm jack. This will provide the slot to connect your earphones or headphones.
Heads-up:
If there is one thing that the manufacturer can improve in this radio, it would be the battery life. On average, the battery lasts only one hour, which is quite frustrating.
What We Liked:
An affordable radio with compromising its functionality
Has a lock switch to prevent accidental operation
The bright display shows information I need to know
Comes with a 3.5mm jack
What We Didn't Like:
The battery does not last long
Bottom Line:
In sum, this is one of my favorite running radios not only because it is affordable, but also because it is portable and comfortable to carry.
2. BTECH MPR-AF1 AM/FM Radio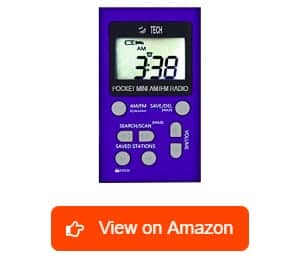 A user-friendly and functional compact radio, this is another option that works best for runners. It has a round case with smooth edges, making it easy to slide it on and off my pocket.
Many radios have only one antenna, which will limit their ability to attract signals for clearer audio. To make this model better, the manufacturer incorporates an external antenna on the headphone jack. It generates a better reception, minimizing the possibility of having static noise.
Finding my favorite local stations is easy with this radio. It has a memory function, so it can easily remember what I have been listening to often. With the preset function, the radio can store up to 58 channels.
The rechargeable battery is another impressive feature. It is more economical compared to disposable lithium-ion that I must replace often. With a 500 MAh capacity, I can listen to music continuously as I run.
As a bonus, my purchase came with two earbuds. They are available in two styles, so I can pick which one is more comfortable.
Heads-up:
While I love the overall quality of this pocket radio, I had issues with the power button. Not only that it is hard to locate, but it is also fragile. It probably won't take long before it breaks, like the experiences of many other users.
What We Liked:
Round design and smooth edges for easy sliding on the pocket
Comes with an external antenna for better sound quality
Good memory function that stores 58 channels
Has decent headphones with two different styles
What We Didn't Like:
The power button is prone to failure
Bottom Line:
With its round design, preset memories, external antenna, and good battery life, there are lots of reasons to put this on your list of the top-rated FM radio for jogging.
3. Sony SRFS84S AM/FM Radio
Since its Walkman days, I have already been an avid fan of Sony. Unsurprisingly, this running radio is one of my favorites in the market.
Among its features, one thing that stands out is Mega Bass. The latter is a bass boost system exclusive to the company to generate high-quality sounds. It deepens and enriches bass reproduction so that I can feel every beat of the music. This encourages me to run faster.
Another notable innovation in this unit is phase-locked loop circuitry. It ensures frequency precision while maintaining a stable signal. The result is that it produces an impressive audio output that minimizes static and interference.
The sturdy belt clip is remarkable. It is easy to attach it to my belt or shorts while making sure it stays in place even if I move aggressively. Weighing only 0.2 pounds, it is a breeze for me to run even if I have the radio with me.
When you purchase this product, you will enjoy the free Fontopia headphones. These earbuds have a great silicone grip that will make them stable in the ear while minimizing external noise. This can enhance the overall listening experience while keeping me comfortable.
Heads-up:
Being made by a reputable brand has its consequences. This is one of the most expensive portable radios on this list. Nonetheless, with its capabilities, it is worth every dollar!
What We Liked:
Free high-quality earphones with comfortable silicone grip
Mega Bass allows rich sound to make you more energetic
Maintains a stable signal for better reception
Comes with a sturdy belt clip
What We Didn't Like:
One of the most expensive in this guide
Bottom Line:
To conclude, this AM/FM radio for runners has a rich bass for a more immersive listening experience while also stabilizing signals to manage interference.
4. Flyoukki 8541720618 Personal Radio
This AM/FM radio for runners isn't from a brand that most of you will recognize. Even so, it is one of my favorites because of its price and functions.
Its highly portable design makes it an outstanding radio. With dimensions of 3.3 x 1.8 x 0.5 inches, it easily fits in my palm and pocket. Alternatively, it also comes with a lanyard hole, so I can wear it on my neck when jogging.
With 58 preset stations, the memory function makes it easy to find my favorite music. It instantly remembers my preferences, so I do not have to manually search or scan every use. Storing and deleting presets will take only a few seconds.
The simplicity of this radio is one more thing I would like to emphasize. It has a simple layout and the buttons are easily accessible. There are no fancy and non-sense features. Even without reading the manual, I was able to set up the radio quickly.
When you buy this transistor radio, you will receive multiple accessories. It has earphones that will fit in the 3.5mm jack. You will also get a velvet bag, which will protect against dust and dirt. Plus, it comes with a USB cord for charging and a lanyard.
Heads-up:
The battery of this radio is its biggest issue. It does not hold a charge for a long time. Even if I am not using it, the battery drains.
What We Liked:
Stores 58 stations for easy listening
Easy to hold in your palm or fit in your pocket
Simple design makes it a breeze to use
Has multiple free accessories
What We Didn't Like:
The battery does not hold a charge for a long time
Bottom Line:
A user-friendly radio with a portable design
and several accessories, this is another product that can make your jogs more fun.
5. DreamSky DS207 Portable FM Radio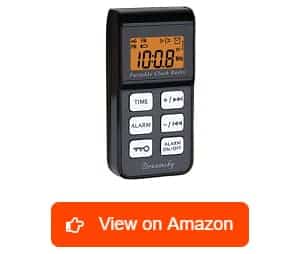 Jogger's radios don't have to be expensive to be good. This model is proof that even affordable models from unknown brands can deliver a decent performance.
The best thing is that it is more than just a radio. Aside from connecting to AM and FM stations, it has additional features. It comes with a clock and alarm. If you have an appointment, you can set the alarm for an instant reminder when you are jogging.
Looking at the time or the stations is effortless. Day or night, you can see the display easily. I love how it comes with a backlight for illumination. Even if you have poor eyesight, this is a great product.
Its earphones are retractable. This is unlike others with dangling and annoying wires. I can pull the earphones when I need them to be longer. Alternatively, if I am not using it, it recants neatly. It is also an effective way to prevent the cord from tangling.
While it is easy to hold and compact enough to fit in a pocket, it is a good thing that it comes with a strap. I can hang it on my neck when I am jogging. This is great when I am wearing tight pants without any pockets.
Heads-up:
Despite the good things about this portable radio, the biggest issue is that static is common. This minimizes the sound quality as it is mostly noise, especially when I am in an area with bad reception.
What We Liked:
Also has a clock and alarm function
Crisp display with backlight
Includes retractable earphones to prevent wires from tangling
Has a neck strap for hands-free use
Bottom Line:
With a clock and alarm, retractable earphones, and backlit display, this is a must-have in your options for portable radio for walking and jogging.
6. JESSON 8541745601 Pocket Radio
With both AM and FM broadcasts, this is another top-notch radio that should be on your radar. It is cheap, but that does not mean that the performance is inferior.
The large LCD makes it easy to view whatever is on the display. The largest number corresponds to the station at which I am listening to. It also has a convenient battery indicator, so I will quickly know when to recharge.
Another good thing in this portable AM FM radio for running is the lock switch. This will prevent the accidental operation of the unit as I jog. I had countless experiences when my radio would unintentionally switch frequencies when it was in my pocket.
For the best bang for the buck, it already comes with earphones. If you prefer to plug another, you will love how it comes with a 3.5mm jack. Next to the headphone jack, this radio comes with the USB port, which is where you will connect the charger.
This portable radio won't take too much space and won't be a burden to carry. It weighs only 45 grams. Plus, it is small enough to conveniently fit in your palm if you want to hold it. You can also dangle it on your neck as you run since it comes with a lanyard hole as well as a strap.
Heads-up:
While I appreciate that this digital radio automatically scans available channels, I hope there is also an option for manual tuning. The latter is better for people who have a specific channel preference that they would like to input.
What We Liked:
Has a large display that shows the frequency and battery level
Equipped with a lock switch to prevent accidental operation
A free earphone comes with the package
Lightweight and compact design
Bottom Line:
Wrapping up, this pocket radio with headphones has a large display, digital tuning, and lock switch, all of which can be enjoyed without spending a lot.
7. Greadio GR-838P Portable AM/FM Radio
If you are looking for affordable AM FM radios, this portable radio is another product to include on your list. Despite the price, it packs exceptional features that you will love.
This radio is more than just a radio that lets you listen to your favorite stations while you are jogging. It is more functional because it works as an emergency tool. The radio has access to seven NOAA stations, so I can keep up with the weather and be alerted when there is a hazard, such as a hurricane or a tornado.
Another additional feature of this radio is the alarm clock. You don't have to be late again for your morning run. More so, you can also set the alarm if there is an important thing you need to do after you run. The alarm also has sleep and snooze features.
One thing that differentiates this from most of the products in this guide is that it has a built-in speaker. While you can listen privately and use AM FM radio headphones while jogging, you can enjoy it even without earbuds.
Another reason to love this simple radio is the three-year warranty that the manufacturer offers. It demonstrates how confident they are of the overall quality of this product. Plus, users will enjoy 24/7 customer support.
Heads-up:
The radio will benefit from an improvement in the battery. It drains a lot of juice, and hence, won't last long.
What We Liked:
Provides emergency alerts in case of weather disturbances
Packs a built-in speaker
Has sleep timer and snooze functions
Comes with a three-year warranty
What We Didn't Like:
The batteries drain quickly
Bottom Line:
More than just an AM/FM radio, it also has NOAA alerts for weather disturbances. Plus, it comes with an alarm function, as well as a compact but powerful speaker.
8. OPPOWER AM/FM Radio
This small but powerful radio makes another great pick for runners. Despite the compact design, it packs various features that will make it a worthy competitor.
It does not have the bells and whistles that you will see in high-end radios. Nonetheless, it has the basic functions everyone needs, including AM and FM. For the AM frequency, you can set the radio at 520 to 1710 KHz. On the other hand, the FM frequency is available from 64 to 108 MHz.
For clearer reception, it has two types of antennas. The first is a ferrite bar antenna, which is what you can expect from traditional portable radios. More so, the earphone wire also doubles as an antenna, which will make it easier to gather surrounding frequencies.
The radio is economical to use in the long run because it does not have disposable batteries that require frequent replacements. Instead, the 500mA batteries are rechargeable. The package is already inclusive of a USB charging cable.
There is no need to scan manually. Instead, there is a dedicated button that will allow the unit to automatically search for available frequencies. This is a great timesaver, especially when you are running.
Heads-up:
While this radio has a memory function that remembers my favorite station, it is a bit tricky to use. Locking and storing channels can be a confusing task.
What We Liked:
Internal ferrite and earphone wire antennas provide clear reception
Has a 500mA built-in and rechargeable battery
Automatically searches available stations
Good AM and FM functions with decent frequencies
What We Didn't Like:
Trick to lock and save stations
Bottom Line:
A compact radio
that does not sacrifice performance, it has great batteries, two antennas, and an automatic scan feature for ease of use.
9. PRUNUS RADIO777 Portable Pocket Radio
Listening to your favorite songs and stations is easy with this small radio. It weighs less than 64 grams, making it the perfect running companion.
One of the best things about this radio is its simplicity. It only has three buttons, eliminating the clutter in its interface. You will find the volume knob, tuning knob, and power button on the side. The latter also doubles as a band switch, making it easy to switch from AM to FM or vice versa.
With the convenient FM radio headphones jogging, I can listen privately during my runs. Alternatively, if I would rather have loud music, it is a good thing that it comes with a built-in speaker. The latter occupies the lower half of the unit. It has a clear and loud audio output for the best experience.
The super convenient design is also a plus. I can hold it in my hand, keep it in my bag, or fit it in my pocket. Alternatively, it also has a small but flat base, which will let the unit stand if I want to use it on a desk.
More so, the battery compartment has several design features that make it great. For instance, the hinged cover means that you will not lose it as it attaches to the back of the radio. Plus, there is a black cloth that makes it quick to detach the battery.
Heads-up:
Nonetheless, this portable radio has a short radius. This means it picks up only limited frequencies, so you cannot listen to stations far from your current location.
What We Liked:
Has a built-in speaker
Simple interface with only three buttons
The convenient design makes the radio usable in multiple ways
Hinged battery compartment to prevent losing the cover
What We Didn't Like:
Short operational radius limits the frequencies
Bottom Line:
Whether you are listening through earphones or the built-in speaker, this user-friendly radio promises an excellent experience.
10. ZHIWHIS ZWS-107 Portable Radio
This affordable radio has basic functions that will make it useful for running. It has a compact and lightweight design, so I can carry it easily.
Amongst its features, one of the best is digital signal processing. The latter is an innovative chip that manages frequency modulation reception. The result is that the audio is clear and crisp.
More so, it has a 16-bit mirror converter, which minimizes the possible distortions. This technology is built-in on the unit to ensure sound clarity. Plus, it has a digital IC that is combined with a special software program for reliability and stability regardless of the conditions of the external environment.
A unique feature that you will find in many other radios is the memory function for the volume. This means that even if the radio turns off, it will automatically remember the volume you had earlier set when you switch it on.
This portable radio is also a good thing that it provides two ways by which you can select a station to listen to. If you don't mind the effort, you can do so manually. There are up and down buttons to set the channels. Alternatively, it also has an automatic scanning feature.
Heads-up:
Despite the good things, I did not like how it does not support preset stations. It has no function that allows me to store frequencies in its memory.
What We Liked:
Has digital sound processing for crisp audio
Comes with a 16-bit converter to minimize distortions
Memory remembers your volume setting
Allows users to choose stations manually or automatically
What We Didn't Like:
Does not support a preset function
Bottom Line:
With digital signal processing, 16-bit mirror converter, and digital IC, it has notable features that guarantee superb functionality.
11. Jensen SAB-55BK Armband Radio
In your search for an excellent armband radio, this is one option you should not miss. It is compact and portable, making it a top pick for runners.
This armband radio is different from those mentioned above in terms of its design. It comes with an elastic sports band, so I can wrap it around my arms, making sure that it does not fall regardless of how fast I run. It is also versatile because it can work as a clip-on radio for running.
To generate unmatched sound quality, it features a digital bass boost. It amplifies the music better, resulting in a more immersive experience. Plus, it comes with stereo earbuds that also improve listening, whether on morning talk shows, sports games, or music, among others that you can access with this product.
If you often run at night, you don't have to worry about your safety. It has a reflective safety ring, which illuminates in the dark to make you more visible. This will minimize the chances of being hit on the road.
Tuning to my favorite channels is effortless. I do not need to manually search for a frequency every time I am using this radio. Instead, I can preset ten AM and ten FM stations. With its memory function, I can easily find whatever I want to be listening to.
Aside from being a radio, I can also use this as a digital clock. I can always stay updated about what time it is when I am running, which is useful when I do not have a watch or a smartphone with me.
Heads-up:
If there is one issue, it is that navigation between channels is quite tricky and will take a long time.
What We Liked:
Versatile design with an armband and clip
Has a reflective ring for safety when running at night
Digital bass boost improves sound output
AM and FM presets for easy tuning
What We Didn't Like:
Navigating through channels takes forever
Bottom Line:
This clip-on and armband radio for running has multiple presets, a digital watch, reflective ring, and digital bass boost.
12. PRUNUS J-982 Mini Pocket Radio
If you are looking for the best way to listen to radio while running, this is one product that you should have. From being user-friendly to sound quality, it delivers a long list of benefits.
I love the simplicity of this radio. Unlike the other radios in this list, it does not have a digital display. Furthermore, it has no speaker and battery indicator. With its simple design, it is straightforward to use. I recommend this pocket radio even if you are a newbie.
With an immersive listening experience, you won't need speakers. Even with just the headphones, the audio quality is second to none. It has stereo and bass modes, so you can customize the sound output depending on the music genre or whatever suits your preferences.
More so, it comes with a DSP chip. The digital signal processor improves the signal reception, making it easier to absorb nearby frequencies. To add, the earphone wires will also double as an external antenna.
Nothing's fancy with the battery of the unit. It uses three AAA batteries, which are known for their long life. It can play continuously for 38 hours.
Heads-up:
One of the biggest shortcomings of this model is that it does not have an LCD screen. This makes it difficult to see the exact frequency or channel.
What We Liked:
The simple design makes it user-friendly
Battery lasts up to 38 hours
Offers an immersive listening experience
Digital signal processor and external antenna help improve reception
What We Didn't Like:
Does not come with a digital screen
Bottom Line:
With bass and stereo modes, as well as a digital signal processor and an external antenna, this is another top
pick for the most favorite radios
for runners.
Factors to Consider When Choosing Radio for Running
The list is almost endless. To help you trim the possibilities, below are the most crucial considerations.
Size
Your goal is to have a radio that you can bring when you run. So, you should pick one with a lightweight and compact design. It should easily fit in your pocket or palm. Some are worn over the neck using a lanyard, clipped on the belt, or wrapped in an armband. If the radio is too big, it will be a burden to bring around.
Sound Quality
Whether you are using earphones or a built-in speaker, the audio output should demonstrate superior quality. Some models will have features like a digital signal processor and bass boost, which can help eliminate noise and add depth, among other benefits. This is a vital consideration as it affects your overall listening experience.
Functions
For versatility and value for money, choose a product that works more than just a radio. Some models also have a digital clock and alarm. The more functions there are, the more useful the product will be.
Screen
Most of the models in this guide have a digital screen, which shows the specific frequencies you are listening to, as well as the battery level. Some will have a backlight, which will be useful when you are in the dark.
Lock Switch
When you move a lot, which is the case when running, it is possible to press the buttons of the radio accidentally. When such happens, it will switch stations and do other things unintentionally. It is good if there is a switch that locks all the buttons to prevent unauthorized operation.
Battery
Consider the charging time and battery consumption of the radio that you will choose. It is best if it has a rechargeable battery, so you can save money in the long run. Most models will use an AA or AAA battery.
The Different Types of Radio for Running
Pocket radios for running are available in several types. For instance, the traditional option is an AM/FM radio, which relies on manual broadcasting. It can be prone to static and noises. However, a better alternative is DAB radio for running, which relies on digital broadcasting offering more choices of stations to listen to.
Benefits and Drawbacks of Radios for Running
There are many good reasons to invest in a running radio. Running radios will boost your energy as you listen to music that will keep you going. At the same time, you can also follow sports news and weather updates, even if you are outdoors. Some are multifunctional and will have other uses, such as a clock, alarm, and sleep timer.
It is hard to think of any drawback, except the price. Even so, many of the radios listed above are affordable. More so, these radios lack advanced features, so the reception can suffer.
What are the Most Trusted Radio for Running Brands
Sony, Retekess, Dream Sky, JESSON, and Prunus are some of the manufacturers that you should know. Most of their products come with AM/FM radio headphones to provide the best bang for the buck. Not to mention, the performance and quality are second to none.
Is It Good to Listen to Music While Running
Yes, it is good to listen to the radio when you run. It provides an instant energy boost. Depending on the music that you are listening to, it affects your mood, making it easier to go faster and harder. At the same time, it also provides entertainment on the trail, which comes in handy if you are running alone and easily get bored.
How Can I Listen to Radio While Running
The best way to listen to radio when you are running is to use earphones. This way, you will not disturb others and you can hear everything clearly, regardless of the noise in your surroundings. While a standard AM/FM radio is enough, we recommend exploring pocket dab radio for running, which offers more stations if you want better quality.
Conclusion
Jogging does not have to be boring. With the best radio for running, you can listen to music that will help keep you going. At the same time, it can also be your source of the latest news and sports updates. From the size and weight to the features, consider different factors as you evaluate the possibilities.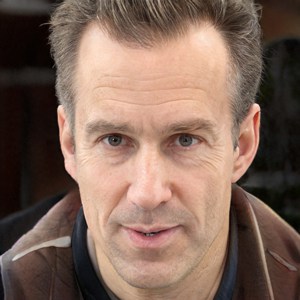 After four years working as a radio mechanic, I know that everything about radio communication is not breezy, even though it greatly benefits us. That is why I set up a website sharing my skills and guides to help non-professional users use their radio headsets, set up their antennas or choose the right products, etc.