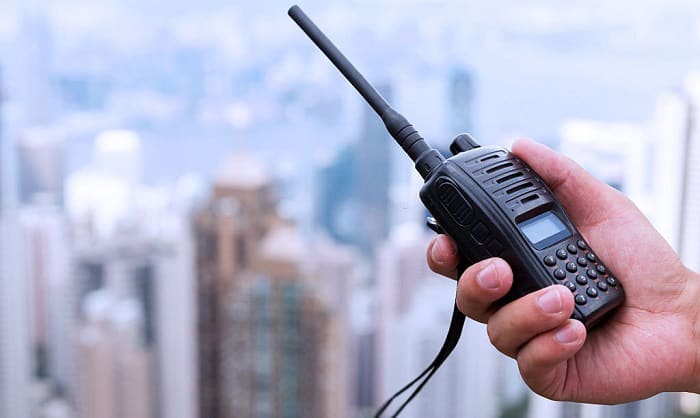 Anyone new to ham radios will use local repeaters to communicate. It is fun, but you should broaden your horizons. Among others, one of the best ways to do this is to use satellites for long-distance radio communication.
It might sound silly at first, but one thing that many people do not realize is that they can make contact via satellites. It is especially useful if you are stranded and have no means of communication. In these situations, you will be thankful for having the best ham radio for satellites for sending distress signals.
Picking a satellite ham radio can be confusing, especially if you are a first-time buyer. To help you make a well-informed decision, here are some of the crucial considerations:
Ease of Use: Even for experts, user-friendly ham radio is a must. The intuitive interface makes the operation fuss-free. This is possible by having strategically laid out buttons. A memory function is also a must, as well as a visible display, even in dark environments.
Type of Ham Radio: Those who want portability should look for hand-held ham radios, which are easy to bring anywhere. To access satellites, you will need a capable antenna, so such should be considered. For more powerful radios, mobile and base stations are worth considering.
Functions: If you want the best bang for the buck, look for added features that can come in handy. For instance, some radios have built-in GPS receivers. Others have NOAA alerts for weather monitoring.
In this Buying Guide, I will walk you through some of the best products if you want to use ham radio satellites. Read on and find out some of the top options that should be on your list.
Top 5 Ham Radio for Satellites Reviews
1. BaoFeng BF-F8HP Two-way Radio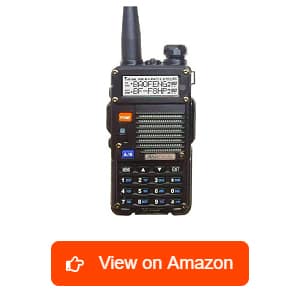 The brand name itself is already a compelling reason to consider this product when searching for portable satellite radios.
Among its features, one of the most notable is its high power output. Compared to the older-generation UV-5R, which has an output of 4 watts, this model has 8 watts. I can choose from three settings – high, medium, and low, depending on what is suitable for the situation.
Aside from the higher power output, another significant improvement from its predecessor is the seven-inch high-gain antenna. Earlier models do not have this feature.
The narrow radio beam of the antenna is responsible for increasing its signal strength. It targets radio signals more precisely, which will amplify weak signals in satellite communication.
I am a big fan of the mic and speaker on this radio. The speaker has a 700mW output, so I can clearly hear the other person.
The battery life of this ham satellite radio is worth highlighting. At 2,000 mAh, the lithium-ion battery delivers incredible power. The exact duration at which it will last, however, depends on the output selected. A higher transmit power drains the battery quicker.
Those who already have UV-5R radios in the past will love how this model offers cross-compatibility. It works with all accessories from the radio's previous generations, eliminating the need to buy new ones.
Ham geeks will like the 76-page manual that comes with this radio. It might seem exhausting, but for someone who wants to learn the ins and outs of ham operation, the booklet provides a detailed guide to making the most of the radio.
Heads-up:
Nonetheless, I do not suggest this product to anyone who lives next to high-powered signals, such as military bases and radio stations. Overloading by interference is a common problem, especially when there is a nearby transmitter. Also, the bulky battery adds a hump at the back.
What We Liked:
High output of 8 watts with the option to choose from three settings
The high-gain antenna improves signal
Good mic and speaker that delivers audio clarity
Compatible with UV-5R accessories
Includes a comprehensive 76-page manual
What We Didn't Like:
Can be easily overloaded by interference
Has a bulky battery that makes the back bulky
Bottom Line:
With its powerful battery, high-gain antenna, clear audio, and cross-compatibility with UV-5R accessories, there are plenty of reasons to consider this product when looking for a satellite handheld radio.
2. TYT TH-9800 Ham Radio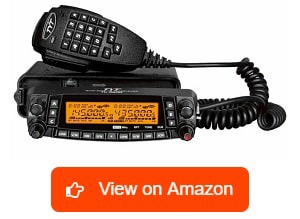 When two bands are not enough, this satellite transceiver can offer the perfect alternative. It offers four bands, which allows it to support more frequencies (29 MHz, 52 MHz, 146 MHz, and 440 Mhz).
Based on experience, one of my personal favorites in this satellite ham radio is the full twin display. The large LCD has a bright backlight, making it easy to view the display. It does not only show channels but also allows editing when necessary. Even the handheld microphone has a backlit keypad, which helps ensure ease of use, especially in dark places.
I recommend this radio for anyone new to ham operation. It is a perfect first-timer rig, not only because of its price but also its ease of operation. Setting up and programming the radio is a breeze.
Speaking of ease of use, the DTMF handheld mic is a great feature. It allows direct input of frequency through the keypad in the mic. It also has 809 memory channels, which eliminates the need to manually input them when necessary.
The squelch control is another feature worth emphasizing in this radio. I can control it using a strategically positioned knob. With the squelch function, the radio mutes a channel when it is inactive. It prevents having hissing white noise, which can be annoying.
Heads-up:
One of the shortcomings of the radio is the design of the mic. My hand easily covers the three tiny holes of the mic when I am holding it, which might make me unclear on the other end.
What We Liked:
Quad-band operation supports 4 frequencies (29 MHz, 52 MHz, 146 MHz, 440 MHz)
Highly visible full twin LCD display
A good choice for first-time ham operators
The 809-memory channels make it easy to use
Has squelch control to minimize hissing
What We Didn't Like:
The quality of the mic can be better
Bottom Line:
Overall, this VHF/UHF full duplex transceiver is impressive because of its large and visible display, channel memory, and quad-band operation.
3. Greaval UV-5R 8W Ham Radio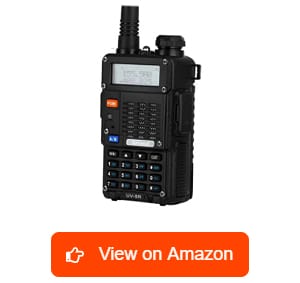 Access amateur satellites and enjoy reliable communication with this radio. More than being reliable, it deserves a spot on this list because it is affordable.
With its price, I had low expectations of its performance. Surprisingly, it was better than I anticipated. One thing I like the most is the presence of selectable power output, so I can choose from low, medium, or high based on what a specific situation requires.
The 2,100 mAh battery is also commendable. It even comes with a spare, so I will not run out of juice. When it is full, the battery can last 12 to 20 hours. When there is no power transmission, the radio automatically reduces its power consumption.
The purchase of this radio comes with several BaoFeng accessories. One of the most notable is the handheld microphone. It allows integrated listening and comes with a separate speaker. Plus, there is a 360-degree rotating clip for versatile positioning. It is also good that it has an extendable cable, which can reach a maximum length of 47 inches.
One of its distinct features that you will not find in the other radios on this list is the built-in flashlight. It is handy when you are using the unit at night. More so, it is also good for dark spaces because of the backlit display for visibility.
Heads-up:
While it isn't a huge shortcoming, some users might not like how it does not have cross compatibility. The accessories will not work on radios from other brands. To add, the programming cable that comes with the radio does not work.
What We Liked:
A great option for people on its budget
Allows users to select from three power outputs
Has a powerful 2,100 mAh battery
Comes with a BaoFeng mic with a telescoping cable
Includes a built-in flashlight
What We Didn't Like:
No cross-accessory compatibility
The programming cable does not work
Bottom Line:
More than being affordable, this ham radio for satellites is exceptional because of its selectable power output, long-lasting battery, and visible display.
4. Yaesu FT-2980R Ham Radio
Yaesu is one brand that ham operators will know. This specific model may not be as cheap as others on this list, but its performance makes it a good amateur radio transceiver.
Looking at its features, one of the most notable is its high power output of 80 watts. Users can enjoy the flexibility of setting it to lower output, including 5, 10, and 30 watts to suit the specific application.
Additionally, it has a 3-watt audio output, which ensures clear transmission even in noisy environments. It comes with an internal speaker, so there is no need to add a third-party accessory. It also has Advanced Track Tuning RF input filtering, which is responsible for preventing intermodulation distortion.
On some radios, it is often a struggle to see what is on the screen. In this Yaesu satellite radio, such won't be a problem because of the large backlit LCD that shows up to six digits at a time. The alpha-numeric labels make it easy to recognize the channels I am tuned at.
Aside from satellite communication, I love this radio because of its NOAA alerts. With the latter, I am updated on the weather. I will know immediately when there is a disturbance and I can prepare accordingly.
As a single-band radio, the unit transmits only at 144 MHz. If you are looking for an alternative full duplex handheld radio for satellite, I suggest that you look at Yaesu FT 5100.
Heads-up:
One of the drawbacks of this radio is that it overheats easily. It would have been better if it came with an internal fan. Another shortcoming is that it is tricky to program. It requires a bit of a learning curve, especially for beginners.
What We Liked:
The 80-watt output makes the radio powerful
Allows users to choose from four power settings
Has 3-watt audio for clarity
Easy channel recognition in the large display
Comes with NOAA weather channels
What We Didn't Like:
Can be easily prone to overheating
Programming the radio is tricky
Bottom Line:
From the high-power output to the weather channels, this is another satellite radio that can deliver exceptional performance.
5. ICOM ID-5100A Ham Radio
Wrapping up this list is one product ideal for those looking for high-end transceivers ham radio.
It is expensive but worth every dollar because it is feature-rich. Among others, it stands out because of its touchscreen display, which separates it from the other products in this buying guide. It has an intuitive interface for seamless operation. It is large enough at 5.5 inches and has a good resolution of 320 x 128 pixels.
Another feature that differentiates it from the other radios on this list is its built-in GPS, which reminds me of the Kenwood TH-D72A satellite. It transmits and receives location data, including altitude, course, speed, and position. It uses such information when communicating with nearby repeaters.
It might seem intimidating at first, but the radio has several features that make it user-friendly. For instance, it has a memory function that stores 1,000 regular channels, 50 program scan edges, 1,200 repeater memories, and 4 call channels. It also has an SD card slot, which allows data and voice storage.
The radio comes as a bundle, which makes it worth every dollar. Buyers will receive a quick reference card, making it great even for new users. This is the perfect opportunity to learn about the fundamentals of using amateur radio.
Heads-up:
One of the issues with this product is that it can draw up to 45 mA of power, even when this is off. This can drain the battery quickly.
What We Liked:
Intuitive operation with the 5.5-inch touchscreen display
Comes with a built-in GPS
Includes a quick reference guide for learning more about ham operation
Has a memory function and an SD card slot
Stores 1,000 regular channels, 50 program scan edges, 1,200 repeater memories, and 4 call channels
What We Didn't Like:
Can easily drain the battery
Bottom Line:
From the advanced touchscreen functionality to the built-in GPS, this high-end radio has an array of top-notch features.
What to Look for When Buying Ham Radio for Satellites?
As you narrow down your choices for a satellite ham radio, below are some of the most important considerations.
A user-friendly ham radio is one with few buttons, dials, and knobs but without compromising functionality and performance. Simplicity is crucial, especially if you are a newbie. It should not have confusing add-ons. The buttons should have a strategic layout, making the buttons easily accessible.
Several features will make a ham radio for satellites easy to use. For instance, one of my favorites is the memory function. This way, the user can save channels and frequencies, eliminating the need for manual tuning.
A large and visible display is also a must-have for intuitive operation. It allows users to easily monitor the functions of the radio, even when operating it in a dark environment.
Different types are available, and you need to find out what suits your needs and intended use. One of the most common is a handheld unit. As the name implies, they are known for their portability. They are carried by hand, belt clip, or pocket.
Alternatively, if you need something that you can install in a vehicle, then you should opt for mobile ham radio. You can also find base stations, which are intended to be fixed in a permanent location, such as at home.
Those who want the best bang for the buck will choose a product that works more than just a ham radio for satellite. For instance, I saw some models with a built-in GPS, such as the Kenwood TH D72A. There are also models with weather alerts, which will come in handy for emergency preparedness. There is even a radio with a built-in flashlight.
Not all radios are the same. Among others, one of the most important is to have a full-duplex capability. This means that the radio can receive while also transmitting. Nonetheless, this feature is hard to come by in many modern radios. They are more common in older models.
If the radio is not full duplex, you have the option to use two radios instead. This way, one radio is for sending and the other is for receiving. You can do this with most handheld radios and those with programmable VHF/UHF scanners.
Consider how long-lasting the ham radio satellite will be, especially if it is expensive. It should have robust construction, so you can be confident that it will withstand the test of time. One of the best things to do is to read online reviews and learn from the real-life experiences of other people.
BaoFeng, ICOM, Yaesu, TYT, and Kenwood are some of the best brands that should be on your radar. They are some of the most popular for their high-quality ham radios that can connect to satellites. Through the years, their radios have demonstrated significant innovations that made them stand out.
Can Ham Radios Use Satellites?
Yes, ham radios can use satellites. While it is possible, however, there are some things that you should know. For instance, listening can be easy, but to be able to transmit, you will need advanced knowledge and skills.
It is also crucial to note that while multiple satellites orbit the earth, only a few of them can have a line of sight on your current location.
Many of these satellites can work with both UHF and VHF, which are compatible even with walkie-talkies. With the proliferation of services like SpaceX from Starlink, it is hoped that more satellites will become accessible.
How Can I Listen to Ham Satellites?
It can be intimidating at first, but with practice, listening to ham satellites can be easy. This is especially the case when you have a good radio, including those I have earlier reviewed.
Start by setting up your rig. You will need more than a radio. You must also have a ham radio satellite antenna, which you should set up properly to obtain signals.
Install software or applications. Check out AMSAT for some options. You can also visit some websites that specialize in listing active satellites. Through real-time tracking, you will know ham radio satellite status.
Specify your current location. In turn, you will find a pass chart. Reading such is essential for a seamless experience. It shows details like altitude, which is the highest point of the satellite in the sky.
After reading the chart, choose the desired pass. Satellites orbit at all angles, and you must choose one passing overhead.
The next step is to find a frequency. Take note that there are two types. The first is an uplink, which is for transmission. For receiving and listening, on the other hand, you will need the downlink.
Aim the antenna over an area with a clear horizon and minimal or no physical obstructions. Adjust the antenna until you can hear something.
Follow the pass with the antenna. This can be quite challenging for a newbie. It takes a bit of practice.
How Do You Build a Ham Satellite Antenna?
To use a satellite shortwave radio or any other type of capable radio, one of the most important is an antenna. With time, patience, and basic knowledge, you can make one yourself.
Start with the measurement of the DIY antenna that you want to make. Once you know the latter, it is time to drill a wood beam, which will serve as the foundation. Pay attention to the proper spacing of the holes.
Secure the brass rod in a vise and cut depending on the specifications of the antenna you are building. For this example, cut five rods at lengths of 11.75, 12.25, 12.5, 13.5, and 21 inches.
Make the driven element of the antenna. Put the 21-inch rod on the vise, mark the 13-inch end, and bend at 180 degrees to make it J-shaped.
Position the brass rods in the wooden beam. Make sure that they are all in the center. You can use glue to secure the rods.
Prepare the antenna's coaxial cable. Cut one of the connectors and strip the end by up to three inches. Remove the insulation, but be careful to not cut the wire.
Connect the coaxial cable to the antenna's driven element. This is the J-shaped rod you have earlier made.
Use zip ties to tighten the coaxial cable on the wooden beam.
Position the antenna. This is one of the most important as it has a huge impact on capturing ham radio satellite frequencies.
How Many Amateur Radio Satellites Are There?
Upon a quick online search, there is no exact data regarding the current number of amateur satellites in orbit.
The best way to check is to find a website that provides real-time tracking. If there is one thing that we know, however, it is that over 70 ham radio satellites have been launched since the first one was launched in 1961.
Most of the ham radio satellites are in Low Earth Orbit. In 2018, however, we saw the first geostationary ham radio satellite.
How Far Can a 100W Ham Radio Transmit?
On average, a 100-watt ham radio can transmit 10 miles. However, it depends on several factors, such as the quality and performance of the radio itself. The surrounding conditions are also crucial, such as the terrains and presence of potential obstructions, including buildings and other physical structures.
How Do Ham Radios for Satellite Work?
Using satellites allows users to make contact with outer space. However, this isn't straightforward. Tracing the satellite's orbit is a must while tuning a radio's antenna. This is crucial for the compensation of the Doppler effect.
The Orbiting Satellite Carrying Amateur Radio or OSCAR 1 was launched in December 1961. It started the use of ham radios in space. Today, there are other satellites in space, which amateur radio operators can contact by bouncing signals. It is essentially the same way repeaters work.
Aside from the right radio, you will need to build an antenna. Once you are done setting it up, the next step is to find a satellite in orbit. Because of the line-of-sight operation, timing is crucial, making sure that the satellite is above the horizon as you send a message.
Your radio must have the full-duplex capability. With the latter, signals are heard coming back during transmission. The radio must also be able to connect to 70cm and 2m bands.
Aside from FM receivers, VHF UHF transceivers, and antenna, tracking software is also necessary. You can run this on your PC to choose the satellite you will connect to.
Conclusion
Do not limit the use of ham radio to short-range communication. With the best ham radio for satellites, you can reach out to more users. However, a common limiting factor is its cost because setting up a satellite communication station can be expensive. Nonetheless, it is worth it!
Start your journey to satellite hamming today. It can be overwhelming at first, but once you are familiar with the ins and outs, it is nothing you cannot handle. As the first step, invest in the right radio, including those I reviewed earlier.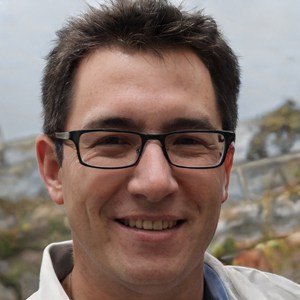 Hi, I am Amaro Frank – the Wind Up Radio's content editor and writer. Working with Adam is so much fun, as his stories and experiences enrich my knowledge about radio communications and radio accessories. My main tasks in Wind Up Radio are building content and generating great articles on different topics around radio accessories.