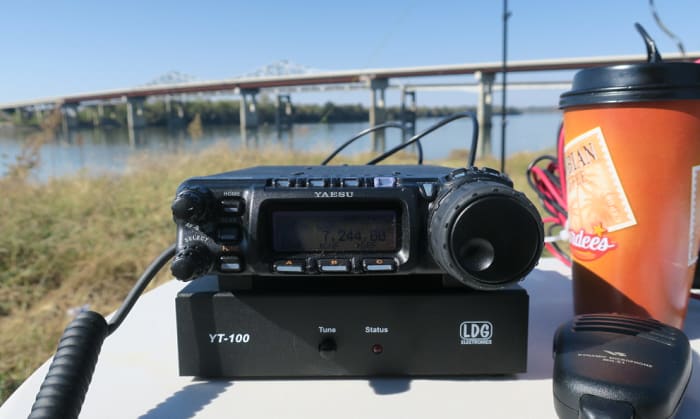 The best mobile ham radio is an essential communication tool even in today's modern age of smartphones. Many of them pack a plethora of innovative features to ensure functionality and reliability even in remote locations.
With ham radio, you can enjoy user-friendly and convenient equipment that makes it easy to get in touch. Whether you are traveling in your car or camping in a mountain, you can reach other people when the radio is set at the right frequency.
Picking a ham radio is an intimidating task. With too many choices, you might end up overwhelmed. As you narrow down the possibilities, below are the most important considerations:
Type of Ham Radio: You can choose from single, dual, tri, or all-band mobile transceivers. The more bands a radio can cover, the more frequencies you can reach. This means that you can expect better reliability even in the most challenging conditions.
Ease of Use: From installing the unit to its daily operation, find a user-friendly product. It must come with the accessories that you need to complete the installation. The layout should also be intuitive. Plus, it should have a large backlit screen that is highly visible, whether it is day or night.
Power: The performance of the ham radio depends on its power output. Most will have up to 50 watts, which is ideal for most applications. For versatility, you will benefit from picking one with multiple output power modes.
Read on as we walk you through some of the top picks for a ham mobile radio, including the features that make them a worthy choice.
Top 1
TYT-TH-9800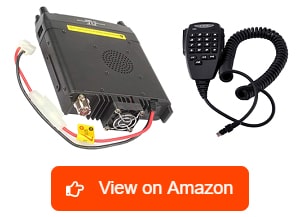 | | |
| --- | --- |
| Weight | 4.4 pounds |
| Dimensions | 11.6 x 4.5 x 8 inches |
| Number of Channels | 800 |
Top 2
BTECH UV-25X4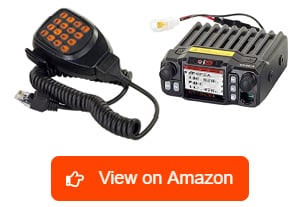 | | |
| --- | --- |
| Weight | 2.05 Pounds |
| Dimensions | 5 x 4 x 2 inches |
| Number of Channels | 200 |
Top 3
AnyTone AT-778UV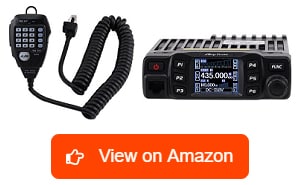 | | |
| --- | --- |
| Weight | 2.67 pounds |
| Dimensions | 4.7 x 5.8 x 1.5 inches |
| Number of Channels | 200 |
Top 10 Mobile Ham Radio Reviews
1. TYT-TH-9800 Ham Radio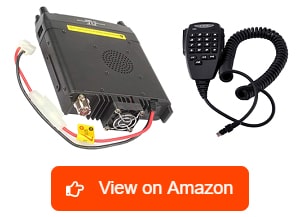 For efficient, clear, and reliable communication, this mobile amateur radio is one of the best products to consider. Even in harsh environments, it is dependable.
Looking at its features, one thing that stands out is its wide coverage. You can bring it to different locations and expect it to be usable. The radio has an 809-channel capacity. Plus, it offers 6M, 10M, VHF 2M, and UHF 70CM bands.
It also excels because of its user-friendly features. I love how I can save more than 800 alphanumeric channels for quick access. There is no need to input the frequencies manually or scan a long time to find the frequency I desire. I can even name the channel as I save them.
In terms of audio quality, the radio is promising. It produces loud and clear sounds in various locations. One of the reasons for this is the intermodulation rejection. It also has a true automatic cross-band repeater, which is crucial in delivering commercial-grade performance.
Another thing I like about this mobile ham radio is its different power settings, making it great in various situations. For instance, it has a 50-watt output, which is great for using a two-meter antenna. Meanwhile, the 40-watt setting is ideal for transmission using a ten-meter antenna.
It has a small display with various brightness settings. It is visible even in the dark because it is backlit. The screen is also large enough to show information I need to know. Surrounding the screen are buttons with tactile feedback.
Heads-up:
However, one of the drawbacks is that the screen can often lock up. When such happens, I cannot monitor the channel I listen to. It shows the same frequency even if I change the station.
What We Liked:
Has four bands and wide coverage to enhance its usability
Allows storage of up to 800 alphanumeric channels
Excellent sound quality even in challenging conditions
Selectable power output depending on the antenna
Has a backlit display for visibility
What We Didn't Like:
The screen is prone to locking up
Bottom Line:
Overall, this ham radio for cars is a winner because of its multiple bands, programmable memory, backlit display, and excellent audio.
2. BTECH UV-25X4 Ham Radio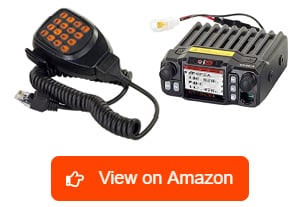 Small but powerful – that is exactly what you can expect from this mobile HF ham radio. Plus, it is economical, making it perfect for people on a budget.
One of the first things you will notice in this product is its size. It is tiny, which makes it an ideal option for limited spaces. With only 98 x 35 x 118 mm, this is a space-efficient radio. Plus, it weighs only 408 grams.
With an upgraded power chip, you can expect this radio to last a long time. Unlike its inferior counterparts, the chip won't burn easily. Aside from being durable, it is also powerful, especially with the expanded frequency coverage of up to 520 MHz.
More so, this budget mobile ham radio is also great because you can edit channels on the go even without technical knowledge. Aside from changing tones, it also allows users to modify quelch information and the scanning list.
It has a wealth of features for intuitive operation. I love how I can choose from several scanning modes for quick programming. I can start scanning after reboot or when the radio turns on. It also automatically begins after an interruption during transmission.
With its loud two-watt speaker, the audio output is highly audible. As for the input, it comes with a built-in microphone with a cigarette plug. It has a six-foot extendable DC cable. The microphone is also adjustable, so you can customize how other people receive your conversations.
Heads-up:
While it is great overall, one of the potential improvements in this BTECH mobile radio is the size of the screen. Some people might find it too small, making it difficult to see.
What We Liked:
A small radio that is perfect even for a tiny space
Has an upgraded power chip that makes the radio more durable
Comes with multiple convenient scanning modes
The adjustable microphone gain lets you control your voice input
What We Didn't Like:
Some might find the display to be small
Bottom Line:
While it is small, this cheap mobile ham radio is great because of its powerful speaker, adjustable mic gain, and excellent power chip.
3. AnyTone AT-778UV Mobile Ham Radio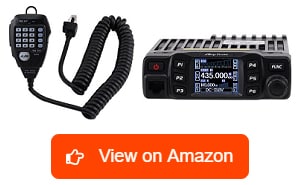 From the compact size to its versatile functions, this is an option for the top-rated dual-band mobile ham radio that you should not miss.
One of the many things I like about this radio is its extensive coverage, which allows me to access more stations. It has 136 to 174 MHz for VHF and 400 to 494 MHz for UHF. I can save these frequency ranges by downloading the programming software for every purchase.
Most mobile ham radios are prone to overheating, especially if you use them continuously. The problem exacerbates when you are in an extremely hot location. Luckily, this model comes with a built-in cooling fan, which operates quietly. This will prevent the unit from getting too hot, which also protects its internal components.
The simple but convenient layout is another asset of this mobile amateur radio. You will find a 180-degree rotatable LCD at the center, which shows the information you need to know. Around it are the buttons that allow one-touch access to different functions. It has 200 programmable channels for easy tuning.
When using this radio, I can hear the other person as it has built-in speakers both on the mic and the main unit. I also like how the mic has a key lock function, preventing accidental operation.
Not happy with your purchase? Within one month of use, you can return it to the manufacturer, and you will receive an unconditional refund. Plus, it comes with a standard one-year warranty.
Heads-up:
If you like everything at lightning speed, then this radio can be frustrating. In my experience, it is often sluggish when tuning in to specific channels.
What We Liked:
Has a wide frequency range to cover a lot of stations
Stays cool with the built-in fan
Comes with a one-month money-back warranty
Allows users to program up to 200 channels in its memory
The built-in speakers on the radio and mic ensure clear audio
Bottom Line:
From the ability to program up to 200 channels to the cooling fan that prevents overheating, it has tons of features that make it a great pick for the best mobile ham unit.
4. Kenwood TM-281A Ham Radio
The manufacturer's name is already a compelling reason to choose this product. I am confident that the quality and performance are incredible.
One of the first things that you will notice is its compact size. At 160 x 43 x 126 mm, this is one of the smallest on this list. While it is small, the radio is powerful. It has an output of 65 watts. You can choose from high or low outputs. Even in the wilderness, I love how reliable this is.
If you are looking for a good mobile ham radio that will last through the years, this is one option that should be on your radar. It passes the environmental standards of the United States Department of Defense for shock and vibration. It is great even for rugged conditions.
With its vivid and customizable display screen, I can easily monitor the radio even when it is dark. The LCD has a 32-step brightness control, so I can adjust how dark or bright it is depending on the external environment. Plus, it can show up to six characters. Even the keypad is illuminated.
The radio is impressive because of its many functions. For instance, I can program up to 200 memory channels and a single call channel. I can also edit the memory data using my computer. Plus, it has multiple scan functions, including searching for a priority channel every three seconds.
Even in challenging conditions, the radio generates good sound quality. Thanks to its front-facing oval speaker with a size of 58×35 mm. I can hear every message clearly, unlike other mobile radios that are easily prone to distortion.
Heads-up:
Nonetheless, one of the shortcomings is that it only has a single band. It limits the functionality of the product compared to a dual-band or even a quad-band radio.
What We Liked:
Built tough to withstand even harsh environments
Bright display and keypad for high visibility
Can store up to 200 channels in its built-in memory
Has a large speaker for audio clarity
Bottom Line:
While it is small, this radio has a high-power output, rugged construction, programmable channels, and clear audio.
5. BTECH UV-25X2 Ham Radio
Designed in the USA, this radio takes pride in its premium components and superior functionality to provide reliable communication wherever you are.
The upgraded power chipset is one of the most notable features of this dual-band ham radio. While other radios have smaller chips, this model has a larger one. It does not easily burn, even with continuous operation.
With the dual synchronized display mode, I can sync up to two channels. This means that even if the screen is tiny, it will show two-channel names and frequencies, making it easier to monitor where I am tuned.
As a user, I have complete control of the different settings. For instance, it has a microphone audio gain setting. The latter allows me to change the output to suit any repeater while also making sure that I sound great regardless of the conditions in my surroundings.
I also like the automatic shutdown feature. With the latter, I do not have to manually turn it off when I am not using the radio. This is a great feature to save battery. Even if it is powerful, it does not quickly drain the juice.
Scanning and changing channels are effortless on this radio. I do not need to program the unit using my computer to make the necessary changes. The updated menu allows me to select the method for scanning resumes.
Heads-up:
While I have not yet experienced it personally, some people complain about the unit's durability. For instance, the wires can be prone to burning, which is a hassle to replace.
What We Liked:
Comes with an upgraded chipset for superior performance
The display shows up to two channels at a time
Allows microphone customization for any repeater
Automatically turns off when inactive to save battery
What We Didn't Like:
Durability can be an issue
Bottom Line:
In sum, this dual-band mobile radio is exceptional because of its powerful chipset, mic gain settings, automatic power off, and two-channel display.
6. AnyTone AT5888UV Mobile Ham Radio
Specifically designed for drivers, this radio provides reliable communication on the go. From its construction to functions, it is another option worthy of a spot on this review.
With its high technical specifications, this is an ideal dual-band mobile radio for people with discerning preferences. It has a 40-watt power output on UHF and 50 watts on VHF. Meanwhile, it has four independent receiving bands, so I can pick the most appropriate one for a given situation.
The cross-band repeat is one of the most notable features of this ham radio for trucks. It allows receiving signals on one frequency and transmitting them on another. It also has true dual receive, which will receive two signals simultaneously.
I also like how it offers flexible mounting, providing me with different options for positioning the radio. I can take the control head off the transceiver. Plus, the package is already inclusive of a mounting bracket.
Whether it is day or night, I can see what is on the screen because of the backlit LCD. It has adjustable brightness, so I can customize the setting as I deem necessary. The alphanumeric display shows everything I need to know while operating the radio.
Ease of use is another benefit of this car ham radio. If you are a beginner, the unit has an amateur mode. Meanwhile, the professional mode unlocks more advanced features, which are best for experienced users.
Other radios are prone to overheating. Aside from continuous operation, extreme temperatures can also make it hot and increase the chances of breaking down. Luckily, this model has a built-in fan, so it stays cool.
Heads-up:
One of the problems with this dual-band radio is its slow scanning speed. If you have programmed a lot of frequencies, going through each of them is time-consuming.
What We Liked:
Has a selectable power output depending on the band
Removable control head for flexible mounting
The large backlit screen makes the digital display highly visible
Comes with amateur and professional modes for different users
Excellent heat management with the cooling fan
What We Didn't Like:
Scanning channels is slow
Bottom Line:
With its bright display, cooling fan, flexible mounting, and two operating modes, this is another notable mobile ham radio that deserves your attention.
7. Kenwood TM-V71A Mobile Ham Radio
It might look old, but this car ham radio packs plenty of innovative features that make it at par with its more modern counterparts.
One of the best reasons to choose this product is its high-power output. It delivers up to 50 watts of power for both UHF and VHF. At the same time, I can choose from low, mid, or high output, depending on what is most suitable for a given situation.
This amateur mobile transceiver has many features for intuitive operations. For instance, it allows ham operators to save 1,010 channels through programmable memory. I can save it using six-digit alphanumeric codes for easy access instead of manually scanning frequencies every use.
If you are from the United States, you can enjoy the weather alert feature. The radio can receive the NOAA band, so you can be informed of the latest weather alerts. This will help you prepare in case of emergencies.
Whether it is bright or dark, the screen is highly visible. It is large enough to show all the things you need to know. Plus, you can choose from two background colors – cool green and warm amber.
Heads-up:
However, if you are looking for a budget dual-band mobile ham transceiver, this isn't for you. It is one of the most expensive on this list, but the cost is justifiable given its features and benefits.
What We Liked:
Has a selectable power input for versatility
Save up to 1,010 channels in its built-in memory
Can receive weather alerts in the US
A highly-visible screen is available in two colors
What We Didn't Like:
Not for people on a budget
Bottom Line:
With its programmable memory, bright screen, and customizable power input, this Kenwood mobile ham radio is another option that should be on your radar.
8. YAESU FT-2980R Mobile Ham Radio
From its mechanical toughness to solid configuration, this radio promises the best experience even to the most discerning users.
Among others, this radio is excellent because of its multiple power modes. I can choose from 80, 30, 10, or 5 watts depending on what is appropriate for a specific situation. This is better than other radios with only high and low power options.
This mobile ham radio for beginners is effortless to program with the included software. I can adjust the settings as I wish without complications. Plus, it allows me to input up to 200 memory channels, eliminating the need to manually enter frequencies every use.
Another thing highlighted in many mobile ham radio reviews about this product is the three-watt speaker output. It ensures loud and clear sound, even when I am in a noisy environment. Meanwhile, the DTMF direct access microphone makes it easy for me to be heard by the person I am talking to.
The large and visible screen is another highlight of this car ham radio. The alphanumeric display has an adjustable brightness up to four levels to ensure visibility. It shows up to six digits at a time. Surrounding the screen are buttons and knobs for intuitive operation.
The durable construction of the radio is also worth highlighting. It has a solid shell that protects the internal components from damage. It can withstand vibrations, making it an ideal mobile ham radio even for rugged terrains.
Heads-up:
Nonetheless, the biggest shortcoming of this radio is that it can easily overheat, especially in places with high temperatures. While the body itself acts as the heatsink, no internal fan can provide the necessary cooling.
What We Liked:
Easy to program with the included software
The powerful audio output delivers the superior audio clarity
Comes with a large screen for monitoring the functions of the radio
Adjustable power setting to suit different situations
Has a tough construction to ensure longevity
What We Didn't Like:
Can be prone to overheating
Bottom Line:
Overall, this beginner-friendly vehicle ham radio is impressive because of its large display, programmable memory, adjustable power setting, and loud audio output.
9. Icom IC-2730A Mobile Radio
Elevate communications on the road with this dual-band radio. From trucks to cars, it has the features that you will need to stay connected.
The biggest difference from the other mobile radios on this list is the optional Bluetooth connectivity, making it more modern. I can connect it wirelessly to a headset, which means that I will not be limited by the length of the cable that connects the mic to the main unit. It even has an option for push-to-talk and VOX, which is convenient when driving.
Its 50-watt output on either UHF or VHF band has a high output power. I also like how it has a simultaneous receiving capability for both VHF-VHF and UHF-UHF. Plus, the radio delivers an expanded frequency range of 118 to 174 MHz and 375 to 550 MHz.
The radio offers flexible mounting options depending on what is most convenient for the user or suitable for the interior. I can opt to use the suction cup base of the controller bracket. With the latter, I can tilt or swivel the unit.
Monitoring the functions of the radio is easy with the large LCD with a white backlight. Day or night, it is highly visible because of the high contrast. It is 1.5 times larger compared to the previous model.
Heads-up:
One of the shortcomings, however, is that it does not include the mounting hardware that you will need. It does not have the accessories to mount the control to the body. You won't even have screws.
What We Liked:
Has optional Bluetooth for wireless connectivity
The expanded frequency range allows wide coverage
Flexible mounting allows tilting and swiveling
High-contrast and backlit display for visibility
What We Didn't Like:
Does not include mounting hardware
Bottom Line:
To conclude, this Icom mobile ham radio is incredible because of its bright display, optional Bluetooth, flexible mount, and very high-frequency range.
10. FONGHOO HAM-UV25 Mobile Ham Radio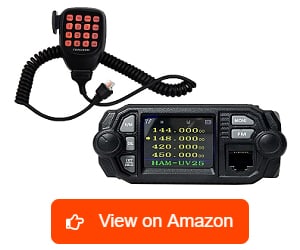 Wrapping up this review is an affordable, simple, and functional option for an HF mobile ham radio.
As a dual-band radio, this product excels in terms of versatility. I can use it as a 70cm or 2-meter mobile radio. Plus, it has a wide frequency range whether you are connecting to the UHF or VHF band.
With a vibrant color display, I can see everything. Whether there is glare from the sun or in a dark environment, the backlight helps ensure visibility. It monitors up to four frequencies simultaneously.
Amateur radio operators will love the built-in memory. This way, it saves up to 200 frequencies, eliminating the need to input them manually. It is a great time-saver that also makes it intuitive to operate the radio.
Aside from ease of use, the installation is also a breeze. I love how it comes with the hardware needed for its assembly, including a mounting bracket and screws. It even has a programming cable to configure the different settings.
More so, the radio features a selectable power supply, so I can match it to what the situation requires. The maximum power output is 25 watts. Meanwhile, it also has settings for 10 and 5 watts. If you want to save power, choose the lowest possible setting. It can also conserve battery because of its automatic shutdown when the radio is inactive.
Heads-up:
Nonetheless, a lot of you might have second thoughts about buying this radio because it is from an unfamiliar brand. Even so, it has great features that make it worth considering.
What We Liked:
The wide frequency increases the coverage of the radio
Has a vibrant display that shows up to four frequencies
Saves 200 channels in its memory
Includes mounting bracket and screws for easy installation
Automatically shuts down to conserve battery
What We Didn't Like:
Not from a recognizable brand
Bottom Line:
In sum, this 2m/70cm mobile radio has a switchable power setting, programmable memory, and backlit display.
What to Look for When Buying Mobile Ham Radios
The options for mobile ham radios are plenty, but this should not be an excuse to choose just any product. To help you decide, below are some of the crucial considerations.
Type of Ham Radio
Among others, one of the best ways to categorize a ham radio is based on its bands, which affect its performance. At the most basic, you will have a single band radio, which is also the most basic. It is often the cheapest, but a lot of people stay away from such because of its limited range.
Most of the products above are dual-band radios. This will allow the unit to support two frequencies simultaneously. If you need something that can deliver more extensive coverage, you might opt for a tri-band ham radio mobile. Meanwhile, for the most demanding applications, an all band mobile ham radio is the best option.
Frequency
The frequency range is an important technical specification to understand when deciding what to buy. A 2-meter ham radio will often have VHF or very high-frequency range, which is anywhere from 30 to 300 MHz. Meanwhile, a UHF or ultra-high frequency radio will have 300 MHz to 3 GHz. If you want the most powerful with the longest range, go for a quad band mobile ham radio to deliver multiple frequencies for reliable communications.
Power
Another crucial spec to look at is the power rating, which directly impacts the performance of the radio. Most will have a 50-watt output. Nonetheless, the best ones are those with selectable power, so you can pick the wattage depending on what is most appropriate for a specific situation.
Ease of Use
You do not need to pay a pro to assemble a mobile ham radio for you. Instead, it can be an easy DIY task if it comes complete with the mounting hardware you need, such as screws and mounting brackets. More so, operating it should also be a breeze. From a large display to well-thought buttons, look for features that will make the radio user-friendly.
Display
Most mobile ham radios will have a display. It is a small digital screen that shows the information you need for monitoring your communications, such as the frequencies. It should be large enough for ease of visibility. Plus, it is a good thing if it has a backlight, so it remains clear whether it is day or night.
Programmability
Consider the options for programmability so you can make the most of the ham radio. It must include a programming cable, which will let you customize the settings through your computer. Plus, it must have a programmable memory, which will let you save multiple channels for easy access every time you are using the radio.
Size
Find one that suits your vehicle. Even the smallest dual-band mobile ham radio has incredible power, so do not assume that performance is tied to size. Instead, size is important to make sure that it fits the current provision in your dashboard, which will also simplify installation.
Can You Use Your Phone as a Ham Radio
Yes, you can use your phone as a ham radio. However, take note that this is only for preparing for an exam as you apply for a license. You can do so through mobile apps that are available both on iOS and Android. Otherwise, it will not have the same functionalities of a real mobile HF radio.
What Is the Range of a Mobile Ham Radio
On average, the range of mobile ham radio is two to 18 miles. Nonetheless, there is no definite answer to this question as a lot of factors can come into play. For instance, using a mobile ham radio antenna can significantly increase the range. More so, conditions such as power output and terrain can also greatly influence the range.
Do You Need a Ham License to Listen
You do not need a license if you just want to listen to a ham radio. Nonetheless, most people purchase a ham radio not just for listening but also for speaking. In that case, you will need a license to legally operate a ham radio, which includes transmitting frequencies. The specific license will depend on the extent of use that you plan.
How Do You Maintain a Mobile Ham Radio
Keep your mobile ham radio setup at its peak by doing the following for its care and maintenance:
Use a feather duster or a similar item to clean the surface of the radio. This will get rid of the dirt on the surface that can eventually harden and make the keys difficult to operate.
Do not park your car in an area that the sun directly hits. The heat can penetrate the interior, which can also damage the radio.
Arrange the wires properly. Even if they are hidden, you must make sure that they do not tangle to prevent damage while also maximizing the performance.
Keep liquids out of the radio. Do not drink while you are using the mic to minimize the possibility of spilling.
Conclusion
Communicate easily and quickly with the best mobile ham radio. They are great alternatives to smartphones, especially in areas with no cellular reception. Whether you are driving or camping, a ham radio ensures reliable communication to another party within the same frequency. It is also a must-have for survival and emergency preparedness.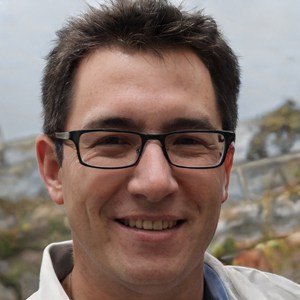 Hi, I am Amaro Frank – the Wind Up Radio's content editor and writer. Working with Adam is so much fun, as his stories and experiences enrich my knowledge about radio communications and radio accessories. My main tasks in Wind Up Radio are building content and generating great articles on different topics around radio accessories.