From festival organizers to hikers, in construction sites and restaurants, the best long-range two-way radios are essential. They are crucial tools for communication, making it easy to stay connected to people within a specific distance.
When people talk about two-way radios, a lot instantly think about those that mount on cars, RVs, and trucks. Today, however, many of them are lightweight and portable. They are easy to bring anywhere, such as at the campsite or your workplace.
Buying a long-range radio is overwhelming. Different brands and models are available. It can be tempting to choose the cheapest, but that should not be the case. Instead, consider the following factors:
Range: Most of the radios in this review have a range of up to 36 miles. They are good for wide and open spaces, such as concert grounds. When there are obstructions, such as buildings and trees, the distance coverage can be significantly shorter.
Ease of Use: An intuitive radio offers a seamless operation, which is one thing that beginners will love. It should come with a seamless control panel with easily accessible buttons. Voice detection is also nice, which enables hands-free operation.
Battery: The battery life will differ from one model to another, with most lasting anywhere from ten to 36 hours. Some have battery-saving features to automatically turn off when inactive.
Are you looking for long-range walkie-talkies? Read on as we share some of the most notable options to consider, as well as the features that make them stand out.
Top 10 Long-Range Two-Way Radio Reviews
1. Midland GXT1000VP4 Two-Way Radio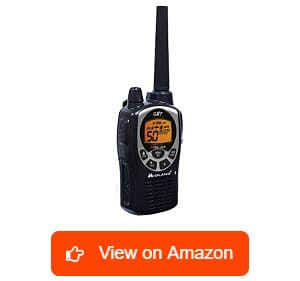 Promising reliable communication for every adventure, this pair is a convenient companion for work, hike, and camping trips.
Among others, one of the most notable features is the X-tra Talk Power, which is the maximum that the law allows. It also has Xtreme Range Technology, which makes it usable at a distance of up to 36 miles. For the clearest output, such a range works best when there are no obstructions.
Another reason to love this radio is its versatility as it offers 50 selectable channels. It has 22 FRS and GMRS channels and 28 extra channels. For convenience, it has a scan feature that automatically chooses the active channels, eliminating the need to manually search for them.
The SOS siren is another feature that makes the radio stand out. It allows you to send locator and distress signals when you need help. The display will continuously flash once you activate this function. Plus, it has ten NOAA weather bands, so you will immediately know if there is a need to evacuate.
For private listening, the radio offers up to 3,124 channel options. This way, you can block other conversations. It prevents others from eavesdropping. Setting up the codes is simple, so you don't have to deal with complicated programming.
The durability of the radio is also impressive. One of the reasons for the latter is the JIS4 waterproof rating, which means that it can withstand light splashes, such as when it is raining. With its tough construction, it can withstand many years of use.
Heads-up:
However, one of the drawbacks is that it has a short battery life, which runs only approximately ten hours. The battery pack with the unit has 700 mAh only, which you can replace with a more powerful alternative if you desire.
What We Liked:
Offers up to 50 selectable channels for versatility
Comes with multiple privacy codes to block other conversations
Ten NOAA bands for immediate weather updates
JIS4 waterproof rating to prevent damages from splashes
Has an SOS siren for emergency
Bottom Line:
From its automatic channel scanning to privacy codes to block other conversations, this two-way radio offers plenty of innovative features you will love.
2. Arcshell AR-5 Long-Range Two-Way Radio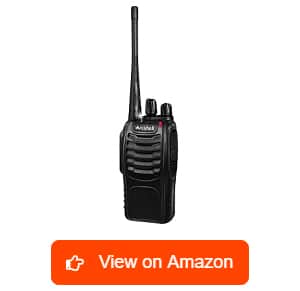 Simple but efficient, this option for the top-rated long-range radio offers good audio quality and a decent overall performance while being affordable.
The construction of the unit is pretty basic, devoid of the bells and whistles that you will find in its higher-end competitors. It has no digital display for monitoring. Nonetheless, we love how compact and lightweight the radio is, making it easy to fit on your palm. More so, pressing buttons and turning knobs are effortless.
With the rechargeable 1,500 mAh lithium-ion battery, I am confident that it will last for days. The approximate battery life is anywhere from eight to 96 hours. Meanwhile, you can fully charge it in only 2.5 hours.
Despite being an economical version, it offers clear and crisp output, making it easy to hear the person on the other end. Meanwhile, it is inclusive of an earbud-style earpiece, which is great for private listening. The earpiece also has foams, which will ensure its comfort.
As for the range, you can use the radios at a maximum of five miles. If you are in a place that is open and flat, it is easy to ensure clear communications. Nonetheless, in the city or other areas with buildings and trees, the quality can be dismal.
Heads-up:
If you are looking for a two-way radio that comes in handy for emergency preparedness, one of the lacking features is weather alert. This means that you won't receive notifications when there is a snowstorm, hurricane, or several occurrences.
What We Liked:
An ideal option for people on a budget
Compact and lightweight for ease of handling
Has a powerful battery that lasts up to 96 hours
The built-in speaker generates clear and crisp audio
Includes an earbud for private listening
Bottom Line:
This budget-friendly radio has a compact body with a powerful battery, making it a dependable communication companion in open spaces.
3. Midland LXT630PAX3VP3 Two-Way Long-Range Radio
On a budget? This user-friendly option for long-distance two-way radios is one of the products that should be on your radar.
The first thing that will attract most people to this radio is its price. Beyond such, however, it has many other benefits. For instance, I love how it has a bold yellow faceplate. It does make it not only good-looking but also highly visible.
In terms of performance, it has Xtreme Range technology, which will let you communicate at a distance of up to 30 miles. Nonetheless, take note that this is dependent on the overall conditions of the environment. For instance, the presence of trees and skyscrapers will weaken the transmission.
Another good thing is that it has 121 privacy codes. Using the latter, I have the option to choose from one of the 2,662 channels available. It lessens the chances that I will be in a frequency where other people are, so I can prevent them from overhearing my conversations.
I also like how intuitive the radios are. The buttons are within easy reach. They are compact and lightweight, so holding them on my palm is comfortable. Plus, it has a three-level eVox for hands-free operation. This way, I can activate its functions through voice without touching any button.
For your peace of mind, it is also good to know that the manufacturer is offering a three-year warranty. This is proof that the product will last long. Otherwise, I can always rely on the company for the necessary repairs.
Heads-up:
Be careful when using this two-way radio, especially from the water, such as rain. It is easy to damage the components when it gets wet.
What We Liked:
Has a beautiful and highly-visible yellow faceplate
Offers 121 privacy codes for blocking conversations
Allows hands-free operation
Comes with a three-year warranty
What We Didn't Like:
Easily to ruin with water exposure
Bottom Line:
To conclude, this economical long-range walkie-talkie has many innovative features, including privacy codes and voice commands.
4. SAMCOM FPCN30AA 2-way Radio
In your search for an affordable long-distance walkie-talkie, this is another option that promises reliability in different environments.
Even if it is affordable and from a brand that many are unfamiliar with, it has a decent performance. With its high penetration, five watts of power, and incredible antenna, it guarantees stable communication. It maximizes signals even in areas where there is high competition. For the best outcomes, however, use it in an open space.
More so, I am a big fan of its dual push-to-talk functions. Pushing the button on the left side allows me to quickly connect to the person on the other end in the same channel. Plus, I can make a group call to communicate with other people, even if they are on a different channel.
It comes with a high-capacity 1,500 mAh battery. It has a working time of 12 hours and a standby time of up to 50 hours. Meanwhile, it takes only approximately five hours to be fully charged.
When you purchase this radio, it is inclusive of the things that you will need. Aside from the radio, battery, and charger, you will also receive earphones for private listening. Additionally, it has a belt clip for portability.
Heads-up:
While the battery itself is decent, one of the drawbacks is the flimsy charging base. It feels like the material has poor quality, so I have yet to see if it can last for a long time.
What We Liked:
Long antenna and high penetration for good signal
Dual push-to-talk functions allow group calls
Powerful battery with a talk time of up to 12 hours
Includes earphones for private listening
Bottom Line:
One of the most affordable 2-way radios long-range, this product has high penetration, a well-built antenna, a powerful battery, and earphones.
5. Retevis A9104AX10 H-777 Two-Way Radio
The company sells this walkie-talkie for long-distance for commercial users. From restaurants to construction sites, it will ensure reliable communication.
Since it is meant for business use, one pack includes ten radios. At its price, the value is unbeatable! You will also receive ten charging stations. There is an individual dock for each unit. Meanwhile, the batteries have a capacity of 1,000 mAh. It can withstand up to 12 hours of continuous use.
I love the radio because it is user-friendly, perfect for people who do not have the patience to deal with complications. They are ready to use out of the box, eliminating the need for programming. It has an easily accessible button that you have to push to talk and release when you are ready to listen. Plus, it has voice control, so you can enjoy hands-free operation.
You can expect the best in terms of audio clarity. Aside from having a good built-in speaker, I also like how it has an adjustable squelch function. You can set it at nine levels, depending on how much background noise you would like to filter.
The rugged design is another good reason to choose this product. With a tough body, it is strong enough to withstand vibrations and harsh environments. Even with constant exposure to dust, salt, fog, and extreme temperatures, the radios remain in good condition.
Heads-up:
If there is one thing that the manufacturer can improve, it would be the tightness of the locking mechanism. It is quite loose, leaving room to wobble. As a result, the battery can often detach from the main unit.
What We Liked:
Great value for money in a pack of ten radios
Easy to use without complicated buttons
Rugged design to withstand extreme environments
Has a squelch to minimize background noise
What We Didn't Like:
The locking mechanism is quite loose
Bottom Line:
Enjoy long-distance radio communication with this product, which has an adjustable squelch function, 1,000 mAh battery rugged design, and voice control.
6. MOTOROLA SOLUTIONS Talkabout T460 Two-Way Radio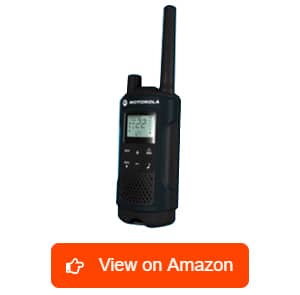 The brand name alone is already a compelling reason to pick this product in your search for long-range 2-way radios.
Being made by a reputable manufacturer, it packs many innovative features. One of my favorites is the dual power source. It has NiMH rechargeable batteries, which run for up to ten hours. Alternatively, I can also use three-AAA batteries, which have a 26-hour runtime. Plus, the unit comes with a micro-USB charging port.
Performance-wise, this radio is hard to beat. It has 22 channels, each with up to 121 privacy codes to avoid anyone else from listening to your conversations. It also has NOAA weather alerts to keep you safe and sound. Plus, it has an emergency alert button and a built-in flashlight, making it easy to ask for help when necessary.
I also love the user-friendly design of the radio. It has an ergonomic and non-slip body, making it comfortable to hold even when your hands are wet. The radio also has voice detection for hands-free operation.
No need to worry about using this in the rain or in any environment where it can get wet – the radio is fully waterproof. It has an IPX4 weather rating, which also means that it is dust-proof. This is one thing that can help ensure its longevity.
Heads-up:
However, I do not like how there can be a loud static at times. It negatively impacts voice transmission, resulting in background noise that can disrupt conversations. Even if it has an autos quelch function, the output can still be unclear.
What We Liked:
Dual power source with a runtime of up to 26 hours
Has a built-in flashlight and emergency alert for rescue
Comes with a durable waterproof and dust-proof body
Easy hands-free operation through voice detection
What We Didn't Like:
Loud static can affect the quality of voice transmission
Bottom Line:
With its waterproof body, powerful battery, emergency alerts, built-in flashlight, and voice detection, this is another top option for two-way radio longest range.
7. Cobra ACXT1035R FLT Floating Walkie-Talkies
Whether it is for emergency response or recreational purposes, this radio is another option that should be on your radar.
With a range of 37 miles, the reliability of this model is one of the best reasons to go for it. It offers 2,662 channel combinations and up to 121 privacy codes. With the latter, you can take your conversations to a private space, minimizing the chances that someone is eavesdropping. This will also reduce unwanted interference.
It has tons of useful features that make it a practical communication tool. For instance, it has a rewind-say-again function, which will record the last 20 seconds of a call. There is also a vibration and call alert, so you will instantly know when someone wants to talk to you. I also love the voice detection for automatic transmission, eliminating the need to press any button.
I like how it has a waterproof and floating body, making it perfect to use even in the water. Plus, it has an orange color for high visibility. If you need rescue in the water, the radio is easy to see. The radio has a LED S.O.S. flashlight, so you can easily ask for help.
To power this radio, you will need two NiMH batteries for each unit. It has a convenient battery level indicator for immediate notification when there is a need to recharge. It also has a battery saver, which makes it more efficient.
Heads-up:
However, the durability is questionable, especially because there are plastic screws. I still have to see how long it will last, but judging from the quality of the components, I am unsure if it will be functional for long.
What We Liked:
Has 121 codes to keep your conversations private
Floating and waterproof body
Comes with a built-in SOS flashlight
Voice detection for hands-free operation
Battery-saver feature makes it longer-lasting
Bottom Line:
Wrapping up, this is an incredible choice for the most powerful 2-way radio because of its waterproof floating body, built-in SOS flashlight, voice detection, and privacy codes.
8. DeWALT DXFRS800 Walkie-Talkies
The fact that it is made by Dewalt is already a good reason to consider this option for the longest range two-way radio.
I highly recommend this for hotels, restaurants, construction, and retail, among other businesses. It offers a combination of 2,662 channels. There are 22 channel presets, including privacy codes to minimize the possibility of an intrusion. The radio has two watts of power, which is sufficient for a 300,000-square-foot area.
Even as a newbie, using the radio is effortless. One thing that makes it user-friendly is the LCD. The display shows the status of the radio at a glance. I like how it has a roger beep tone, which confirms the completion of the other user's talk. It is also intuitive because of its voice-activated transmission, which will allow hands-free operation.
This radio is built to last. It has an IP67 waterproof rating, so I don't have to worry about it getting wet. It can submerge in one meter of water for up to one hour. It is also dust-proof and shock-resistant. It will survive a drop of up to two meters. Plus, it has an anti-slip body that makes it easy to hold.
To ensure the best output, it has a built-in speaker that promises to provide clear audio. If you prefer private listening, there is a jack so you can plug in an earphone. You can use the charging base to let the unit stand on its own when your hand isn't free.
It is also worth noting that it has incredible battery life. It has one pack of 2,000 mAh lithium polymer batteries with an average runtime of 18 hours. When there is no voice transmission within ten seconds, the unit switches off to conserve power.
Heads-up:
While the overall quality of the radio is commendable, the belt clip is flimsy. I also do not like how I have to detach it every time I need to charge the unit.
What We Liked:
Waterproof, dust-proof, and shock-proof to ensure durability
Comes with a small and visible display for easy monitoring
Use the radio hands-free through voice-activated transmission
Has a non-slip body for comfortable handling
Good battery life
What We Didn't Like:
Belt clip easily detaches from the radio
Bottom Line:
To conclude, this is a great long-range two-way radio because of its tough construction, hands-free operation, and long battery life.
9. COTRE CO607 2-way Radio
Explore the unknown without worries and stay connected with this radio. It is an easy and affordable way to keep an open communication line wherever you are.
Looking at its features, one thing that I love the most is the no-frill operation. It has a clean and user-friendly interface, so you don't have to struggle to figure out how to use the radio. There are minimal buttons, and they are all properly labeled. To add, there is a small backlit display that shows the important information you need to know.
The radio has 22 FRS channels, including 121 codes of the continuous tone-coded squelch system and 2,662 possible combinations to ensure private conversations. As a result, I can block signal intervention, guaranteeing that no one else is listening.
I also like how it comes with a water-resistant body. It is tough enough to withstand light splashes, so I can use it when it is foggy or rainy. The rating is only IPX4, which means that it is not submersible.
This radio is a great companion during emergencies. It has a built-in flashlight. Plus, it has NOAA and weather alerts for receiving immediate notifications when there is a need to evacuate or prepare for a disaster.
When you buy this radio, it comes with six AAA batteries. It also has a USB charger and a charging base. The compartment is easy to open when you need battery replacements. Meanwhile, it has a runtime of 25 hours. When there is no signal or voice transmission, the screen turns off after five seconds, which is a great way to conserve power.
Heads-up:
Nonetheless, the biggest problem with this walkie-talkie is that the range may not be exactly what the manufacturer claims. This isn't for those looking for long-range walkie-talkies 1000 miles.
What We Liked:
Easy no-frill operation even for newbies
Has a small backlit display for monitoring
Great emergency features, including flashlight and weather alerts
Automatically turns off after five seconds of being inactive to save battery
What We Didn't Like:
Range can be shorter than described
Bottom Line:
With its multiple privacy codes, backlit display, built-in flashlight weather alerts, and automatic shut-off, there are plenty of reasons to choose this pick for long-range two-way radios for mountains.
10. Retevis RT21 Two-Way Radios
Wrapping up my recommendations is an option for commercial users. It delivers value for money as it comes with ten radios in one set, each with an individual charging base.
It may not be the best for long-range walkie-talkies 1000 miles, but the coverage is pretty decent for its price. This radio is only for short distances, making it ideal for applications like catering and concerts.
The large-capacity battery is also worth mentioning. The 1,100 mAh lithium-ion batteries deliver a continuous runtime of 10 to 12 hours. When it is time to recharge, there is an instant reminder, making sure that there is always juice.
More so, it has plenty of features that ensure user-friendliness. For instance, the frequencies are set upon delivery, so there is no need for configuration out of the box. It is ready to use in an instant.
From audio clarity to privacy, it has features to deliver top-notch performance. I can customize the squelch function from zero to nine, which will minimize interference. Additionally, it has a voice transmission for hands-free operation.
You will receive secret service earpieces when you purchase this radio set. The latter is designed to fit comfortably while being discrete. It is for private listening, which is handy in industries like restaurants and hotels.
Heads-up:
Despite the good things, one of the problems is that the antenna loosens quickly. This means that I have to tighten it frequently, which can be annoying.
What We Liked:
Affordable package with ten radios and individual chargers
Instant reminder when there is a need to recharge
Set on the same frequency out of the box
Adjustable squelch to eliminate background noise
Comes with a secret service earpiece
What We Didn't Like:
The antenna easily loosens
Bottom Line:
Wrapping up, this two-way radio comes in a set of ten with individual chargers and high-capacity batteries. It has a squelch function and pre-programmed frequencies.
What to Look for When Buying Long-range Two-way Radios
The options abound, but do not take this as an excuse to decide in haste. Below are some of the essential considerations.
Range
Stop looking for long-range walkie-talkies 200 miles. Realistically, they won't reach such a distance. In most cases, the maximum is only 36 miles. This is given that you are using it in an open area, such as a field or concert grounds. When there are trees and other obstructions, the range is even lesser.
Ease of Use
Find a walkie-talkie 50-mile range that comes with an intuitive interface. It should be pre-programmed out of the box, so you won't have to deal with a complicated setup. It must have easily accessible buttons and should fit in your palm. A digital display is also a plus, which allows you to quickly monitor the functions of the radio, such as the specific channel where you are at.
Battery
Long-range walkie-talkies 50 miles can have NiMH or lithium-ion batteries. Most of them are rechargeable, with many models including a charging base and USB port in the package. Consider how long the battery will last when it is full, as well as the charging time. More so, look for battery-saving features, such as automatic shut-off when the radio is inactive.
Audio Quality
The 100-mile range walkie-talkie is useless if it has poor audio quality. It must deliver clear and crisp communication with a top-notch speaker. Some will come with earpieces for private listening. A good antenna is also a must, as well as an adjustable squelch function that will allow you to minimize the background noise.
Durability
Most people are buying long-range walkie-talkies 50 miles for outdoor use, such as for camping or hiking. Choose one that is tough enough to withstand bumps and drops. Aside from being shock-proof, you will also benefit from picking a model that is dust-proof and waterproof, so you don't have to worry that external factors can speed up wear.
Inclusions
In your search for long-range walkie-talkies 200 miles, consider what is included in the package. Aside from the radio, most will already come with batteries and a charger. It is also common to have earpieces for private listening. Some will even include a belt clip for ease of carrying.
How Far Does a Two-way Radio Transmit
The answer to this question depends on various factors, such as the brand and the model, as well as the environmental conditions. For instance, long-range walkie-talkies 500 miles will have a significantly lower coverage in cities where there are buildings and other obstructions. In the case of the options in this guide, most of them can transmit up to 36 miles.
What 2-way Radio Has the Longest Range
From the products in this review, the one that can transmit the longest range is the Midland GXT1000VP4. It is good for up to 36 miles in open spaces without obstructions. Admittedly, it is almost impossible to find long-range walkie-talkies 100 miles or even a walkie-talkie 50 mile range.
What Is the Difference Between a Walkie-talkie and a Two-way Radio
While they are both great for wireless communication even without cellular reception, the two radios are slightly different. Two-way radios belong to a more general category, which refers to equipment that receives and transmits signals, enabling users to talk.
Using the walkie-talkie longest range does not require a license. It often has a shorter range. On the other hand, two-way radios often have more fancy features that make it more expensive. For instance, it can have weather alerts. A license may also be necessary, but this will depend on the type that you are using.
Conclusion
The best long-range two-way radios make it easy to connect and communicate. Whether you are working in a construction site, hiking in the forest, or having fun in a theme park, a walkie-talkie saves the day. Consider the products listed above and you won't have regrets. They have many innovative features, making them worth every dollar.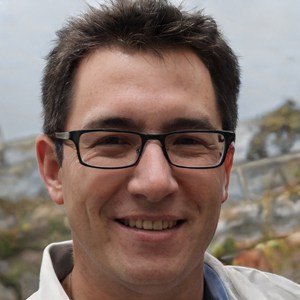 Hi, I am Amaro Frank – the Wind Up Radio's content editor and writer. Working with Adam is so much fun, as his stories and experiences enrich my knowledge about radio communications and radio accessories. My main tasks in Wind Up Radio are building content and generating great articles on different topics around radio accessories.