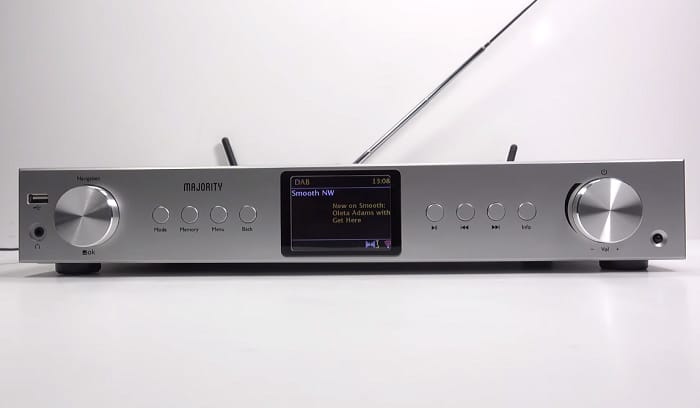 The best internet radio tuner combines the old and the new. While traditional radios are getting obsolete these days, many companies bring them back to life by adding a modern element – internet connectivity.
An internet radio tuner is a contemporary streaming device that lets you access radio stations available online. It connects to wireless communication networks to let you listen to your favorite AM and FM stations. Compared to conventional radio, it often has a slimmer body and looks more modern.
Over the years, the market has been flooded with a diverse selection of internet radio tuners. If you cannot decide what to buy, below are some factors to consider:
Connectivity: Ethernet, Wi-Fi, and Bluetooth are some of the most common connectivity options available. This will dictate how you link a compatible device on the tuner, such as a smartphone or a computer. It will affect how you can access the content.
Sound Quality: Some will have a built-in speaker while others are only tuners. Even if there is no speaker, many will offer options for adjustment so you can customize the listening experience. A good example of this is an equalizer that will let you fine-tune treble and bass, among other settings.
Ease of Use: Look at the features that make the internet radio tuner user-friendly. The control panel must have an intuitive layout. It is also good if you can save your favorite stations for quick access. Some might even allow voice control.
Read on as we walk you through some of my recommendations for a top-notch internet radio receiver.
Top 1
Yamaha R-N303BL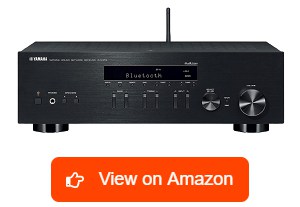 | | |
| --- | --- |
| Connectivity Technology | Bluetooth, Wi-Fi, Ethernet |
| Dimensions | 6.65 x 3.76 x 0.74 inches |
| Weight | 6.24 pounds |
Top 2
Ocean Digital WR-10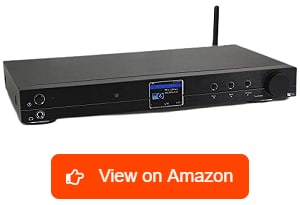 | | |
| --- | --- |
| Connectivity Technology | Bluetooth, Wi-Fi |
| Dimensions | 13.38 x 17.18 x 5.5 inches |
| Weight | 15.9 pounds |
Top 3
Outlaw Audio RR 2160

| | |
| --- | --- |
| Connectivity Technology | Wi-Fi, Ethernet |
| Dimensions | 15 x 17.1 x 6 inches |
| Weight | 36 pounds |
List of 7 Top-tier Internet Radio Tuner Reviews
1. Yamaha R-N303BL Internet Radio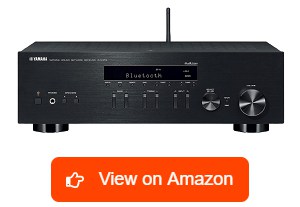 The brand name alone is already a compelling reason to choose this internet radio component tuner. It has a simple design but packs a plethora of innovations that make it stand out.
One of the best things about this product is its sound output. It has clean and powerful audio, which is surprising considering its size. With a 100-watt high power output, it promises an unrivaled listening experience. It also has a good signal-to-noise ratio, which means that there will be minimal distortions.
To add, the tuner has a high-powered amp that has a discrete configuration and low-impedance design. It minimizes the path that an audio signal has to travel to, eliminating energy loss and promoting true sound reproduction.
The versatility of this product is another thing to love. Through the MusicCast app, I can stream content from popular services, such as Deezer, Pandora, SiriusXM, and Spotify. More so, there is a phono input, so I can connect it to a vinyl player. I can even connect it to a TV. Aside from wired connections, it has wireless connectivity through Bluetooth.
Another reason why it excels is its ability to play high-resolution audio formats. Whether it is lossless or uncompressed audio, regardless of the source, I am happy with the overall listening experience. It feels like I am in a state-of-the-art concert hall.
More so, it is excellent because of its Alexa compatibility. It is a modern addition to my home entertainment set-up while being easy to operate. With voice commands, I do not need to press buttons physically to activate specific functions or change settings.
Heads-up:
While it comes with a digital display, I find it to be too small. It is also dim and difficult to see when I am not near the unit.
What We Liked:
Produces clear and powerful sound
Has a discrete amp that minimizes energy loss
Allows streaming content from multiple sources
Can be controlled through voice commands
Plays even high-resolution audio formats
What We Didn't Like:
The small display is difficult to see
Bottom Line:
Overall, this is an excellent choice because it has powerful and clear audio output while also offering intuitive operation.
2. Ocean Digital WR-10 Internet Radio Tuner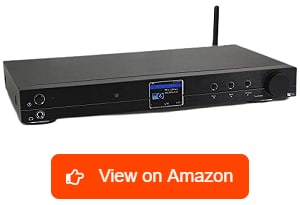 A stand-out in our list, this radio tuner is a sleek addition to any room. It might be tiny but it is powerful, delivering a performance that is sure to please its users.
Among others, one of the stand-out features is its versatility. There are several ways by which you can use the internet radio. It has Bluetooth connectivity, as well as support for UPnP and DLNA music streaming. With this radio, you can conveniently access over 30,000 stations globally.
The 2.4-inch TFT color screen of this radio is an incredible feature. It might be tiny, but it is decent. You can see the station at which you are listening, as well as the time. We also like how the display menu is available in multiple languages.
It also has several features that make it user-friendly. For instance, I can add up to 99 of my favorite stations or URLs. They are easily accessible, eliminating the need to tune in manually every time I use the internet radio tuner. It is also a good thing that it has a simple interface, which is what makes the operation a breeze.
Aside from the clean layout of the control panel, the design is notable because of its minimalism. It is sleek and sophisticated. It has an aluminum front and metal casing. At the back, you will find a wireless antenna that extends the range of the radio. It also has several ports so you can connect compatible external devices.
Heads-up:
If there is one drawback, it would be the lack of software updates from the manufacturer. This means that you won't be able to upgrade the operating system to reflect new changes over time.
What We Liked:
Has extensive coverage of over 30,000 stations around the world
Small but visible display that is available in different languages
Allows users to save up to 99 stations for quick tuning
A clean and simple interface makes it easy to operate
Comes with an external antenna to extend signal coverage
What We Didn't Like:
The company does not provide software updates
Bottom Line:
Overall,
this is my favorite Wi-Fi internet radio
tuner because of its minimalist design, intuitive interface, and wide coverage.
3. Outlaw Audio RR 2160 MK II Internet Radio
Most internet radio tuners have a sleek and minimalist look. This product is different because of its retro-inspired design, which is equally beautiful in any space.
There are two main ways by which you can control the unit. You can do it through the included remote, which has a simple user interface. Alternatively, you can connect to a Wi-Fi network and use a compatible operating system to control the radio using your modern phone.
The audio quality is also incredible. While the latter depends on the speaker, the tuner also has a huge impact. It has a filter capacitor reserve that helps improve the sound. Plus, even when you are playing at greater intensity or max volume, the sound is always clear and crisp, unlike others that are easily prone to distortion.
It is also good that there is an equalizer selector in the front panel, which will help you customize the output. This can boost select frequencies to enhance bass response. This sound quality is especially helpful when you are using bookshelf speakers.
More so, it is excellent because of the multiple inputs, which will let you connect different devices. It has two ports at the back and one in the front, so you can stream music straight from a USB. Additionally, it has two coaxial and two digital inputs. I also like how it has two signal paths, so I can listen and record simultaneously.
Heads-up:
However, some users might be unhappy over how it does not have the same modern functionalities that you will find in its higher-end competitors. For instance, it does not have Bluetooth connectivity.
What We Liked:
Clean and beautiful retro-inspired design
Excellent audio even at full volume
Has an equalizer selector to improve sound
Includes multiple inputs for connecting different devices
Allows recording and listening at the same time
What We Didn't Like:
Lacks modern functionalities
Bottom Line:
From customizing the audio output for a more immersive listening experience to having multiple inputs, this is another top pick for a Wi-Fi radio tuner.
4. Sangean HDT-20 HD Internet Radio Tuner
Elevate your listening experience with this top-notch HD radio. It has the latest technologies that make it a great addition to a home entertainment setup.
One of the best things about this internet radio tuner for home stereo is its sleek face. The black color makes it an elegant appliance for your home or office. The display is clutter-free, which also makes the operation intuitive.
With this radio, you can upgrade an existing stereo system. By connecting the latter, you can convert its sound to digital output, which will make it louder and more clearly. Meanwhile, as an HD radio, you can access numerous internet radio stations for free.
Like many internet radios, it has a lit display. It is tiny but easily visible, even when you are not near the unit. Through this, you can monitor the different functions of the internet radio tuner, including the channel frequency and audio mode. It also shows the clock. Plus, there is a dimmer adjustment if you want to change the brightness.
The full-function infrared remote is another great feature, which makes it effortless to control even without accessing the physical buttons. From adjusting the volume to scanning radio channels, the remote is useful.
For a superior listening experience, the radio comes with a built-in antenna that will make the reception stronger. It also has automatic configurations for multicast and simulcast. Plus, a Program Associated Data service is added to let you know more about what is being played on the radio.
Heads-up:
Nonetheless, one drawback is that it has minimal presets. While I like the memory function that makes tuning a breeze, I can only save 10 AM and 10 FM stations.
What We Liked:
Has a clean and elegant black face
Allows free streaming of HD radio stations
Easy to monitor with the visible digital display
Comes with a full-function remote for effortless operation
What We Didn't Like:
Only has a few station-presets
Bottom Line:
From its elegant design to the infrared remote, this is another internet radio tuner that should be on your radar.
5. Ocean Digital WR-23D Internet Radio
If you are on a budget, this is the perfect option for you. It is amongst the cheapest on this list, but that does not mean that it compromises performance.
One of the first things that attract your notice to this radio is the 2.4-inch color LCD. It is a large screen considering the size of the radio. It shows programming information that you need to know, such as the frequency at which you are tuned. The screen also shows the date and time.
This radio is compact and lightweight, making it a great pick if you are after portability. Aside from being tiny, I also like how it uses a 2,000 mAh rechargeable lithium-ion battery. It includes a USB-C charging power cable. There is also a charging indicator, so you will instantly know if it is running out of juice.
With the built-in antenna, it is easy to increase the radio's coverage. It tucks neatly at the back, so it looks clean when not used. It has an adjustable height, so I can adjust it depending on the external conditions that affect the reception.
In terms of construction, the radio has an ABS plastic cabinet, which also makes it lightweight. Despite that, it is durable. I am also a fan of the textured finish, so it is easy to grab on my hand even if there is no handle.
Heads-up:
Nonetheless, since it is an economical product, do not expect much in terms of features. It does not have the same advanced functions and technologies as the other internet radio tuners in this guide.
What We Liked:
A great choice for people on a budget
The large digital screen allows easy monitoring
Battery-operated for portability
Extend signal coverage with the adjustable antenna
Bottom Line:
With its extendable antenna, rechargeable battery, and large LCD, this is a great option for a budget-friendly Wi-Fi internet radio receiver.
6. TUNERSYS WS161A Internet Radio Tuner
Take your home audio system to the next level. This internet radio makes it easy to connect to global stations while also streaming music from other connected devices.
A notable feature of this product is its extensive memory, making it easy to access the desired frequency. It can save up to 99 of my favorite stations, so I can quickly tune in to them upon turning the radio on. Alternatively, I can also use my computer to add a streaming URL.
Aside from its Wi-Fi connectivity that allows me to connect to over 15,000 stations around the world, I can also stream music from my phone, tablet, or any compatible device. This is possible through Bluetooth. Plus, it has DLAN, which will let me connect my amplifier. It also has an auxiliary input, as well as a headphone jack for those who want to listen privately.
More so, the radio has a two-inch digital display. Aside from showing information about a specific situation, it also has a clock. Plus, I can set dual alarms and a sleep timer, making the radio multifunctional.
The durability of the radio is also impressive. The front panel is made of thick aluminum, as well as the shell that houses the internal components. It also makes it look elegant, making it a great way to up the aesthetic of your space.
Heads-up:
Nonetheless, the biggest shortcoming of this budget internet radio is the difficulty of setting up a station. Even if it comes with a manual, the steps are difficult to understand.
What We Liked:
Quick tuning with 99-station presets
Bluetooth connectivity for streaming from compatible devices
Comes with a built-in dual alarm and sleep timer
Has a headphone jack for private listening
The aluminum housing ensures durability
What We Didn't Like:
Difficult to program radio stations
Bottom Line:
From its memory that saves up to 99 stations to the durable aluminum casing, this Wi-Fi radio receiver will satisfy even discerning users.
7. GLFS Internet Radio Tuner
Wrapping up our list is a simple internet radio tuner that offers multiple functionalities and several options for connectivity.
As a radio, you can access thousands of stations around the world either through ethernet or Wi-Fi. You can save up to 99 favorites, allowing you to personalize the radio and quickly tune to the stations you often listen to.
The Bluetooth connectivity makes it more versatile beyond being an internet radio. This will let you connect your smartphone or other compatible devices and use it for controlling the different functions. Alternatively, you can also use the included infrared remote.
For the audio output, I like how it comes with an equalizer setting. The latter allows the personalization of the sound that the internet radio generates. I can make several adjustments to suit my listening preferences.
The elegant and minimalist design will make this internet radio tuner a great addition to modern spaces. It has a clean look and a metal housing with an aluminum front panel. The black color is also a plus, which makes it look high-end.
In front of the radio, you will see a 2.4-inch screen with a backlight for visibility. It shows important programming information, as well as the time. Meanwhile, at the back, you will find several ports for connectivity. It is also where you will find the wire antenna, which will let you extend the radio's coverage.
Heads-up:
If you are conscious about brands, this isn't for you. The name of the company does not ring a bell to most people, so many will be skeptical about its quality and performance.
What We Liked:
Allows users to set 99 favorite stations
Has an infrared remote control
The equalizer setting personalizes the listening experience
Elegant and durable construction
What We Didn't Like:
Not from a brand that most people will recognize
Bottom Line:
Save up to 99 stations for thousands of global frequencies in this internet radio tuner with an equalizer setting.
What to Look for When Buying Internet Radio Tuners
As you evaluate your options for the top-rated audiophile internet radio tuner, below are some of the crucial considerations:
Type of Radio Tuner
If you want a complete set-up, go for a stand-alone internet radio tuner. This means that it does not only have the tuner or receiver but also the speakers. They are often bulky and expensive, so they might not work for everyone.
Most of the options mentioned in this internet radio tuner review are not stand-alone units. They often form part of a hi-fi audio system. You will find multiple ports, so you can connect speakers or amplifiers, depending on what is available in your set-up.
Connectivity
A common connectivity option in internet radio tuners, especially older models, is ethernet. It comes with a port at the back of the unit where you will connect a cord that links it to your modem. Meanwhile, most will have Wi-Fi connectivity, eliminating the need for wires when connecting to your home network.
Bluetooth connectivity is also a common feature you will find in internet radio tuners. The latter will let you connect your smartphone, tablet, or similar device. You can download an app and use your phone as a remote control. This is also where you can access online radio stations that the tuner will play.
It is also possible to connect the internet radio tuner to your computer. This is handy when it comes to updating the firmware, so you can enjoy the latest functions.
Sound Quality
While it will mostly depend on the quality of the speakers that you will connect to the tuner, it can also have various features to improve audio output. For instance, some models have an equalizer, which will let you customize bass and treble. Others will have innovative features that will prevent distortions for a more immersive and pleasant listening experience.
Ease of Use
Right out of the box, the assembly of the tuner should be a breeze. It must come with comprehensive instructions, making it easy to install. Plus, the unit should have an intuitive control panel with accessible buttons. It must also come with a remote, so you can control its various functions even at a distance.
Another thing that will make the radio tuner easy to use is its memory function. You must be able to save different stations, so they are easily accessible. This means that you won't need to manually input a specific frequency every time you are using the radio.
Display
Most of the top products will come with a small display, which is often less than three inches. A backlight is a must for visibility, even from afar. The screen should show programming information, including the name of the station. It should also show the date and time.
Design
A top-notch internet radio tuner combines form and function. So, make sure that it looks good and will complement the aesthetic of your space. Most of the products in this review have a sleek and minimalist appearance, perfect for a sophisticated interior.
Construction
Many of the internet radio tuners will have a metal casing and an aluminum front panel. Consider the materials used as such will be indicative of durability. They are also important for heat dissipation. An inferior material can cause overheating, which can also result in premature wear of the internet radio tuner.
Reviews
Look for genuine reviews from other users and learn from their real-life experiences. You can find them on websites like Amazon. Pay attention to what people are saying about ease of use, durability, and sound quality, among other things.
Cost
At the end of the day, many of you will decide based on price. Nonetheless, we recommend going beyond such. In most instances, it is better to spend more if it assures better quality and performance.
What Is an Internet Radio Tuner and How Does It Work
An internet radio tuner, also known as internet radio or internet radio receiver lets you access global radio stations. This means that you are not limited to the frequencies near your current location. It has worldwide coverage through internet streaming, unlike traditional radios where you can only access aerial stations.
For this radio to work, the most basic requirement is the internet. These radios will either have ethernet or Wi-Fi capabilities, so you can connect to a network. For the best experience, you will need a decent speed, which should be at least 2 Mbps. Once you are connected, you can listen to a multitude of stations and even save presets for easy access next time.
Do Internet Radios Still Work
Yes, internet radios still work! They are far from being dead. They are popular because they combine the old with the new. It is more versatile than traditional radios and has more extensive coverage since you can access global stations. To be sure that it will work, however, buy only those that are made by trusted brands.
What Is the Best Way to Listen to Internet Radio
The best way to listen to internet radio is to access content from different streaming sites, such as Pandora, Spotify, and SiriusXM. Look for those offering free or affordable subscriptions. You can listen to them through your mobile phone tablet or any other device that you can connect to the tuner.
What Stations Can You Get on an Internet Radio
There are tens of thousands of internet radio stations you can listen to depending on the location of the music genre that you prefer. Some of the best stations that are worth checking out are WLTW 106.7 Lite FM, SomaFM, Kean 105.1 FM, Cinemix, Instrumental Hits Radio, Kid Jam Radio, NSB Radio, and Radio Santa Claus.
Conclusion
Change the way you tune in to your favorite AM and FM stations. Make it more modern with the best internet radio tuner, including my recommendations above. Go beyond the price as you evaluate your alternatives. Find one that looks good in any space. More importantly, consider the features of the radio and how they impact the overall listening experience, including the audio quality.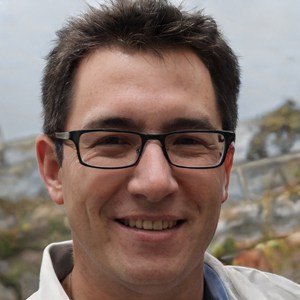 Hi, I am Amaro Frank – the Wind Up Radio's content editor and writer. Working with Adam is so much fun, as his stories and experiences enrich my knowledge about radio communications and radio accessories. My main tasks in Wind Up Radio are building content and generating great articles on different topics around radio accessories.