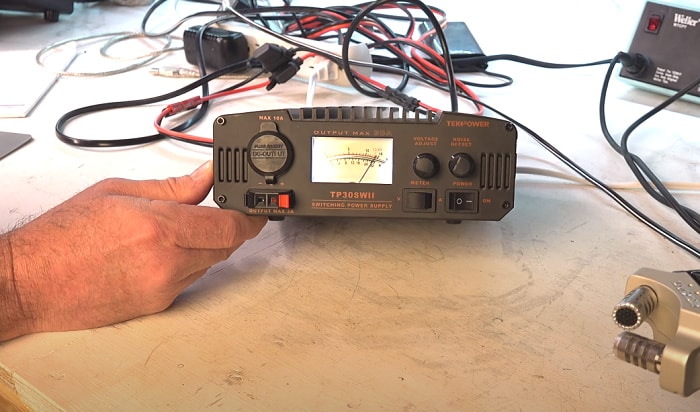 A radio is a good mode of communication, especially during disasters. When cellular reception is unavailable, it connects you to others, even in a far-away land. Not to mention, it is your source of the latest weather alerts and other emergency warnings. However, it is useless without the best ham radio power supply.
Without an inverter or internal transformer, DC power is essential. It does not directly plug into an AC outlet. DC power performs better than batteries and will feed the voltage that a system needs. With this, the ham power supply is the blood that keeps a radio working.
The options are plenty, but it does not mean that they are all equal. To help you narrow down your choices, below are some of the important considerations:
Type: You will find two main types of power supplies – linear and switching. The main difference lies in how they work and directly influence the noise that they generate when operating. The specific type also affects their price and efficiency.
Safety: Consider the different safety features for your peace of mind. The best ones have protection against overheating, overloading, and short circuits. They will also help in minimizing damage.
Compatibility: Match the power supply to the requirements of your ham radio. From the voltage to the amperage, go through the technical details. Otherwise, you might end up under-powering your communication system.
Clueless about what to buy? Read on as I walk you through some of the top power supplies worth considering.
Top 10 Ham Radio Power Supply Reviews
1. The Pyramid Store PSV300 Power Supply
A compact power supply, it is a great option even for small spaces. Despite its sleek body, it packs a lot of innovative features like its larger counterparts.
The rugged construction of this power supply unit is one of its benefits. The durable housing makes it less prone to wear, even with years of use and exposure to external elements. Not to mention, its high-temperature and short-circuit protection ensure both longevity and safety.
With the built-in cooling fan, overheating is not a problem. Even at an output of 30 amps, which is the maximum, the unit stays cool. If the fan does not work, it has an additional layer of protection: a temperature sensor that automatically activates after reaching 100 degrees Fahrenheit.
Installation of the unit is effortless, even if you are a newbie. It has a plug-in operation, eliminating the need for complicated steps. It also has screw-type terminals, which you can connect quickly. in a jiffy. It allows you to use a variety of equipment and devices as well.
More so, it has a regulated output voltage. This is not only for ham radios but also for CD players and other types of radios. The variable linear design allows you to choose from the switchable power supply depending on your needs. Plus, you can switch from 115V to 230V, which permits international usage.
Heads-up:
However, one of the biggest drawbacks is that it generates a loud noise, especially when it is operating at full power. The clicking and buzzing sound is annoying.
What We Liked:
Sleek body makes it space-efficient
Tough construction for long service life
Built-in cooling fan and temperature sensor prevent overheating
Easy plug-in installation even for novices
What We Didn't Like:
Prone to generating a loud noise
Bottom Line:
Overall, this ham radio linear power supply stands out because of its protection from overheating and short circuits, compact body, easy installation, and durable construction.
2. TekPower FBA_TP30SWII Power Supply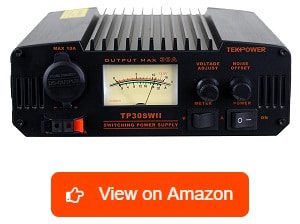 From its looks to its performance, this is another notable option in your search for a ham radio switching power supply.
Looking at the technical details, it is convincing that it has top-notch performance. It has an input power of 110 volts AC 60Hz. The output, on the other hand, is 13.8 volts DC. Meanwhile, it has a maximum output of 30 amps. Plus, it is adjustable from 9 to 15 volts, making it suitable for different situations.
The noise offset knob is one of the exceptional features of this good power supply. This is effective in minimizing the disturbances during communications. The strategic position makes it easily accessible.
It is also impressive because of the line and load regulation, which can maintain the output voltage despite the changes in the input or load. This ensures the best performance in various conditions.
Another good reason to choose this is its several safety features for your peace of mind. It protects against short circuit and overload, allowing the power supply to handle the fluctuations.
I also like its versatility because of having multiple options for power. I can choose from a cigarette lighter, terminal, and snap-in output. Regardless of what I choose, they are all remarkable.
Heads-up:
Despite the good things, a common problem with this model is the loud fan. Even when there is zero load, it is running at full blast and creating unnecessary noise.
What We Liked:
Adjustable from 9 to 15 volts to suit various situations
Has an offset knob for noise elimination
Line and load regulation to ensure stable performance
Comes with several safety features
What We Didn't Like:
The fan runs at full even with zero load
Bottom Line:
From noise elimination to safety, this power supply packs plenty of innovations to manage fluctuations and ensure peak performance regardless of external conditions.
3. Pyramid PS9KX Power Supply
With this AC to DC power converter, you will enjoy a universal and compact power supply. It fits even in tight spaces!
It is commendable because of its versatility, especially in terms of its source of power. I can choose from a 12-volt cigarette jack or binding posts. The best thing is that there is no need for a battery since I can connect it directly to a power source.
More so, it has a durable housing made of steel, so I am confident that it will stay functional even after years of use. Aside from longevity, the casing is great because it prevents electrical shocks.
Like many of the switching power supplies in this guide, it comes with a cooling fan. Even if the latter is on, it stays quiet. Additionally, it has a cabinet heat sink and vent holes. The latter makes it easier to manage the temperatures and prevent overheating, even with prolonged use.
The simplicity of this ham base station power supply is another good thing. Even if you are a first-time user, you can operate it in a breeze. Plug it in and it is ready to provide the power that you need. No calibration is necessary since it is ready to use out of the box.
It is also commendable because of its solid rubber feet, which makes it ideal for tabletop placement. This means that it stays stable on a flat surface.
Heads-up:
If there is one con, however, it would be that the fuse can be problematic. I have heard from many people that the latter is prone to burning and smoking, which can minimize the lifespan.
What We Liked:
Has a durable steel housing
Prevents overheating with the cooling fan, heatsink, and vent holes
Simple plug-in operation
The rubber feet ensure its stability
What We Didn't Like:
The fuse is prone to burning and smoking
Bottom Line:
Wrapping up, this amateur radio power supply has a long-lasting housing, built-in fan, and simple operation, making it a great option even for first-time users.
4. SUPERNIGHT 8541596085 Power Supply
Aside from ham radio systems, this power supply is equally commendable in other applications. It has versatile functionality, making it ideal even for household appliances.
Looking at its features, one of my favorites is the short-circuit and overload protection, which ensures peak performance regardless of the load. This is unlike others wherein the fuse will blow, and the parts are damaged when you go beyond the load that the manufacturer recommends. Instead, this unit will stop working instead of breaking.
To add, it comes with a variable speed fan that guarantees proper cooling and contributes to longevity. Instead of running at the same speed throughout the operation, it varies depending on the load. It goes faster as the load increases, making it better at offering effective temperature management.
I have used several power supplies in the past, and many of them are complicated. This model is different because of its simplicity. Even if you are a newbie, it is easy to figure out how to operate this product.
The best thing is that it is affordable. It is one of the cheapest in this guide. Even if it is budget-friendly, it has decent construction and remarkable features.
Heads-up:
If there is one issue, however, it would be that the fan is constantly running. This does not only make it noisy but also inefficient. It would have been better if there was a cycling fan.
What We Liked:
Great performance beyond ham radios
Variable-speed fan for effective cooling
Good protection against short circuit and overloading
One of the cheapest products in this guide
What We Didn't Like:
Loud and inefficient fan constantly runs
Bottom Line:
More than being budget-friendly, this ham radio power supply 30 amp is well-loved because of its effective cooling, as well as protection from overload and short circuit.
5. Samlex SEC-1253M Power Supply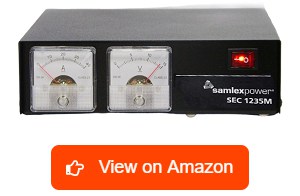 A simple and affordable power supply, this is another option that should be on your radar.
One of the best things about this mobile ham radio power supply is its production of clean and reliable output. This lessens the radio frequency interference, which in turn, guarantees audio clarity in different environments.
It is easy to stay updated with this product. The front panel has an ammeter that measures alternating and directing current, letting you know the amperage. At the same time, it has a voltmeter with a needle that lets you easily see the exact figures.
Like the other power supplies in this list, it has protection against high temperatures, overloading, and short circuits. This ensures peak performance and prevents damage even in harsh operating conditions. Plus, it has certifications from the United States and Canada, proving that it meets the minimum safety standards.
The switch-mode technology is another compelling reason to choose this product. It comes with a regulator, which efficiently converts electrical power. It has a higher efficiency compared to a linear regulator while also being lightweight and compact.
It is a great option for compact spaces. Despite being tiny, it does not compromise performance. Plus, it has a simple interface. It lacks complicated buttons, making it user-friendly.
Heads-up:
The most common complaint about this power supply is the fan. While it is effective in temperature management, it is too loud. At times, it can be obtrusive, especially when you are talking to another person on the ham radio.
What We Liked:
Produces clean power that stops radio frequency interferences
Has an ammeter and voltmeter for easier performance tracking
Switch-mode technology for effective electrical power conversion
Ideal even for small space
Bottom Line:
In sum,
this compact ham radio
power supply has protection against overheating, overloading, and short circuits while generating clean power that effectively minimizes interferences.
6. SKY TOPPOWER STP1330 Power Supply
Get your ham radio working at its peak with this product. It provides the necessary power supply to ensure optimal performance in different conditions.
It has impressive technical specifications, making it a reliable option for a ham radio power supply kit. Aside from the maximum current of 30 amps, it has 13.8 DC volts. It is powerful enough to handle different ham radios, CB radios, scanners, or mobile phones, among other compatible devices.
Aside from its versatility, it is notable because of its noise offset control. This means that it does not produce radio frequency interference. As a result, there is no buzzing sound in the background to improve the overall audio quality.
Like the other options in this guide, it has a standard cooling fan that manages overheating and makes sure the unit does not reach a high temperature. This will protect the internal components to guarantee longevity.
The overall construction screams durability. It has a metal casing that protects against dust and dirt, among other external elements that can speed up the damage. Not to mention, the base has rubber feet, which will keep it stable.
For your peace of mind, it is also good to know that the manufacturer is offering a two-year warranty. More so, you won't think twice about spending your money because of the 30-day satisfaction guarantee. If you are unhappy within a month, let the company know and they will issue an unconditional refund.
Heads-up:
The price is the biggest drawback of this product. While it isn't for those on a budget, with its features and benefits, it is worth every dollar.
What We Liked:
The noise offset control ensures a clearer output
Comes with a built-in cooling fan to prevent overheating
Tough metal case to ensure longevity
Has a 30-day money-back guarantee and a two-year warranty
What We Didn't Like:
Not for people on a budget
Bottom Line:
With a durable metal case, built-in cooling, and satisfaction guarantee, there are plenty of reasons to pick this UHF and VHF radio power supply.
7. Tenma 72-6627 Power Supply
If you must connect several items in a single power supply, this is an option you should not miss. When combined, it has a total output of 35 amps.
The power supply is divided into two sections. You will find color-coded binding posts, which can accommodate several inputs, including spade terminals and banana plugs. You will also see a rocker switch with a light, which indicates the status.
With its robust construction, I am confident that it is long-lasting. It is heavier than other models, but such is a good thing. The added weight is because of its tough steel case, which is also what protects the internal components from dust and dirt.
Another thing that I love about this product is that it has a built-in ammeter, which makes it easy to monitor the amperage in the existing connection. This way, I am aware of the power requirements of the radio hookup that I have.
Additionally, it is impressive because of its ease of use. It has a simple design and basic functionality. Even if you are a beginner, you will love its simplicity. Operating the power supply does not have to be a burden.
Heads-up:
While it has an ammeter and voltmeter, some people might find them to be quite small. Plus, there is no backlight, making them difficult to see.
What We Liked:
Has color coded-binding posts that accommodate different inputs
The lit rocker switch makes it easy to monitor the status
Robust construction indicative of durability
Ease to operate even if you are a novice
What We Didn't Like:
Small display is difficult to see
Bottom Line:
From its durable construction to versatility, this ham radio power supply delivers an exceptional performance with a combined 35-amp output.
8. MFJ 4230MV Power Supply
One of the smallest switching power supplies I have seen, space-efficiency is its biggest asset. It fits even in small spaces while making sure that it does not compromise its performance.
Aside from its size, another asset of this product is that it is lightweight. Weighing less than three pounds, it is perfect if you are after portability. From camping expeditions to road trips, you can take it anywhere without the weight being a burden.
The technical details are also impressive. It generates 25 amps at a continuous state and 30 amps under surge. I like how it comes with a selectable voltage button on the front panel. This way, I can set it anywhere from 4 to 16 volts, depending on what is more suitable for a specific application.
Additionally, it comes with a small display that makes it easy to monitor the amperage and voltage of whatever you connect to the unit. There is only a single display but there is a rocker switch button, so you can use the screen either as an ammeter or voltmeter. Plus, it is backlit, making it easily visible even in low-light environments.
The internal cooling fan is also a good thing. This will ensure effective temperature management even if it runs at full blast. It has forced and convection air cooling that runs quietly, so it isn't a disturbance in radio communications. Meanwhile, there is a heat sensor, which changes the speed of the fan automatically to match the situation.
Heads-up:
While it is a great product, one issue is the difficulty of finding the necessary connectors. It is hard to look for one that will fit the lead threads.
What We Liked:
A compact design makes it ideal even for small spaces
Lightweight construction for portability
Has a selectable voltage dial for versatility
Backlit ammeter and voltmeter for visibility
The speed of the cooling fan adjusts depending on the heat level
What We Didn't Like:
Connectors are hard to find
Bottom Line:
With a compact and lightweight construction, this power supply has a selectable voltage and a cooling fan, making it effective in different situations.
9. MegaWatt S-400-12x Power Supply
Traditionally, AC to DC converters are bulky and heavy. This product, however, addresses such concerns by providing a sleek and lightweight alternative while guaranteeing the same high-level performance.
The best thing about this radio power supply is its elimination of radio frequency noise. With minimal interference, it is easy to hear the other person. Whether you are using a ham or CB radio, this product will help in ensuring audio clarity.
It has excellent safety features, including automatic shutdown upon reaching specific thresholds. For instance, when it goes more than the voltage that it can handle, it turns off to prevent irreversible damages. More so, it has protection against short circuits.
While you can use it for ham radios, it has other applications. One thing that I can attribute to its versatility is the adjustable output. I can set it from 9.5 to 15 volts, depending on what a specific situation requires. Plus, it is versatile because I can use it in any 12-volt equipment that draws 36 amps or less.
Another good reason to pick this product is the in-line switch that comes with the unit. With the AC power cord, you can directly plug into a socket. It eliminates the need for complicated wiring while also ensuring plug-and-play functionality.
Heads-up:
However, the biggest drawback is the fan, which a lot of people find to be too loud. According to the manufacturer, this can be because of dust and dirt that accumulate, so make sure to keep it clean.
What We Liked:
Eliminates radio frequency noise for clearer communications
Automatically shuts down when there are safety risks
Adjustable output power for different applications
Ready-to-use out of the box with an in-line switch
Bottom Line:
This ham radio 12-volt power supply has an adjustable voltage for different applications, eliminates radio frequency noise, and comes in a sleek package.
10. Audiotek AT-PS26M Power Supply
Wrapping up our list is another affordable product with a simple design. It has 20 to 26 amps, making it versatile.
One of the best things about this product is the dual display. This way, I can easily stay updated about the functions of the power supply. The left screen measures the voltage while the other specifies the amperage. They are both manual with a needle that points to the reading value.
The large rocker switch makes it easy to use. Even better, it has a light, so I can easily determine if it is on or off. On the other side, you can find the positive and negative terminals that provide connectors to different appliances beyond ham radios, including home appliances and entertainment systems.
It is also great because of the low noise output. This way, it is easy to talk to the person on the other end because there are no annoying sounds in the background.
Moreover, the rear heat sink is one of the top design features. It has vents in strategic positions, especially in the parts doing most of the work. It has great air circulation, which is an effective way to prevent overheating. Plus, it has protection from short circuits to ensure the safe operation of the unit.
Heads-up:
However, I have seen some reports about how the voltage can significantly change. This is dangerous as it can fry the components, making the power supply unusable.
What We Liked:
Has dual screens showing voltage and amperage
The large rocker power switch has a backlight
Low-noise output for audio clarity
Rear heat sink prevents overheating
What We Didn't Like:
The voltage can jump significantly
Bottom Line:
Summing up, this 20-amp power supply for ham radio shows both voltage and amperage, comes with heatsinks for effective cooling, and generates minimal noise.
What to Look for When Buying Ham Radio Power Supply
With too many options for ham radio power supplies, deciding what to buy is an overwhelming task. Make things easier by considering the things I will talk about below.
Most people will consider price as a primary factor. Do not buy a product only because it is cheap. Quality is more important. If you want to save money, consider a used ham radio power supply. Nonetheless, make sure to ask around and buy only from trusted sellers to enjoy the best bang for the buck.
Linear power supplies are common if you are looking for low-noise output. The absence of high-frequency switching eliminates buzzing and static. It is a common choice in situations when you need low ripple or when there is excellent regulation.
On the other hand, a switch mode power supply delivers a higher efficiency despite being compact. It has a regulator that efficiently converts electrical power. It is also a good choice if you are looking for a more affordable alternative.
Look at the material, which is indicative of the quality of the construction. Steel is the most common material that you will find in a 12-volt power supply for ham radios. Stay away from those that are made of cheap plastic. More than being durable, see to it that it is lightweight, so you can bring it easily anywhere it is needed. The knobs and the buttons should also have solid construction.
Power supplies have different safety features for your peace of mind. Most of them can handle overheating, overloading, and short circuits. In most instances, the unit will automatically turn off before reaching the threshold. This will prevent fire and other hazards.
Especially if you are a beginner, it is important to choose a power supply with a simple user interface. It is good to have a few buttons, which will minimize complications. It should also come with detailed instructions. The installation should also be a breeze. Look for one that is inclusive of the mounting brackets that you need for quick assembly.
A built-in fan is another must-have feature. It delivers effective temperature management, preventing the unit from getting too hot. More so, there should be a heatsink or vents in the body for better air circulation. The cooling system should adjust accordingly depending on the load. The fan, however, should be powerful without making a loud noise.
If the power supply does not match the technical requirements of the ham radio, it is useless. It will not provide the needed power. Match the voltage and the amperage, among other technical specs. Some of the products I mentioned above are adjustable, so you can use them in different situations.
Additionally, being compatible means matching it to the environment where you will use the radio. For instance, if you are installing it on a boat, then you will need a marine radio power supply, which is designed for outdoor use and to handle water.
This is one feature that is more common in higher-end products. A ham radio power supply with battery backup is good if there is no electricity. This way, the radio will continue operating. Although, it can add to its overall weight and size.
It is good to read ham radio power supply reviews and learn from the real-life experiences of other people. Pay attention to what others are saying about the durability and performance of a specific product.
What Size Power Supply Do I Need for Ham Radio
When looking for a power supply, size is one of the most important considerations. It affects not just the price but also the overall performance. Picking the wrong size means that you are compromising functionality. It will be under-powered.
Most of the radios will have a 20-amp requirement. While you can choose to match it, a better idea is to find one with a larger output. In this case, a 50-amp ham radio power supply may seem to be too large, but it is a good size if you want to be sure. Generally, however, a power supply with 30 to 35 amps will suffice.
Can I Use a Computer Power Supply on a Ham Radio
Yes, you can use a computer power supply in a ham radio, but with a few conversions. Otherwise, it can be prone to noise and interference, among other things that will negatively impact audio quality. Honestly, however, I believe that doing these tweaks are not worth the time. It is better to look for a product that is specifically designed for radio.
How Do You Hook Up a Power Supply to a Car Radio
Hooking up a car radio to a power supply is a straightforward process. First, you need to make sure that they are compatible with each other. Check the technical details, including voltage and amperage. When you are ready, fix the wires of the radio to the power supply. Pay attention to connecting the right colors to the proper terminals. Finally, plug it into the source of power.
Conclusion
The best ham radio power supply provides the necessary voltage. It converts AC to DC, optimizing the best possible performance. While the options are plenty, they are not all the same. From the input and output to the cooling system, several factors will differentiate one model from the other.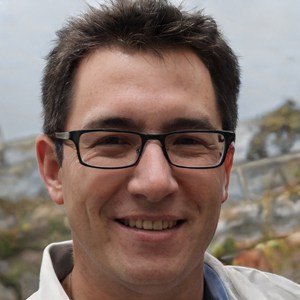 Hi, I am Amaro Frank – the Wind Up Radio's content editor and writer. Working with Adam is so much fun, as his stories and experiences enrich my knowledge about radio communications and radio accessories. My main tasks in Wind Up Radio are building content and generating great articles on different topics around radio accessories.