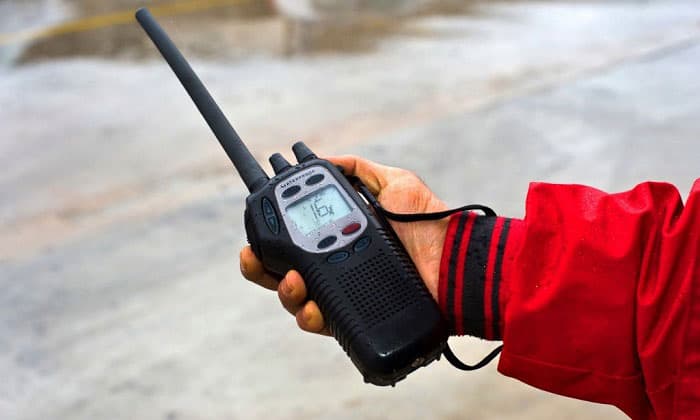 A General Mobile Radio Service (GMRS) provides an alternative mode of communication when a cellular signal isn't available. Whether you are on a road trip or camping in the wilderness, this is a handy tool that will help you stay connected. Not to mention, it is a must-have for staying safe and sound.
With the best GMRS radio, short-distance and two-way communication are possible. It is for adventure seekers who are often outdoors and looking for a reliable way to connect with others.
Choosing a GMRS radio is an overwhelming task. You will need to confront a long list of options, but they are not all the same. Below are some of the most important considerations to help you narrow down your list:
Range: It can vary from one model to another, but are often anywhere from five to 50 miles. Nonetheless, specific environmental conditions can affect the range. For instance, if you are in a more open space, expect a longer GMRS radio range compared to places with buildings and other obstructions.
Wattage: The power and performance of a GMRS radio depend on the wattage. Most beginner-friendly and affordable models will have five watts. But you can find advanced and high-end models that offer up to 50 watts.
Battery: Consider the type of battery that comes with the radio, as well as its average runtime and charging time. Some will come with a charging base while others can be charged using a USB port.
Looking for a high-quality GMRS handheld radio? Read on as I walk you through some of the top products to consider.
List of Top 10 GMRS Radio Reviews
1. BTECH GMRS-V1 GMRS Two-Way Radio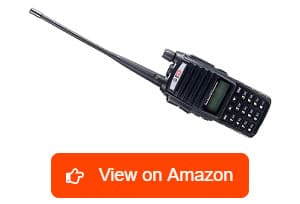 Made by one of the most popular manufacturers of GMRS radios, this product offers top-notch reliability at an unbeatable price.
The versatility of this hand-held radio is one of its best assets. It works both as an FRS and GMRS radio. It also has UHF and VHF scanning capabilities. Not to mention, while it has a single receiver, it has a semi-duplex design. The latter means that it can monitor two channels at a time. Meanwhile, if you want to keep things simple, there is an option to have only one channel.
You can also use it as an FM radio to listen to your favorite stations and music even when there is no reception. Additionally, it has NOAA weather bands, so you receive the latest weather updates. This will help you prepare in case of a disaster or emergency.
The radio's backlight is incredible and helps in easy monitoring. The tri-color LCD has selectable colors, so you can customize the light as you prefer. With the screen's illumination, you can quickly see the information displayed even in a dark environment.
For reliability, it comes with a powerful 1800 mAh battery. The batteries are not built-in but there is a sliding compartment that keeps them in place. This is a good thing since you can charge them outside of the unit.
As the ultimate outdoor companion, this mobile GMRS radio is a great survival tool to have. It has a built-in flashlight, so you can easily see even in the dark. Whether you are camping or hiking, it will be handy.
Heads-up:
However, one of the drawbacks of this GMRS radio is the difficult programming. If you are a newbie, setting it up is tricky.
What We Liked:
The semi-duplex design allows simultaneous two-channel monitoring
Has a built-in FM radio and NOAA bands
Brightly-lit display for easy monitoring of radio functions
Comes with powerful and removable batteries
Also works as a bright flashlight
What We Didn't Like:
Programming the radio can be difficult
Bottom Line:
Overall, this is an excellent product that packs plenty of amazing functions, such as an FM radio, NOAA bands, and a built-in flashlight.
2. Midland GXT1000VP4 GMRS Two-Way Radio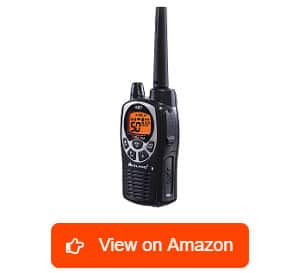 Reliable communication for every adventure is what you can expect from this FRS/GMRS radio. From performance to durability, it offers a wide array of benefits.
Among others, this GMRS radio stands out because of its power and consistency. This is possible because of X-TRA TALK, which makes it dependable even in challenging conditions. Not to mention, it has X-TRA RANGE that allows communication at up to 36 miles in open areas and plus/minus two miles in urban conditions.
It is also notable because of its 50-channel support – 22 standard and 28 extras. Every standard channel supports 142 privacy codes. To make it more multifunctional, it also works as a weather radio. I can access up to 10 NOAA channels. It has a weather scan and alerts when there is anything I need to know. It alarms when there is a weather disturbance too.
The durability of the radio is also worth highlighting. It is certified lead-free and water-resistant. I can use it in all weather conditions without worrying. The manufacturer is confident that it will last a long time, which is why it comes with a three-year warranty.
For the best bang for the buck, your purchase is inclusive of several accessories. Aside from the radio itself, you will receive boom mic headsets, rechargeable batteries, belt clips, charger, and AC/DC adapters.
Heads-up:
Nonetheless, the noisy receiver can be annoying for some people. It is louder than many of the typical commercial radios.
What We Liked:
Allows high-range communication up to 36 miles in ideal conditions
Has weather scan and alert for emergency notifications
Durable and water-resistant construction
Comes with a three-year warranty
Your purchase comes with several accessories
Bottom Line:
With this durable and water-resistant GMRS radio, you can choose from 50 channels, receive emergency weather notifications, communicate at a long range, and enjoy an extensive warranty.
3. Radioddity GM-30 GMRS Radio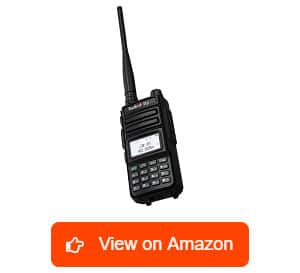 This professional high-powered hand-held 5-watt radio packs plenty of incredible features in a portable unit. It has a long range, so you can use it for communicating at a maximum distance of five miles.
Looking at its features, one of the most notable is its extensive frequency line-up. It has 22 simplex channels that you can use for connecting to other GMRS radios. Plus, it has 8 GMRS repeaters. You can also access 11 pre-programmed NOAA channels, making it easy to know the weather updates.
Another compelling reason to choose this radio is the highly visible digital display. The screen is large enough so I can easily see the information I need to monitor. It has a sync function, which shows both the frequency and channel name as well.
It is worth noting that it is USB-rechargeable. Your purchase comes with a Type-C cable and charger. It has a 1,500 mAh battery, which can last one full day depending on the extent of use. Meanwhile, charging it can take four to six hours.
The programmability of this radio is one thing that I enjoy, especially given how intuitive the process was. It is best done using a computer, which simplifies the input of the settings. Alternatively, I can do it manually through the keypad.
Heads-up:
One of the problems with this radio is the antenna connection. It is poorly threaded, which might make it wobble over time. It loosens easily even after I tightened it.
What We Liked:
Transmits multiple frequencies including weather channels
Has a large and visible digital display
Allows both computer and manual programming
USB rechargeable battery can last the whole day
What We Didn't Like:
Poorly-threaded antenna connection
Bottom Line:
From having multiple frequencies and weather channels to offering versatile programming options, this GMRS portable radio is a great option to consider.
4. Midland MXT275 MicroMobile Two-Way Radio
The market for FRS GMRS radios is saturated, but one of the top brands that can always prove to be reliable is Midland. This specific model has 15 channels, including eight repeaters, making it a great pick.
With this powerful 15-watt radio, I enjoy a maximum range of 50 miles. Its 2.1dB gain antenna is why it offers long-distance communication. However, take note that the coverage depends on the environment. For instance, when there is a partial obstruction, the coverage is only 10 to 15 miles.
More than its extended range, it is reliable in different conditions. Plus, it has 142 privacy codes that can block conversations and make sure that no unauthorized party is listening. It effectively tunes out busy channels as well.
Like most of the products in this review, it offers NOAA channels. You can choose from ten frequencies, which will provide regular weather updates. This is crucial for emergency preparedness, helping you stay safe.
The space efficiency of this radio is another reason to choose it. It is particularly useful if you have a small car. It includes a fully-integrated microphone and all the controls that you will need. Best of all, you can operate it with just one hand.
It is also a good thing that it has a versatile design, especially in terms of mounting options. The package is inclusive of a flip-frame mount. You can put the radio under or on the dash. Alternatively, you can slide it out while the bracket remains in its position.
Heads-up:
While I love how it has a backlit digital screen for easy monitoring, I do not like how tiny it is. Because it is small, I have a hard time seeing what is on the display. Most of the time, I have to move closer, which can be quite a hassle.
What We Liked:
Has an extended range of 50 miles
Ten NOAA channels for timely weather updates
Avoid intrusion with its privacy codes
Space-efficient design with a fully-integrated microphone
Offers different options for dash mounting
What We Didn't Like:
Small screen makes it difficult to see the display
Bottom Line:
With its extended coverage, privacy codes, weather alerts, and flexible mounting options, this GMRS radio for off-roading deserves a spot on this list.
5. BTECH Mobile GMRS-50X1 GMRS Two-Way Radio
This 50-watt mobile radio makes it easier to stay in touch, especially during emergencies. Plus, it is powerful enough to work in challenging environments.
It has countless notable features, and one of my favorites is its multifunctionality. Aside from the primary channel, you can watch up to three other frequencies at a time. It is also worth noting that it has a built-in FM radio. On top of that, it has NOAA channels, so you can stay updated on the latest weather.
I am a big fan of the intuitive front control panel, which makes the operation a breeze. The buttons are strategically laid out, so I can easily access them when changing the settings or programming the unit. It also has a small digital screen with colored figures for monitoring.
Another good reason to choose this GMRS radio for Jeep is the durable and compact built-in microphone. It is small to comfortably fit in your palm. It also has a numeric keypad so I can easily navigate the menu or change the settings. It has a backlight that makes the buttons highly visible even in the dark.
Heads-up:
While it is a great choice for the most powerful GMRS radio, it also has some problems, such as the lack of protection for low voltage. Excessive fluctuations can cause severe damage to the radio.
What We Liked:
A multifunctional radio for monitoring multiple channels simultaneously
Has NOAA channels for weather update
Intuitive front panel for easy operation
Compact and ergonomic integrated microphone
Backlit keypad for visibility
What We Didn't Like:
No low voltage protection
Bottom Line:
A compact and intuitive GMRS radio with a built-in microphone, this is a great option to consider for long-range communication on the road.
6. Midland MXT400 GMRS Two-Way Radio
Stay connected even on the road with this FRS GMRS 2 way radio. It is compatible with Midland walkie-talkies, making it easy for you to talk to other people.
One of the reasons to pick this radio is its 40 watts of broadcasting power, making it one of the most dependable on this list. It works best on sprawling properties with minimal obstructions, such as ranches and farms. In the city, however, the range isn't that long since many structures negatively impact signal travel.
Additionally, the radio has 15 GMRS channels, so you will have more options. You can also access eight repeater channels. Plus, there are 142 privacy codes, which ensures that no one is listening to your conversations.
The bright and backlit LCD is another impressive feature. You can easily see the display regardless of whether there is glare from the sun or if you are in a dark environment.
I also like that this radio comes with an internal speaker. It is built into its chassis, offering crisp and clear audio even when you are on noisy roads. If it is not enough, you have the option to attach an external speaker.
Mounting this radio is easy as it is already inclusive of the frame that you will need. You can install it on or under the dash, depending on what is more accessible for you. The flip bracket that comes with the unit means that you can easily slide it out.
Heads-up:
While the radio itself feels solid, the same cannot be said for the microphone. It feels flimsy and the connection wobbles, which can affect communication quality.
What We Liked:
High-wattage broadcasting power for dependable performance
Has privacy codes to prevent anyone from eavesdropping
Easy to mount with the included frame
Backlit and visible screen whether it is day or night
What We Didn't Like:
Quality of the mic feels inferior
Bottom Line:
Wrapping up, this GMRS two-way radio has exceptional coverage, multiple channels, visible display, flexible mount, and a high-quality internal speaker.
7. BAOFENG UV-5X GMRS Radio 
A great option for people on a budget, this radio has 30 GMRS pre-programmed channels. To add, you can access 11 NOAA channels for instant weather updates.
Looking at its features, one of my favorites is the 3,800 mAh battery. It has a high capacity, so I am confident of its long runtime. I can use Baofeng's six-way charger to power up the battery.
The cross-compatibility of the radio is another good thing. You can use it with other accessories in the UV-5R series. Plus, you can easily find replacement parts when any of the components are damaged.
Its tri-color display is also worth emphasizing. It is small but highly visible. Choose from blue, orange, or purple for the backlight. It supports Alpha characters, but you can input such only through a computer program.
It has a tough case, which protects the radio against premature wear. It also provides excellent traction, so it won't slip. Plus, it is compact and lightweight. I also like how there are no tuning knobs to simplify the operation. Instead, it has up and down buttons.
For the best bang for the buck, the package includes a headset/earphone. This will come in handy for private listening. Even better, it has a built-in mic, so your voice will end up being crisp and clear on the other end.
Heads-up:
Nonetheless, the company can improve the default antenna to maximize reception. With a better design, transmission can be stronger to improve radio communication.
What We Liked:
Two powerful batteries with a combined output of 3,8000 mAh
Highly-visible tri-color display
Comes with an ergonomic, tough, and lightweight case
Includes a headset with mic
What We Didn't Like:
Quality of default antenna can be better
Bottom Line:
From the powerful batteries to its tri-color display, this is another economical GMRS radio that should be on your radar.
8. Midland T290VP4 X-TALKER GMRS Radio
By now, you should know that Midland is an unrivaled brand. This model is another addition to their long list of options for top-notch GMRS FRS radios.
The two-way radio is compact and versatile, making it portable. Regardless if you are driving, hiking, skiing, rock climbing, camping, or engaged in other outdoor activities, it is good to have this radio. In open areas, it has a long range of up t0 40 miles.
It is also worth saying that the radio has 121 continuous tone-coded squelch systems for privacy. You have up to 2,662 channel choices, so you can prevent someone from tuning in to the same frequency and listening to your conversations.
Even without a mobile phone to keep up with the latest weather updates, you can stay safe and sound with the ten WX band channels. The latter will send instant notification when there is a severe disturbance that can make you unsafe.
More so, it has Easy Voice and Sound Activated Transmission, a feature that sets it apart from the competition. With the latter, you can talk hands-free. This is useful when you are doing other things, such as when driving or cooking at a campsite.
The radio quality is incredible. It has compact but tough housing, which makes it less prone to wear. It is also water-resistant, so it can withstand light splashes. Plus, to demonstrate its confidence in its product, the manufacturer offers a three-year warranty.
Heads-up:
One of the biggest shortcomings of this product is that it does not support USB charging. This means that you can only charge the unit on the included charging base, which can be quite heavy and bulky if you have to travel. To add, some might not like that the battery life is quite short.
What We Liked:
40-mile range in open areas
Privacy channels prevent intrusion during your conversations
Has ten weather band channels to help you stay safe
Allows hands-free operation
Comes with a three-year warranty
What We Didn't Like:
Does not support USB charging
Short battery life
Bottom Line:
With its weather channels, hands-free voice transmission, and a three-year warranty, there are endless reasons why this radio is a must-have.
9. Lyu Lam P11UV GMRS Two-Way Radio
It may not be from a brand that you are familiar with, but it is a decent option for a GMRS radio, especially if you are on a budget.
Despite being affordable, it packs innovative features. For instance, it has a scanning receiver frequency band that ranges from 136 to 174 and 400 to 512 MHz. You can choose from 23 GMRS and seven FRS channels. Additionally, it has 11 NOAA channels for weather updates. I also like how it has 258 privacy codes to prevent intrusions.
It has several features that contribute to its performance. For instance, you can adjust the squelch in nine levels, which is an effective way to improve audio quality. It also has a built-in SMA male-type antenna.
If you are looking for a long-lasting radio, this is a good choice. It feels solid, so I am confident that it will withstand the test of time. It has an aluminum subframe with a sealed gasket, which will prevent dust and dirt from reaching the internal components.
I am also a big fan of the voice prompts of this radio, which is available in both English and Chinese. It is a modern way of sending reminders to the user, such as when the battery is low. It has vocal indication for other functions as well.
The integrated flashlight makes this GMRS radio a multifunctional outdoor companion. In dark areas, you will love how you can communicate with others while also having an emergency torch.
Heads-up:
While the radio is generally user-friendly, programming it is a different story. The software is quite buggy.
What We Liked:
Adjustable squelch to enhance audio quality
Durable but lightweight build
Has a voice prompt for reminders
Comes with an integrated flashlight
What We Didn't Like:
Hard to program with the included software
Bottom Line:
To conclude, this GMRS radio excels because of its multiple channels, adjustable squelch, voice prompts, and a built-in flashlight.
10. Retevis RT76 GMRS Two-Way Radio
Wrapping up our review is a radio with 30 GMRS channels. From hunting to hiking, this is a product that will take your outdoor activities to the next level.
One of its most notable features is the adjustable squelch. It works as a noise gate, minimizing the unwanted sound that you hear during conversations. You can adjust the squelch from zero to nine, depending on personal capabilities.
Even if your hands are full, such as when you are setting up your tent or preparing food, you can use the radio. It has a voice activation feature for hands-free operation. You can enjoy this without the need to pre-set the PTT button.
It also stands out because of its rugged body. It meets military standards, which is indicative of its longevity. With its non-slip back thread, I have a strong grip on the radio, even when my hands are wet. I also like the strap clip, so I can carry it on my belt.
The 1,400 mAh lithium-ion battery that comes with this radio is commendable. It provides power for up to 12 hours of continuous use. It also has a neat battery-saving feature, which will make it more efficient.
Heads-up:
However, the manual can be frustrating, especially if you are a first-time user. The instructions are poorly-written, so programming the radio is difficult.
What We Liked:
Has an adjustable squelch to minimize background noise
Offers active voice conversion for hands-free operation
Rugged construction with a non-slip body
Comes with a powerful lithium-ion battery
What We Didn't Like:
Poorly-written instructions make the set-up tricky and time-consuming
Bottom Line:
To conclude, this is an incredibly impressive GMRS radio because of its durable construction, voice activation, adjustable squelch, and long-lasting battery.
What to Look for When Buying GMRS Radio
To help you decide what to buy, below are some of the most important considerations.
Range
The models will differ depending on the range that they can offer. Most will have coverage of five to 50 miles. A longer range is better, which means that it is more dependable. Nonetheless, take note that some factors can affect the range, such as your locations or the obstructions.
Wattage
As you look at the technical specifications of the radio, consider the wattage. This is indicative of its power and performance. A lot of the available products will have five watts. Some are powerful enough to offer up to 50 watts.
Battery
It is common for GMRS radios to have lithium-ion and NiMH batteries. Both are great. Regardless of the type, the battery life is more important. If possible, it must last throughout the day. Consider as well how long the battery takes to fully charge.
Sound Quality
Look for a GMRS radio that offers crisp and clear radio, even when you are in challenging environments. One thing that can help is an adjustable squelch function, which will let you control the background noise.
Display
A highly visible display is a must-have in your GMRS radio. Day or night, you must easily see what is on the screen. Pick one that comes with a backlight. It should also be large enough to display the essential information you need to know.
Ease of Use
If you are a beginner, a GMRS radio should have an intuitive interface. The control panel must have a strategic layout and programming the unit must be effortless. It is also good to have a comprehensive manual from the manufacturer.
Durability
Your GMRS radio will get beaten over time. If you use it regularly, it is prone to wear. So, make sure that it has a tough construction. It is also good if it is water-resistant or waterproof. Even if it has a solid build, it should not compromise portability.
Brand
Some of you will decide based on the brand name. Midland is one of the most popular, which is why we have included four products from the company in this review. While not mentioned above, a Motorola GMRS walkie talkie is also a great option.
What Is the Difference Between FRS and GMRS Radio
Both radios are essential for outdoor communication, but they have several differences. One of the most significant is range. FRS is for shorter-range communications. On the other hand, GMRS radios can handle longer distances, especially if you are using them in an open area.
The two radios are also different in terms of license requirements. For children and beginners, an FRS radio is a better option since anyone can use it. In contrast, using a GMRS radio requires a license.
Power is another factor that differentiates the two, FRS radios are often less powerful, featuring a lower wattage compared to GMRS radios.
They are also different in terms of price. It is common for GMRS radios to be more expensive since they have more functions.
Is a GMRS Radio Overkill
No, a GMRS radio isn't an overkill. It can be more expensive than traditional radio, but it is worth it. Some people may also be hesitant because a license is necessary. Nonetheless, with a GMRS radio, you can enjoy reliable communications even when there is no cellular reception, making it a must-have outdoors.
What Is the Range of a 50-watt GMRS Radio
The range of a 50-watt GMRS mobile radio depends on several things. For instance, it can vary depending on the quality and performance of the radio. Your location also matters. The range is longer when you are in an open area, such as a farm or ranch. Generally speaking, it can be anywhere from 30 to 50 miles.
Do I Need a Radio License if I Operate on FRS-only Channels
If you are using a GMRS radio, you will be transmitting only on FRS channels. Meaning, you do not need a license. Nonetheless, if you would like to use the same radio for accessing GMRS frequencies, a GMRS license is a must.
Conclusion
Whether you are camping in a forest or organizing an outdoor event, it is good to have the best GMRS radio. In the absence of cellular reception, a radio enables effective communication. Not all radios, however, deliver the same top-notch performance. So, make sure to consider various factors as you narrow down your list.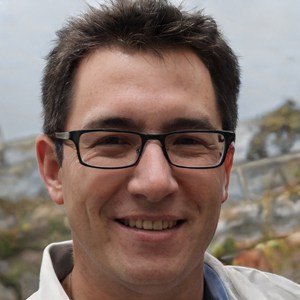 Hi, I am Amaro Frank – the Wind Up Radio's content editor and writer. Working with Adam is so much fun, as his stories and experiences enrich my knowledge about radio communications and radio accessories. My main tasks in Wind Up Radio are building content and generating great articles on different topics around radio accessories.