The best 2m 70cm mobile radio might seem like an obsolete form of communication, but it is handy in many situations. It allows people to defy geographical boundaries and talk to each other without cellular reception. Even in the modern age of smartphones, such radios are beneficial in more ways than one.
2m and 70cm are VHF and UHF radios, which are highly capable of delivering clear frequencies. As a result, they can manage signal disturbances and interference, making it easy for people to talk to each other.
Whether you are buying a 70-centimeter or 2-meter radio, below are some of the most important considerations:
Durability: Make the most out of every dollar by choosing a radio with tough construction. Even after years of use, the performance should not suffer. From the screen to the knobs, all components must retain their peak functionality.
Audio Quality: Look for one that comes with powerful speakers, making it easy to hear the other person clearly. The radio needs minimal interference and a strong signal. The latter, however, will be more dependent on the antenna and not the radio.
Ease of Use: It is frustrating to have a complicated radio to operate, especially if you are a beginner. A user-friendly control panel is a must. More so, you will benefit from a large display that shows important information.
Take wireless communication to the next level, even in harsh environments. Read on and I will share some of the top radios that should be on your radar.
Top 7 2m 70cm Mobile Radio Reviews
1. BTECH UV-50X2 Amateur Radio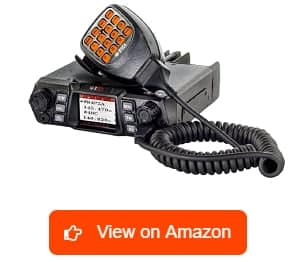 This 50-watt dual-band radio is another option that you should not miss. Whether you are a novice or an expert, it has the features you will need.
Among others, I like how this model has a multi-color display, which is visible in different environments. The LCD is also fully customizable, so you can personalize its appearance as you wish. To add, the screen synchronizes two channels, showing both the name and the frequency.
More so, it has an impeccable memory function, which can store up to 200 channels. I can assign a name to each channel. Nonetheless, the latter should not be more than seven characters. Additionally, I can modify squelch information and tones.
The speaker is also commendable, especially because it is loud. This makes it easy to hear the person on the other end. It has an output of two watts, making it powerful. Meanwhile, its mic has audio gain settings, which will allow you to change the output depending on a repeater. Plus, it has a line-in and line-out 3.5mm jack, which means it can accommodate external headphones for private listening.
Installing this 2-meter ham radio is effortless. It comes with a US-written manual with detailed steps on how to assemble the unit. Even better, it is inclusive of the screws, mount, and bracket that you will need.
Additionally, it has a nice feature that makes the radio efficient. With the automatic power off, it will shut down after a period of inactivity. This is a great way to conserve battery.
Heads-up:
Despite the good things, the durability can be a problem in this radio. I am doubtful about its longevity since most materials feel quite flimsy.
What We Liked:
Has a customizable display that is easily visible
200-channel memory function with the ability to edit tones and squelch
Easy installation and inclusive of mounting hardware
Clear audio with the 2-watt speaker
Save battery with automatic power off
What We Didn't Like:
The durability can be an issue
Bottom Line:
From the mic to the speaker, this ham radio has exceptional components. Not to mention, it is effortless to install and comes with the necessary mounting hardware.
2. TYT TH-9800 Ham Radio
This incredible transceiver delivers up to four bands, making it a multifunctional ham radio. With both 7m and 20cm, you can enjoy UHF and VHF for the top-rated mobile communications.
One of the stand-out features is its memory, which holds a maximum of 809 alphanumeric channels. With the programmable scanner, it is easy to find the frequency that you want. It is also one of the reasons why this model is user-friendly.
This 2 meter 440 mobile radio has tons of features that ensure top-notch performance. For instance, with intermodulation rejection and cross-modulation, it has stronger signals than commercial radios' performance. Plus, it is loud and clear.
The microphone is another notable feature of this 2-meter mobile radio. It has a direct-entry keypad, making it easy to input channels. To add, it is also backlit. The display is visible even in dark environments.
Another feature that I love in the TYT TH-9800 quad-band 50w cross-band mobile car ham radio is the built-in cooling fan. The latter helps in heat management. More so, it remains quiet even as it works, so it is unobtrusive to ongoing radio communication.
It is also commendable because of its ease of use. It might take a while before you get used to the menu. Once you are familiar, however, it is intuitive. Best of all, it has several functions, making it versatile equipment. From assembly to programming, you will enjoy the lack of complications.
Heads-up:
However, one of the biggest drawbacks of this radio is the display. It is prone to damage over time, showing less data. Some users even reported that it died after several months.
What We Liked:
The memory function stores up to 809 channels for quick scanning
Intermodulation rejection and cross-modulation boost signal
Has a direct-entry keypad built-in on the mic
Built-in cooling fan helps manage heat
Intuitive controls for ease of use
What We Didn't Like:
LCD quality lessens over time
Bottom Line:
Overall, this 2m ham radio is amazing because of its memory function, intuitive controls, a backlit keypad on the mic, and built-in fan.
3. QYT Dual Band 2m/70cm Mobile Radio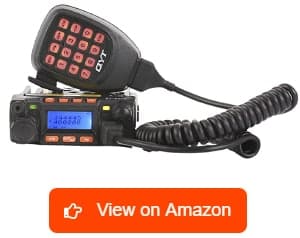 If you are on a budget, this 2m/70cm mobile transceiver is worth considering. Even if it is economical, it packs so many innovative features, including those that you will find in its higher-end counterparts.
One of the best things about this radio is its compact size. The sleek body means that you can mount it almost anywhere. It looks like two stacks of bread. Despite being small, however, it is big when it comes to its performance.
Programming is effortless, even if you are a beginner. The intuitive controls will let you figure out how to operate the radio in an instant. It also supports Chirp, which is another reason why it is effortless to configure even for a novice. To add, it has a manual volume and tuning knob with tactile feedback. This makes it a snap to input the desired setting.
The speakers are admirable. Despite being a tiny radio, the sound is surprisingly loud. Even if I am far away, I can clearly hear when someone is talking. Plus, it comes with a 3.5mm jack, which means that I can connect an external speaker if I wish.
No need to worry that the radio will overheat. The fan operates at full blast, which is effective for temperature management.
Heads-up:
One of the shortcomings of this radio is its small display. It is difficult to see what is on the screen because of its size.
What We Liked:
One of the most affordable on this list
Compact body for mounting anywhere
Chirp programming for ease of use
Loud and clear audio with a provision for an external speaker
What We Didn't Like:
Small display is hard to see
Bottom Line:
This budget-friendly dual-band mobile ham radio has a sleek body, cooling fan, and clear audio, making it a great tool for wireless communication.
4. FONGHOO WT-0165 Radio
This all-band mobile transceiver will let you enjoy a wide array of frequencies in a single product.
Looking at its features, one of the most notable is its free CHIRP software. I can connect it to my computer and program it. The latter makes it possible to import an address book, making it easy to speed dial a contact instead of manually inputting a frequency.
With 809 memory channels, tuning in is a snap. You do not need to manually scan or input alphanumeric codes every time you are using the radio. Instead, you can save them for easy accessibility.
The dual display is also notable. It shows the most important information that you need to know, making it straightforward to stay updated. Plus, it has a brightness setting, so you can adjust the backlight depending on what a situation requires.
At the back of this radio, you will find a cooling fan. The latter operates continuously to manage the heat, preventing the radio from breaking down. To add, the rear portion also has a connector for a 2m 70cm base antenna, a mini USB data port, and an external jack for an 8-ohm speaker.
I also love the adjustable mounting bracket that comes with the package. It is customizable at up to 25 degrees. This way, I can reposition the radio, depending on what I am most comfortable with when using it.
Heads-up:
Nonetheless, one issue with this unit is the clutter in the user interface. It has a lot of buttons, which makes it confusing, especially if you are a novice.
What We Liked:
Includes free CHIRP software for quick programming
Saves 809 memory channels for ease of use
Has a dual display with an adjustable backlight
Comes with a cooling fan for effective heat management
What We Didn't Like:
Too many buttons complicate the control panel
Bottom Line:
To conclude, this all-band ham radio is easy to program with its CHIRP software, has a backlit digital display, comes with a cooling fan, and has a memory function for 809 channels.
5. Icom IC-2300H–B1 Mobile Radio
From its simplicity to its performance, this 2m mobile radio is another product that should be on your radar.
The durability of this radio is second to none. I am confident that it will withstand even the harshest conditions. It passed several tests to prove its tough construction. From extreme temperatures to high vibrations, the unit is not easily damaged. It has an aluminum die-cast chassis that contributes to its longevity.
Additionally, it supports full, programmed, memory bank, tone, skip, and priority scans. This way, it is easy to choose a channel or frequency depending on what a situation requires. You can quickly add and delete links.
If you have a kid, you have another reason to choose this radio. With the child mode, it is easy to prevent unauthorized transmissions. You can lock the radio so the little ones cannot play with it. This allows you to save power consumption.
This radio will keep you in touch with the latest weather news for your safety. It has NOAA channels, so you will know if there is a thunderstorm, hurricane, or any other disturbance.
The audio quality is also notable. With its 4-watt output, you can clearly hear the voice from the other end. It is effortless to send and receive messages over the network. It also has a squelch feature, which minimizes the background noise.
Heads-up:
Despite the good things, one of the cons of this model is the complicated user guide. It is quite overwhelming for novices to understand.
What We Liked:
The tough construction withstands harsh conditions
Supports different scan modes
Has a child mode to prevent unauthorized transmissions
Stay updated with the latest weather alerts
What We Didn't Like:
The user guide is long and hard to understand
Bottom Line:
To sum it up, the Icom mobile ham radio stands out because of its durable construction, multiple scan modes, NOAA channels, and clear audio.
6. YAESU FTM-3200DR Mobile Radio
Long-distance communication is easy when you have this radio. From the high output to the rugged design, there are plenty of reasons to pick this model.
With 65 watts of power, it is one of the most powerful in this guide. It is normal for mobile radios to range from 25 to 50 watts, so it is safe to say that this unit is above the competition. Despite this, it has a compact body, making it easy to mount even in small spaces.
The front panel speaker is another commanding feature that sets it apart from others. With an audio output of three watts, I can hear everything clearly. If it isn't enough, I can add an external speaker of up to 8 watts.
It packs an array of innovative functions, including the digital group monitor. This feature automatically checks a group's members who are within a communication range. It is a good way to see who is around, instead of manually looking for other users. It also simplifies sending messages and data.
More so, it has bright and large multi-color indicator lights for quick status monitoring. When its top half is green, it means busy, meanwhile, during transmission, the top half is red. If the bottom half is blue, it is transmitting or receiving voice signals and transmitting or receiving digital data when it is white.
Heads-up:
If it is your first time using a mobile radio, this product can be difficult to program. However, when you get the hang of it, using it is a breeze.
What We Liked:
Delivers high power in a compact body
A 3-watt front speaker delivers clear audio
Easily find other people through the digital group monitor
Has multicolor lights that show the radio's current function
What We Didn't Like:
A bit difficult to program
Bottom Line:
In sum, this is an incredible mobile transceiver because of its compact design, powerful speaker, and bright multicolor indicator lights.
7. Kenwood TM-D710G 2m/70cm Mobile Radio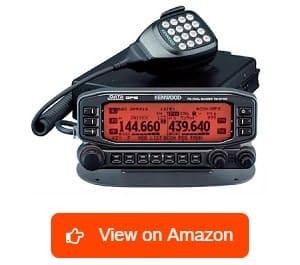 Made by one of the most reputable brands in the market, this dual-band radio works with UHF and VHF combinations.
One of the best things about this radio is that it has 1,000 memory channels. This is one of the highest of the ham radios that I have seen. Plus, it is programmable, which means that you can save up to five operating profiles.
Another good feature is the 16-key microphone. It has an expandable wire, so you can use it even when you are far from the main unit. It has a backlit keypad, which makes it easily visible for ease of channel input.
With an internal GPS, this is a great radio for marine applications. Install it on your boat and it will guide your journey. Its interface will allow the addition of waypoints. Plus, it has an automatic packet reporting system, which is responsible for making distance reporting more accurate.
The LCD panel is equally notable. You can choose from two backlight colors – green or amber. It also has a brightness control, so you can customize it. Plus, the display is large enough to show everything that you need to know. Beyond the frequencies, it will also show satellite info.
One of the most versatile radios on this list, it has plenty of add-ons beyond being a ham radio. For instance, you can receive and send messages between stations. Such will show on the screen. You can also know weather information, such as wind direction, humidity, and temperature.
Heads-up:
This is the most expensive of the products in this guide. Nonetheless, with its various technologies, it is worth every dollar.
What We Liked:
Stores 1,000 channels and five operating profiles
Comes with a backlit microphone with 16 keys and an expandable wire
Has an internal GPS for waypoint positioning
Large LCD with two background colors
Can receive and display text messages
What We Didn't Like:
Not for people on a budget
Bottom Line:
Wrapping up, this high-end 2-meter mobile transceiver has a large digital display, extensive memory function, 16-key backlit microphone, and internal GPS.
What to Look for When Buying 2m 70 cm Mobile Radio
Clueless about what to buy? This section has a rundown of some of the most important considerations.
Make the most out of every dollar by choosing a long-lasting radio. Consider the materials and the overall construction. Read reviews and pay attention to what people are saying about longevity. From the tuning knobs to the input buttons, every component must be durable.
The speaker is highly influential in the sound output. Look at the wattage, which is indicative of its power. More so, consider the compatibility with a 2m 70cm mobile antenna since the latter also has a huge impact on audio. Even when you are not near the radio, it must be easy to hear when someone is talking.
A user-friendly interface is a must. Simple controls in strategic positions will make the radio operation a breeze. The unit should also come with comprehensive instructions. Plus, it must include the mounting hardware necessary for its quick installation.
One of the most important parts of a 2m 70cm radio, the display shows crucial information, such as the channel you are listening to. The top-tier radios will have a backlit screen, which is easily visible regardless of the environment. Some screens can also display text messages.
This is the part where you will be directly speaking when using the radio. An ergonomic design helps to make it comfortable. Also, it is nice to have a direct-keypad entry with a backlit display.
Who Makes the Top-rated 2m 70cm Mobile Radios
TYT, Kenwood, Icom, and Yaesu are some of the best makers of 2m 70cm radios. These brands have a selection of models for different budgets. You will find an array of products with exceptional construction and superior performance from these manufacturers.
Is YAESU a Good Brand
Yes, YAESU is a good brand for mobile radios. They have a decent selection of models at affordable prices. More importantly, they pack innovative features. From stability to durability, their units stand out in a saturated market.
Where Can I Buy 2m 70cm Mobile Radio
Online is the best place to buy! Check out some of the most popular e-commerce websites, such as Amazon, Walmart, and Home Depot. These are also good places to shop for a dual-band mobile antenna 2m 70cm that will complement your radio. Aside from the wide selection, it is easy to compare prices. Plus, you can read reviews and learn from the real-life experiences of other people.
Conclusion
It is easy to communicate with the best 2m 70cm mobile radio, even in challenging environments. No need for cellular reception to relay a message to the other party. The options abound, but they are not all created equal. From the display to the frequencies, consider different factors to narrow down the possibilities.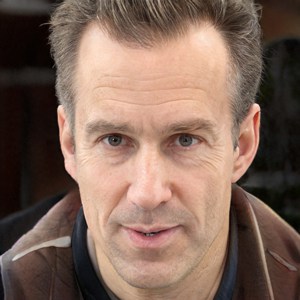 After four years working as a radio mechanic, I know that everything about radio communication is not breezy, even though it greatly benefits us. That is why I set up a website sharing my skills and guides to help non-professional users use their radio headsets, set up their antennas or choose the right products, etc.